5 reasons why Fayose should become president
There are several reasons why Ekiti Governor Ayo Fayose should become Nigeria's president. Here are five of the best.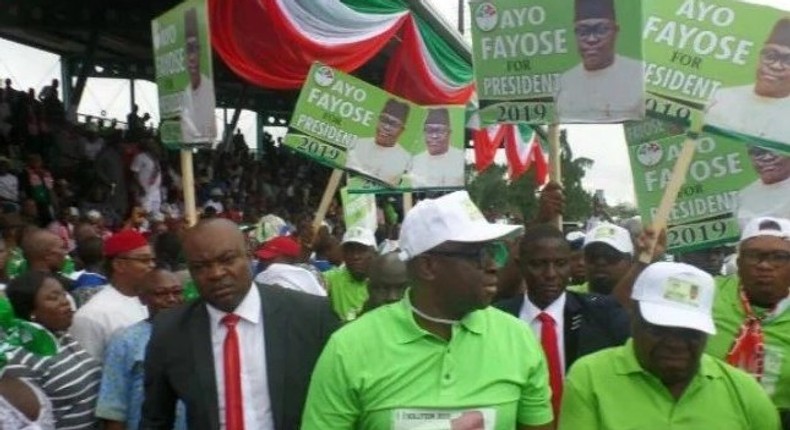 At the non-elective convention of the PDP last weekend, Ekiti State Governor Ayodele Fayose officially launched his presidential campaign.
And he launched it in grand style and with plenty of noise to boot. It wouldn't be Fayose otherwise.
He was wearing a green Polo shirt with both fists pumping the air intermittently.
He was acknowledging chants and cheers from a handful of PDP faithful. All around him, a band of supporters held aloft posters bearing the inscription: "Ayo Fayose for president".
And Fayose was loving it. He's a man who craves attention and enjoys adulation.
He was taking it all in with the air of a man supremely confident in his ways and presidency chances.
You've got to hand it to Fayose—he's an epitome of all that is wrong with governance and politicking in Nigeria, yet he wears it all like a badge of honour.
No, we aren't ruling out a Fayose presidency because anyone can be president these days. Ask the United States.
"I have a penchant for taking powers; that one in Buhari's hand, I will take it. I'm going straight to that Villa. I'm the next president", Fayose blustered recently.
"I want to be the next president of Nigeria. My own won't be this change that has brought nothing, we are going to represent the people well and tell them the truth".
So, fellow Nigerians, here's what to expect from President Ayodele Fayose…
1. The price of Ponmo and Saki will plummet.
An Ayo Fayose presidency will be good for consumers of Ponmo (hide and skin from cow) and Saki (tripe from cow or other ruminant animal).
It's no secret that Fayose loves Ponmo a whole lot. His bowl of amala is also never lacking in Saki and all 'em orisirisi.
Fayose will fashion out policies that will see to Ponmo becoming a lot more affordable and plentiful.
Ponmo will finally become a Nigerian staple.
2. Amala will become an official State meal.
In an Ayo Fayose presidency, all visitors to Aso Rock will be treated to bowls of Amala and more Amala on arrival and departure.
Whenever Fayose visits Abuja these days, he stops by an Amala joint to immerse self in the yam flour delicacy. That won't be necessary when he becomes president. All the Iya Amalas in Abuja will relocate to the Villa to serve at Fayose's pleasure.
The Amala value chain will be so enhanced, Nigeria will create Amala related jobs and stuffs.
What's better, we'll begin to export Amala,Gbegiri and Ewedu to the rest of the world.
Yes, Fayose for President!
3. Fayose will surely diversify the Nigerian economy.
For years, Nigeria's leaders have paid lip service to diversifying the economy away from crude oil.
Under Fayose, there'll be genuine efforts at diversifying the economy.
In May of 2016, Fayose unveiled three sectors for the Nigerian economy while making the point that he's more of a grassroot politician than all of his opponents.
"They cannot touch these common people. They cannot go to buy Akara where we are buying it, they cannot go to Agbo-jedi sector where we are drinking Agbo-jedi, they cannot go to Iyan ko l'obe sector…they'll be in Abuja shouting".
Under a Fayose presidency, Nigeria will diversify its economy into and sectors.
Our redemption draweth nigh.
4. Stomach infrastructure will be a thing
Fayose even has an aide for stomach infrastructure. That's how seriously he takes the concept.
Stomach infrastructure simply means replacing critical infrastructure with food for the stomach.
Under a Fayose presidency, the roads and bridges can collapse all they want, our schools can rot and remain decrepit, there'll be no investments in rail and water transportation or healthcare, but guess what?
There'll be food handouts periodically from Fayose trucks traversing the country.
I don't know why anyone will seriously oppose the presidential ambition of a man with such a grand masterplan.
5. Bank managers will be kneeling in Fayose's office monthly.
When Fayose becomes president (I didn't say 'if', mind you) he'll open accounts in all the banks in the land.
And as a sign of obedience to the most powerful man in the country, bank managers will make a beeline to Aso Rock monthly to kneel before Fayose in their bespoke suits; while rendering bank account statements.
At last, the end of the cowboy banker era!
Bankers will learn humility under a Fayose presidency and this will impact positively on other critical sectors of the Nigerian economy—like Agbo jedi and Iyan ko l'obe sectors.
I hope with these few points of mine, I have been able to confuse and not convince you, that you should support a Fayose presidency in 2019.
We can't afford to let this golden opportunity slip by.
JOIN OUR PULSE COMMUNITY!
Recommended articles
Face masks may be reintroduced as diphtheria spreads to 18 states including Lagos, FCT
Multichoice Nigeria spent ₦5.5 billion on BBNaija All Stars
APC suspends Kogi governorship campaign to respect party member killed by thugs
BREAKING: Naira Marley in custody as Lagos police probe Mobhad's death
Restoration of electricity promised for Ogun waterside communities
FG urged to establish ministry for informal workers
Anambra tells private sector to provide palliatives for workers
House of Reps launch investigation into pension fund crisis
New rule stops fresh Senators from contesting Senate president, deputy roles
Liverpool fined ₦23m despite VAR scandal in Tottenham clash
'Like Ketchup' — Super Falcons star Michelle Alozie borrows Ronaldo's line after scoring brace
Super Eagles: Iwobi and Moffi return, Bashiru a new addition as Peseiro calls up 25 players for Saudi Arabia and Mozambique friendly games
You Sabi: Vardy hails Ndidi in Pidgin for Leicester Player of the Match award
Napoli vs Real Madrid: Fans fear for safety of Osimhen and other players as earthquake reportedly hit Naples
Ronaldo did not chase me out of Al Nassr — Vincent Aboubakar