Peter Obi responds to Pandora Papers money laundering scandal
The ex-governor swears that he's never evaded taxes his entire life.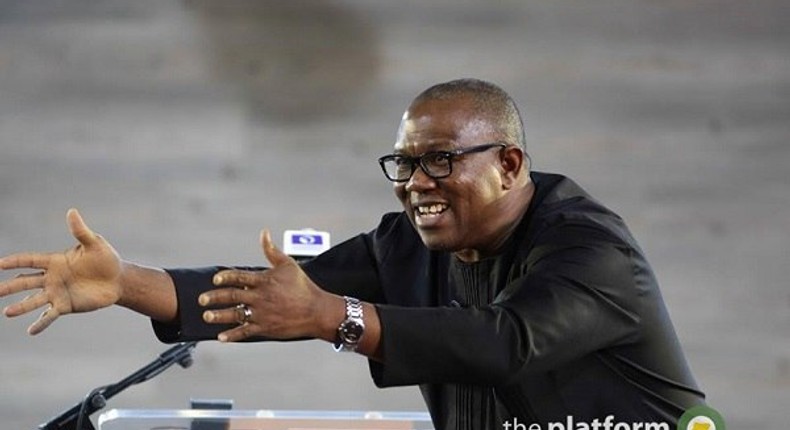 Former Governor of Anambra State, Peter Obi, has categorically denied that he evaded taxes by setting up offshore companies.
He has also debunked reports that he broke Nigeria's laws by remaining director of a company while governing southeastern Anambra State.
"I am not guilty as charged. Trust companies are a legitimate vehicle used everywhere globally for investments, savings and estate planning purposes. It's allowed by law everywhere," Obi says on AriseTV's The Morning Show.
He adds that: "In my particular case and that of my family, it was done on very valuable advice of our then bankers.
"The company was never used to launder money before, during and after I was governor. It was never used to buy property before I went into office, during the time I was in office and after I left office."
Quizzed on whether he is hiding half a billion dollars outside of Nigeria's shores, Obi laughs off the question, saying if he has that kind of money anywhere, he would be building schools across Nigeria.
"If you go anywhere near these companies being mentioned and find more than about 3 percent of the value you mentioned now, that's about 15 million dollars, then confiscate everything. Confiscate everything I have in my life.
"My entire earnings while I was governor, that Anambra received, was under N500 billion, out of which I saved 15 percent (N75 billion)," he says.
He adds that he will never evade taxes, moreso because his company (Next International) commenced operations in the UK, where Obi says he lived before he dabbled into politics.
"I am a faithful citizen of anywhere I have passed through. I cannot evade tax. It will never happen. Every investment I have done globally is legitimate and pays tax.
"If you are a black man in London, you are a suspect. If you are a Nigerian, you are a double suspect. I pay my taxes. Money I earn here, I pay tax. In the last 20 years, I have consistently paid tax, and I have never paid less than N50 million annually," he says.
On how he made his money, Obi says: "I had a brand and marketing management company that I ran. I was the sole importer of Heinz salad cream, baked beans, among others. I was sole engineer at South African breweries. I was bringing in Ovaltine.
"The company I was involved with before I left and my brother took it over and paid me off, became Cash and Carry.
"I was a trader, a very big trader. I used to import wine. I had a viable business and went into banking. I was sitting on the board of 3 banks before I became governor. I have major shares in those banks," Obi adds.
According to the PDP vice presidential candidate in the 2019 elections, the report is the handiwork of people who want to throw mud at him, hoping it sticks.
JOIN OUR PULSE COMMUNITY!
Recommended articles
Nigeria will be out of the woods under Tinubu's government - APC Chieftain
Lagos Police identifies illicit guns, cultism as major security threats
Naira redesign: CBN urges Nigerians to embrace digital payment channels
Youths, women will feel impact of my govt, says Otu
Ogun guber: Adebutu vows to reclaim his "stolen mandate" in court
White House proposed protest against Tinubu has no merit- APC U.S
Bet9ja app mobile review Nigeria in 2023
Betano App Nigeria 2023: All you need to know
Best betting apps in Nigeria 2023: Top picks to choose from
Manchester United identify Portuguese goal-machine Goncalo Ramosas Osimhen alternative
Giannis Antetokounmpo outshines Jordan Nwora as Bucks set record against Pacers
NPFL Review: Rangers continue to flirt with relegation, 3SC vs Plateau produce another classic
Arsenal reach first Champions League semi-final in 9 years with victory over Bayern