APC Chairman to pray and fast for Buhari's second term
John Oyegun has said he will go to any length which will include fasting and praying to ensure that President Buhari agrees to a second term.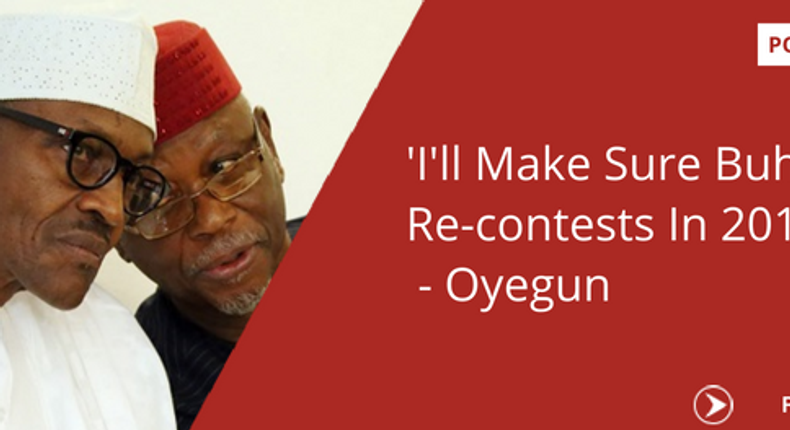 The National Chairman of the All Progressives Congress, APC,
Oyegun made this known in a recent interview with Leadership Newspaper.
"I will pray, fast to God that Buhari agrees to contest in 2019. If he contests, Nigeria will be better for it," he said.
Continuing, Oyegun said: "My prayer is that we can get Buhari to re-contest in 2019. We don't know his mind yet, but I will do anything in my power to ensure that he re-contests in 2019. Why? He is the only one who has the moral front and the courage to make the changes that Nigeria needs."
On why he is bent on seeing that the President agrees to a second term, Oyegun said there is no other person like Buhari in Nigeria.
He said: "We need more than four years to get this country to subscribe to a new morality, a new ethic and turn its back on corruption of the very type we are trying to uproot now.
"There is no another Buhari in this country. Buhari is the only man who can command 12 million votes even without any major campaign. So, you can see the picture. Yes, there will be changes, the party will get new members or lose a few members, but there is no Peoples Democratic Party (PDP). So, there is no strong party any more to say you are going to join and strengthen it. It is only APC that is really a strong party," Oyegun said.
Oyegun has been at loggerheads with the ruling party's national leader, Asiwaju Bola Tinubu with both of them disagreeing on principles and policies of the party.
JOIN OUR PULSE COMMUNITY!
Recommended articles
New Ebonyi deputy governor Obila not interested in listening to gossip
New Benue Governor lays foundation for 100 housing units
New Abia governor Alex Otti freezes state's bank accounts
Kyari tells Tinubu fuel queues will soon vanish after subsidy removal chaos
FG owes NNPC ₦2.8 trillion fuel subsidy payment deficit
Ganduje denies seeking appointment from Tinubu
Lawmakers tell citizens to pray for successful fuel subsidy removal
Tribunal admits US court judgment ordering Tinubu's forfeiture of $460,000
Tinubu appoints presidential photographers as he resumes office