PDP heads to tribunal to challenge Akeredolu's victory
The PDP disclosed its decision to contest the election results via a statement issued by spokesman, Dayo Adeyeye.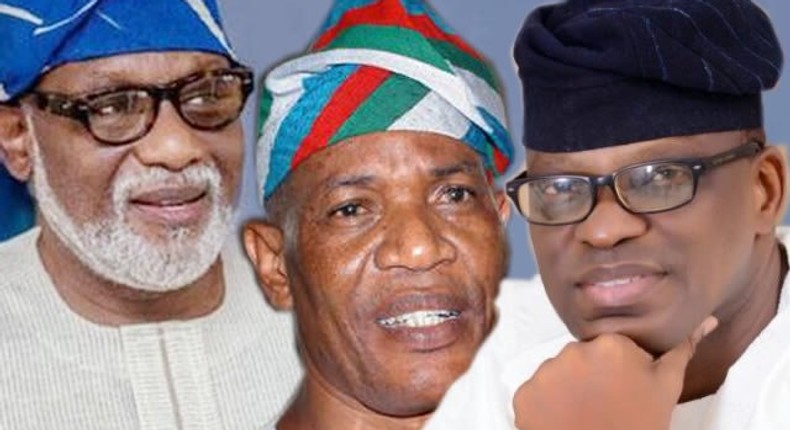 The Peoples Democratic Party (PDP) will challenge the result of the
The November 26 election was won by All Progressive Congress (APC) candidate, Rotimi Akeredolu.
The PDP disclosed its decision to contest the election results via a statement issued by spokesman, Dayo Adeyeye on Monday, November 28.
INEC has however graduated from inconclusive elections as seen in Kogi, Bayelsa, Osun, FCT, Imo, Nassarawa and some other previous by-elections in the country to 'Advanced Election Rigging', as in the case of Edo and Ondo states gubernatorial elections.
It is common knowledge that the APC agents openly bought votes of the electorates in the full glare of security operatives who did nothing to prevent such dastardly violation of the electoral law.
It is not surprising that the electorates in Ondo State became so vulnerable to the corruptive influence of the APC because of the hash economic situation in the county inflicted on Nigerians by the APC administration, which has indeed made all Nigerians virtually beggars in their own country.
Nigerians will recall that we had persistently called for the postponement of the election before Saturday, for at least two weeks to enable our party campaign and prepare properly for this election as a result of the setback orchestrated by Justice Okon Abang and the charlatans in PDP who allowed themselves to be used by the APC to destroy our chances in the Ondo State election.
The actions of INEC in collaboration with the APC-led administration left us no time to campaign and sell our candidate and our party manifesto to the electorates in Ondo State.
Our persistent call for the postponement of the election, which was backed and supported by more than 20 other political parties were all rejected by INEC acting the script of the APC.
It was a carefully planned and well-orchestrated strategy to rig the election well in advance by preventing the PDP from planning and campaigning for the election. The APC has hereby introduced a new formula for rigging election in Nigeria.
In view of the fact that the election was blatantly manipulated from the beginning to the end to favour the APC, we vehemently reject the results of the November 26, 2016 gubernatorial election in Ondo State.
The election and all actions leading to it fall short of laid down principles guiding conduct of elections in Nigeria. We have instructed our candidate and the Ondo State Chapter of our party to proceed to the tribunal to challenge the outcome of the election.
JOIN OUR PULSE COMMUNITY!
Recommended articles
2023: There's plot to force Peter Obi out of the race - Okupe
Osinbajo visits Imo, says "there's a lot to be done"
2023: Again, PDP NWC adjusts dates for primaries
2023: I know poverty, I eat garri daily - Amaechi tells Niger delegates
NRC suspends resumption of Abuja-Kaduna train service indefinitely
Akpata slams Wike over accusations against NBA
My presidential ambition is to change lives of Nigerians - Lawan
Medical Association confers award on Ngige
Buhari joins prayers for late UAE President