'We can't afford high cost of governance,' Edo governor says
Edo State Governor, Godwin Obaseki however assured that the cost-cutting would not affect jobs in the state.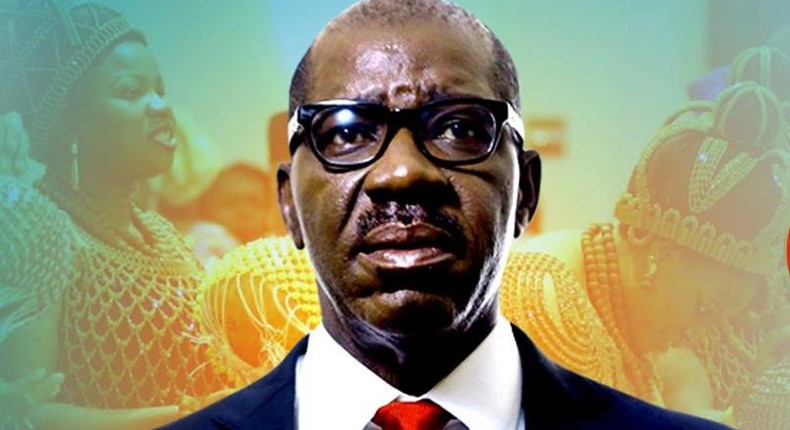 Obaseki however assured that the cost-cutting would not affect jobs in the state.
He made the comments on Monday, November 14, while inaugurating his newly appointed Secretary to the State Government (SSG), Osarodion Ogie.
"Our project is God's project. God has given us strength. God has given us the power. Ogie and I started this project nine years today. Both of us have been at the integral part of the Edo project. I feel secure that he is somebody who understands what this is all about," he said.
"It requires a lot of hardwork, commitment and dedication to our people. I have no doubt that the task is daunting. We do not have the kind of resources we had six years ago. Everywhere we travelled to during the campaigns; people had demand for better schools, healthcare system and new lease of life.
We cannot afford to make excuses. Even though we have these challenges, it is incumbent on us that we must deliver and it starts from the way we organise government right from the quality of people who heads government.
"We will tackle the challenges ahead of us. We are cognizant of what is going on around. Government has to work for politics to succeed. Initially, We will emphasize more governance.
"Let us put in place a governance structure so that our political structure can survive and endure. For the next six weeks we are going to work with the Permanent to understand the structures of government so that we can make governance much more efficient.
"We cannot afford with the high cost of governance we run today. The money is not there. We can restructure how we work. We can get more from the people we already have," he added.
Obaseki was sworn in on Saturday, November 12.
JOIN OUR PULSE COMMUNITY!
Recommended articles
Court stops EFCC, ICPC, DSS from detaining ex-Gov. Yari
Lagos dep governor wants Nigeria to charge foreign countries taking doctors
Atiku confident in court to help reclaim mandate from President Tinubu
Tribunal resumes hearing on Atiku's suit against Tinubu's victory
Melaye condemns violence in Kogi politics, calls FG to investigate Bello, Yakubu
National Orientation Agency caught sleeping amid fuel subsidy controversy
Tinubu will tansform fortunes of Nigeria, says Group
Fuel Subsidy: NLC is commited to Wednesday strike
Ogun Govt. orders investigation into student's killing