Ex-EFCC boss returns to APC, Buhari, Oyegun endorse move, Atiku kicks
It was gathered that Atiku, Bindow and two others had protested Ribadu's return to the National Chairman of the party, John Odigie-Oyegun.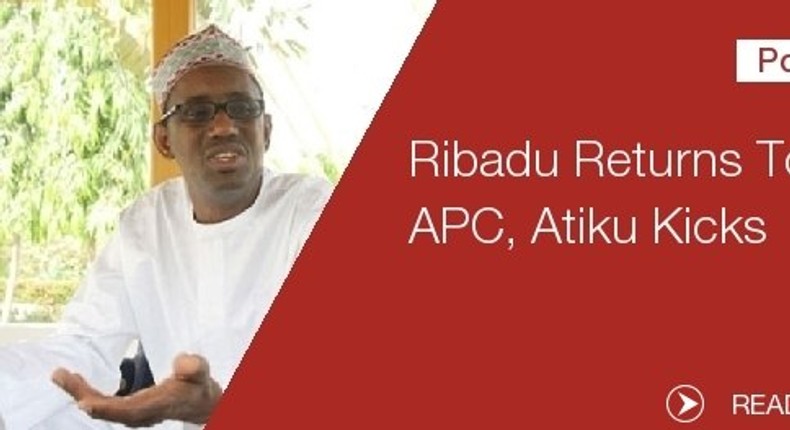 A former chairman of the Economic and Financial Crimes Commission (EFCC),
Report says the Adamawa State chapter of the APC begged Ribadu to return to the party - the move former Vice President, Atiku Abubakar and the State Governor Jibrilla Bindow have rejected.
The party, notwithstanding, is getting ready to readmit Ribadu alongside a former governorship candidate of the defunct Action Congress of Nigeria (ACN) in the state, Marcus Gundiri, with their supporters, it was leant.
It was gathered that Atiku, Bindow and two others had protested Ribadu's return to the National Chairman of the party, John Odigie-Oyegun, who replied them that it is not against any law once a state chapter of the party is receptive to anyone's membership.
The APC leadership said that the constitution allows an individual to join a party of his choice, and in this case, there is a limit to what the National Headquarters can do.
Ribadu was said to have accepted to return to the party following overtures from its leaders at the national level, ex-Governor Murtala Nyako, the Secretary to the Government of the Federation Babachir David Lawal, the state and local government chapters of the party.
In the letter dated June 22, 2016, the Adamawa State chapter of the APC, signed by the Acting State Secretary, Alh. Saidu Naira said Ribadu was invited back to the party given his "track records and progressive nature," adding that "we strongly believe APC  is where you belong to."
"We are also mindful of the efforts and contributions you made during the merger without which the merger would have been difficult.
"To this end, we reaffirm our request for you to come home to APC and assist and contribute to the success of the APC government both at the state and national levels," the letter read in part.
According to a party source, Ribadu was frustrated out of the APC by some PDP members who defected to the party during the merger and countdown to 2015 elections.
"Ribadu did so much for APC in Adamawa State but the setback which made him to go to PDP was frustration following a disagreement with some of our leaders, like ex-Vice President Atiku Abubakar, on the impeachment of ex-Governor Murtala Nyako. Ribadu worked tirelessly to save Nyako from impeachment but our leaders paid lip service and stoked the fire which made ex-Speaker Umar Fintiri to remove the former governor," the source said.
"The insincerity of APC leaders in the state made Ribadu to defect to PDP against his own volition. So, he left APC as a result of local politics. It was a state affair but today things have changed.
"When Ribadu was pushed to the wall, he had no choice than to pitch tent with the PDP which needed a credible candidate. Ribadu was frustrated out of APC for being a true party man to save Nyako.
"And the PDP elements, who joined APC, were uncomfortable with the anti-corruption stance of Ribadu and his acceptance in the party. So, it was convenient to hatch a plot to kick him out of the party.
"Today Nyako is vindicated and Umar Fintiri is under investigation by the Economic and Financial Crimes Commission(EFCC).
"We are now out to correct the past by asking him  to return to APC because Nyako has been vindicated. The court said his removal was wrong. Ribadu has also been justified because he insisted that Nyako was a victim of political vendetta and abuse of power. Nyako is back.
"We have realised that we have all wronged Ribadu. We want him back."
Atiku and others, it was learnt, had argued that Ribadu's return will spell doom for the party and trivialise its disciplinary stance, given that the ex-EFCC boss contested against Bindow on PDP platform
However, their plot to stop Ribadu's return failed, as President Muhammadu Buhari is said to have endorsed Ribadu's return to the APC fold.
JOIN OUR PULSE COMMUNITY!
Recommended articles
President Tinubu resumes work at Aso Villa office
Ooni of Ife sends message to President Tinubu
Tinubu clarifies his statement on subsidy as petrol price rises to ₦600 per litre
Petrol queues resurface, marketers sell ₦350 per litre
EFCC, DSS fight over shared office building in Lagos
Court convicts Osun hotelier after finding him guilty of k*lling OAU ex-student
Kalu urges Tinubu to scrap Ministry of Niger Delta Affairs
What will the fight against corruption look like under Tinubu's government?
Kano Gov vows to revisit murder charges against Doguwa, disappearance of Dadiyata