APC deputy publicity secretary asks party chairman to resign
Frank also said if Oyegun cannot sort out the current impasse in the House of Representatives, he should resign.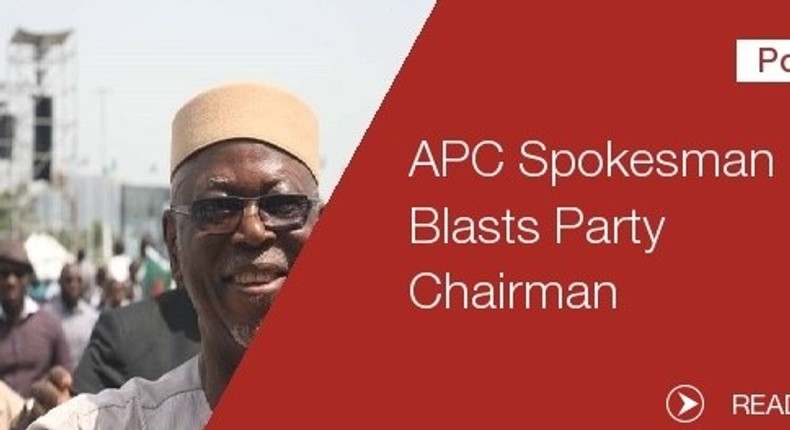 He also said if Oyegun cannot sort out the current impasse in the House of Representatives, he should resign.
The deputy publicity secretary of the party also said the problem in the Green Chambers and the inability of the party to call all those concerned to order is an embarrassment to the Buhari-led administration.
Frank said "I respect the National Chairman. He's like a father to me. But again, this is an issue that has to do with our political party. If we can't manage it, then the current leadership under Oyegun is not competent.
"I love this party so much. I don't want us to derail from our responsibilities as no responsible leadership will keep quiet in the face of numerous crises.
"If Oyegun cannot do this job of harmonising the party members when there are crises, I will say without fear of favour that he should resign and give way to people who have the capacity to do the job.
"The truth is bitter. But I will not relent in speaking it at all times. There are so many leaders of this party that will agree with me that Oyegun is not competent enough to do this job. So, many of them will testify. Although they may not have the competence to speak."
He also said "I want to use this opportunity to beg leaders of this party, if the NWC members cannot do it, the leaders of this party should please wade into the current crisis rocking the House of Representatives.
"The current NWC cannot solve the crisis rocking the National Assembly. The two persons involved are members of the APC. The party should have summoned Abdulmumin Jibrin at the early stage. Their party should have intervened within 24 hours. The party is not making any move as at now. Nobody has called Speaker Yakubu Dogara and Abdulmumin."
"We must not shy away from the truth. The President is the leader of our party. So, if the leadership under Oyegun cannot save the President from embarrassment, who will do it for us? We have to do it by ourselves. So, that is why I'm taking it upon myself to speak out because I want the President to succeed.
"This is not a personal attack against the leadership of the party. I'm saying this because the silence of my party all the times is not good for democracy and our government as at today.
"This is not the first time our party is keeping quiet on issues that bother on individual members of the party or party members from various states," he said.
See Pulse Photo-News gallery below.
JOIN OUR PULSE COMMUNITY!
Recommended articles
Orji Uzor Kalu tells Tinubu to scrap Ministry of Niger Delta Affairs
King Charles congratulates Tinubu, Shettima on their inauguration
Nasarawa Speaker promises more worker-friendly laws
Shettima arrives office wing for resumption
Fuel price hits ₦‎520 in Edo, Delta over scarcity
We now challenge presidents, it's sweeter – Datti Baba-Ahmed brags
President Tinubu resumes work at Aso Villa office
Ooni of Ife sends message to President Tinubu
Tinubu clarifies his statement on subsidy as petrol price rises to ₦600 per litre