APC denies attacking Pastor Adeboye
The Ekiti APC was alleged to have said that Adeboye praised Governor Ayo Fayose because he had collected a bribe.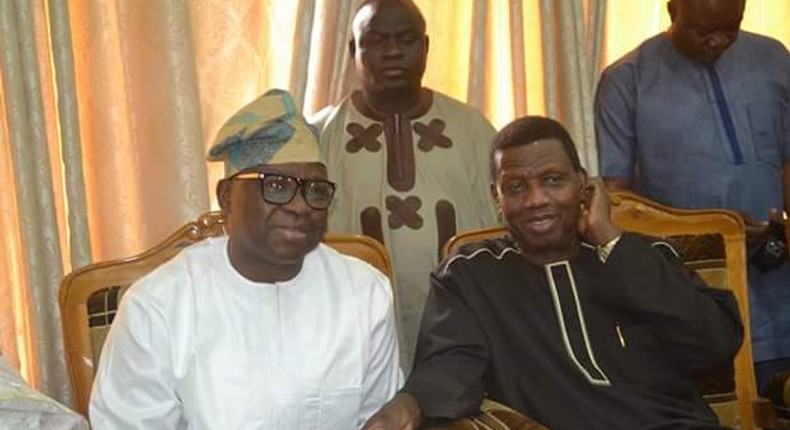 The All Progressives Congress (APC) in Ekiti State has denied launching
The Ekiti APC was alleged to have said that Adeboye praised Governor Ayo Fayose because he had collected a bribe.
The party further blamed the media attacks on Fayose who it said wanted to turn Christians against it with the false claims.
Publicity Secretary of the Ekiti APC, Taiwo Olatunbosun made the comments via a statement.
"We want to make it plain with all sense of responsibility that APC is not the author of the two press statements as we have utmost respect for men in God, Pastor Enoch Adeboye in particular.
"The two press statements bear the footprint of Fayose in his characteristic manner to push fictitious and damaging press releases in the media against individuals and institutions and ascribe them to his opponents to incur public opprobrium.
"Nigerians should remember that this same Fayose criminally printed posters in Chief Afe Babalola's name in 2005 purporting that the innocent elder statesman wanted to contest election against him, hence the incessant criticisms of his government by the innocent Senior Advocate of Nigeria.
"He did the same to Fayemi's wife with a press statement that the innocent woman called Ekiti people ingrate and hungry people, the same way his media crooks cooked different anonymous groups in the name of APC and used their names to lie and abuse APC leaders in order to tear the party apart and in fact the same these crooks wrote on my behalf in the media that I accused Mrs Aisha Buhari of complicity in the Harliburton scandal and that I asked her to defend herself.
"The lid of this media conspiracy has been blown open by their latest press release condemning Pastor Adeboye as a money monger. They posted the press release to media houses in the name of one Oluwole Ogunlola with the email address ekitinews2014@gmail.com, an email address that belongs to Ekiti State Government.
"Besides, there is no member in the APC media team called Oluwole Ogunlola; in fact all APC press releases are signed by Taiwo Olatunbosun and sent to the media through his email address.
"The last two press releases against Adeboye, which they alleged were written by the State Chairman of APC, Jide Awe; and Fayemi's Senior Special Assistant on Research and Documentation, Hakeem Jamiu, were neither sent to the media through Olatunbosun's email and nor signed by him.
"Their latest attempt to paint APC leaders, such as Awe and Fayemi, in bad light in the eyes of Pastor Adeboye, fell flat on their face when reputable media houses refused to use the story because it did not originate from Taiwo Olatunbosun's email address neither was the story signed by him as is the practice in APC's communications to media houses.
"We agree that Fayose and his media aides are a perfect match in integrity deficiency, the experience of Ekiti people and indeed Nigerians in Fayose and his aides' hands is a direct consequence of placing the serious business of running the administration of a state in the hands of irresponsible people.
"We appreciate the Nigerian media for their display of professionalism and pursuit of truth as enshrined in the media code and practice by refusing to publish Fayose's malicious and dangerous press release capable of causing social discontent in the Nigerian society.
"We believe that Pastor Adeboye worships and serves true God and it is on the strength of this that we invoke Psalm 52 on the writers on those press releases attributed to APC for devising mischief, doing evil, lying and working deceitfully against the righteous.
"We believe that Pastor Adeboye has an anointed tongue and so we say that may the curses from Pastor Adeboye's mouth and wrath of the Great Lord he serves be upon the writers of those damaging press releases against him."
Pastor Adeboye had, during a recent visit to the state, praised Fayose for being a defender of his people.
JOIN OUR PULSE COMMUNITY!
Recommended articles
Plateau Gov lauds judiciary over tribunal victory
Lagos govt postpones introduction of HPV Vaccine
Military neutralises 52 terrorists, arrests 60 in one week
Repentant Boko Haram terrorist arrested for beating ex-wife to death
Gov Adeleke seeks TETFund's support on infrastructure in Osun
Sanwo-Olu considers reintroducing monthly environmental sanitation in Lagos
Constitutional role for traditional rulers, a necessity — AGF Fagbemi
Amosun's loyalists reconcile with Gov Abiodun, return to APC in Ogun
Abia govt to tackle perennial flooding in Ariaria Market
Super Falcons' Michelle Alozie drops football hot take
Kane defends Harry 'One of the best defenders in history' Maguire, calls for end to scapegoating
Provedel: 4 goalkeepers who have scored in the Champions League including Vincent Enyeama
Andre Onana: Critics of the Manchester United goalkeeper are missing the bigger picture
100 not out: Lewandowski moves closer to Messi and Ronaldo with century of European goals
Is Victor Osimhen in for a troubled season under Rudi Garcia?