FFK says Buhari will throw Nigeria into more debt
FFK said this while commenting on the 2016 budget recently presented to the National Assembly by Mr. President.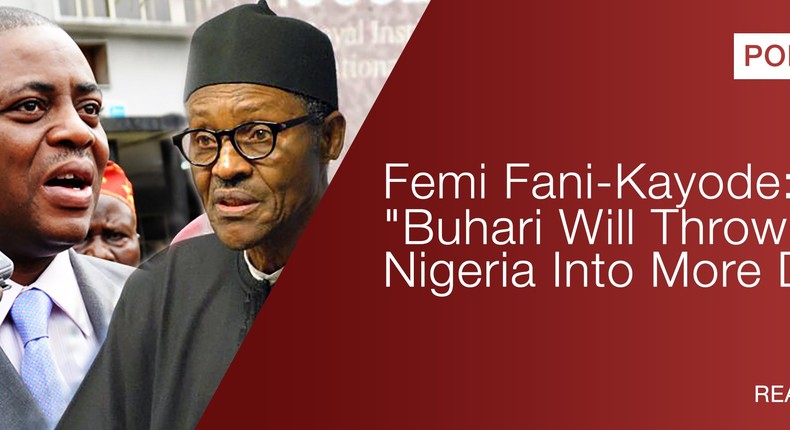 Femi Fani Kayode has accused President Buhari of trying to throw Nigeria into more debt.
He said this while commenting on the 2016 budget recently presented to the National Assembly by Mr. President.
FFK said "The 2016 budget is fueled by insincerity, shrouded in fantasy, built on tall dreams and spawned by deceit, ignorance and the illusion of change. It is bloated, unrealistic, expensive, cosmetic and it will not result in anything good."
Adding that "In order to fund part of the budget the government intends to borrow money and this will throw our country into even greater debt. What a tragedy this is given the fact that in 2007 Nigeria was debt-free. The Buhari administration is spending money like a drunken sailor and they are borrowing as if there is no tomorrow, mortgaging the future of our nation and our children."
Also reacting to the statement made by the Federal Government blaming former President Goodluck Jonathan for the current fuel situation, FFK said "They seem to have forgotten that in 2012 it was their group, led by Bola Tinubu, Nasir El Rufai, Rotimi Amaechi and President Buhari himself that aggressively opposed deregulation and almost brought the whole country to a standstill with protests and riots all over the place in their efforts to prevent the government from removing the oil subsidy."
"Had it not been for their pettiness, lack of understanding, shortsightedness and double standards the subsidy would have been removed three years ago and fuel queues would have been a thing of history. Sadly they lacked the foresight to appreciate the virtues of that policy and today they have the nerve to blame Jonathan for the mess that they themselves essentially created," he added.
Femi Fani Kayode has been a vocal critic of President Buhari's government, referring to it as an administration of sadists.
JOIN OUR PULSE COMMUNITY!
Recommended articles
AA holds governorship primaries April 17
Lagos-based lawyer files lawsuit against CBN's boss Emefiele
Tinubu will build a new Nigeria, Olaosebikan assures Nigerians
INEC to issue Certificates of Return to Osun lawmakers on Thursday
Ex-Nasarawa Speaker, lawmakers pass confidence vote on incumbent Speaker
FG, ASUU suit: Court declares Minister's referral valid
PDP, APC and NNPP share Bauchi Assembly seats
Gov. Masari approves 83-member transition, inauguration committees
Sanwo-Olu to end 50% slash in Lagos bus fares from April 1
Victor Osimhen: Where should the Super Eagles striker go this summer?
Peseiro chasing Rohr's feat as the Super Eagles resume campaign
Nigerian sensation Gift Orban wanted by AC Milan and Napoli