'I'm not afraid of Buhari,' Governor says
Fayose also warned Buhari that toying with him would lead to the collapse of his administration.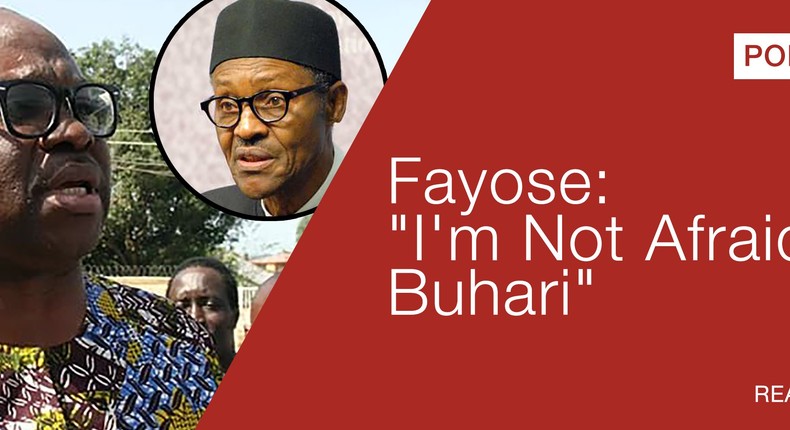 The governor made the comments during a recent interview with Premium Times over the weekend.
"I told Nigerians that they should not vote for Buhari and that Buhari will not do well. My name is Ayo Fayose. He will not do well. That is why I told you Buhari is a dictator; he can never lead a people or a government without being dictatorial. In Nigerian politics I only say the truth."
"I am not afraid of him. The power of Buhari is not more than you go and lock some­body up. I am not afraid of him. I am not in the calibre of politicians who are saying, 'ah don't let me die oh! Don't let my mother die oh! I am not in that category. Most noble men today have gone underground for fear of the unknown."
"I am not a sycophant to say that it was after Buhari became president that I started praising or talking against him. I started from day one. I was 24 years old when Buhari was head of state of Nigeria. We were daily beaten in Ibadan when we queued up for essential commodities."
"I remember how he stopped import duties and did a lot of things damaging to the economy, the same way he is still doing it today. I have said it clearly that any attempt to confront me and attack my government will bring Buhari's government down."
"My name is Ayo Fayose, I mean every word I am saying. I am salt. He should be mindful of me. I am not a coward. Call me controversial if you like. Men that will make history will be very controversial. Courageous people will be controversial."
"I am not impressed. I am not impressed. Buhari administration has shown the hallmark of a very vindictive leader. Part of the hallmark of a good leader is to be able to rally everybody in times like this."
"Look back. Jonathan was magnanimous. He could have said I am a sitting president and cause the country headache, but he did not do that. He willingly relinquished power because of the overall interest of the country."
"Instead, Buhari is coming to vilify everybody. You begin to do factional pursuance of the fight against corruption. It doesn't work like that. Go and look at Buhari's antecedent. I stand to be corrected. We know that the rate at which Buhari is going, he is going to destroy this country. There is no hiding place for dictators."
JOIN OUR PULSE COMMUNITY!
Recommended articles
We will invite IPOB to protect Igbos in Lagos - Eze Igbo threatens
Lagos council chairman invites CAN executives to Ramadan Iftar
FG says 300,000 displaced persons repatriated in North-East
Disabled girl begs govt, Nigerians for support to fund varsity admission
Troops kill 5 bandits, recover 4 AK-47 in Kaduna
NBC fines Channels TV ₦5 million over Datti's interview comments
NAFDAC bursts store in Anambra for unregistered sex enhancement drugs
PDP queries INEC's silence over petition, insists on authentic BVAS results
Adeleke's govt explain why Osun workers have not received March salaries
Manchester United identify Portuguese goal-machine Goncalo Ramosas Osimhen alternative
Giannis Antetokounmpo outshines Jordan Nwora as Bucks set record against Pacers
NPFL Review: Rangers continue to flirt with relegation, 3SC vs Plateau produce another classic
Arsenal reach first Champions League semi-final in 9 years with victory over Bayern