APC Chieftain says President must fix ruling party's crises
Dr Baba-Ahmed has stressed the need for President Buhari to resolve all rancours and fix the All Progressive Congress.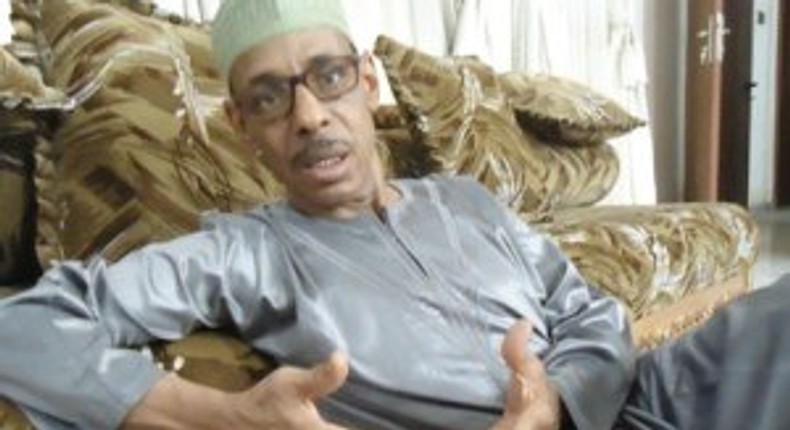 An All Progressives Congress [APC] Chieftain,
Baba-Ahmed made the appeal in an interview with the News Agency of Nigeria [NAN] in Kaduna on Sunday.
According to him, the problems affecting the party have been left to linger for too long and must be settled in the next few months, if the party hopes to retain power in 2019.
"Even if you can forgive some of the crisis and blame it on in experience, you cannot forgive the fact that we have tolerated this crisis for too long.
"They have persisted, and that is not something we should excuse, we should not also excuse the existence of massive problems in states and at the national level.
"Those who have the responsibility of fixing the APC as a political platform are not fixing it.
"It is what we are seeing now; a large number of powerful people within APC are walking away from it, thinking that it is beyond redemption.
"That is unfortunate and I think it is a major set back for the party.
"The APC must reinvent itself and rediscovere its mission to lead this country, not through a one term presidency or governance, but to actually build a different Nigeria that will meet the yearnings of our children and beyond."
Baba-Ahmed stressed that the internal crisis had also affected governance, thereby, making it imperative for the President to quickly intervene and resolve all contending issues within the party.
"Of course when a party is in a problem like this, a number of things happen; governance suffers because you are constantly having your attention diverted by the party's problems.
"Secondly, in political terms, four years of an administration is only like two years or two and half years.
"In a year's time, we will not be talking about governing this country, we will be talking about campaign for 2019.
"And if this party doesn't fix itself at the national level, doesn't fix all the problems it has in the states, it is unlikely to come back to Nigerians with the confidence it came to us in 2014 /2015, to say give us another mandate.
"If we are not careful the only thing of value and credibility that we can say to Nigerians that is still relatively intact in the APC will be President Buhari.
"And President Buhari more than anybody else, knows that his personality and character alone cannot win him an election.
"He needs a political platform that can mobilize people to support him, and right now, that political platform is disintegrating.
"He needs to do something about it, he needs to allow the party to work together, he needs to ask a lot of people to fix the problems of the party."
Baba-Ahmed expressed the belief that the problems of the APC were surmountable if the leadership work hard to fix all the underlying issues.
"I am not one of the people who thinks the future is outside APC, I believe that APC can be salvaged.
"However, I am not complacent to say it can just be fixed like that, alot of hardwork has to go into it, a lot of sacrifices must be made.
"What I think is useful is that, in the next three to six months a lot of people that we suspect are already packing their things to get out of APC, would do so.
"That would give the party an opportunity to know who is left, and then we can just go back to rediscovering the essence of the APC and then possibly to re-engineer the party with the popular base.
"We will need to apologise to people for mistakes made and reassure them that the first four years of the Buhari administration may not have met all the expectations of the people, but if they give our party another chance for the next four years, we will be able to fix this country, insha Allah," he said.
JOIN OUR PULSE COMMUNITY!
Recommended articles
Reps felicitate Nigerians on 63rd Independence Anniversary
Tribunal affirms election of Nasarawa Assembly's majority leader
Nigerians continue to struggle to manifest founding fathers' dreams - Atiku
Ex-Kaduna State Governor resigns from PDP
Tribunal upholds election of 2 SDP lawmakers in Nasarawa
Olubadan pleads with labour unions to shelve planned strike
Lagos govt begins clearing shanties, obstructions along Red Rail Line project
Independence: Obi tasks Nigerian leaders on commitment to fight corruption
Police arrest 6 over murder of university student in Katsina
I still love guys - Super Falcons' Michelle Alozie reacts to lesbian rumour
Heartbreak for Nigeria as AFCON 2027 bid slips away to East African rivals
Victor Boniface or Harry Kane: Who has had the better Bundesliga start?
Steph Curry: NBA star lists Nigeria's Burna Boy and WizKid among favorite music artists
Controversy as Super Falcons' Michelle Alozie unveils her 'female lover'
AFCON 2027: Algeria hands Nigeria a major boost