'Ruling party is Nigeria's problem,' Obasanjo's ex-wife says
She also defended a comment made by President Muhammadu Buhari that his wife, Aisha belongs in the kitchen.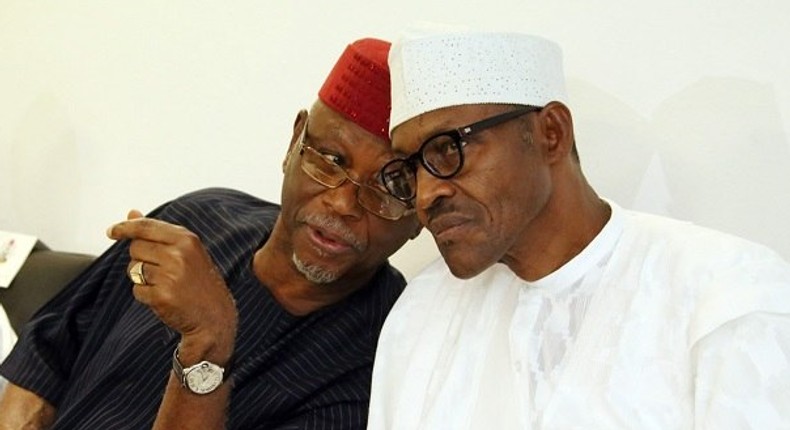 Taiwo Obasanjo, an ex-wife of former President, Olusegun Obasanjo has said that the All Progressives Congress (APC) is Nigeria's problem.
Mrs Obasanjo made the comments during an interview with Vanguard. Excerpts below:
You are on a voyage of forming a new political party at a time when some of our leaders think a woman should belong to the kitchen. How far do you think this will go?
I think the statement attributed to President Muhammadu Buhari has been misconstrued to another thing entirely and interpreted out of context.
But you must appreciate that a woman's obligation, to her husband, is to look after him, cook for him, which is in the kitchen, look after the family and the household and also take care of him in the bedroom.
o, Buhari was in order when he said that. If you are a wife of the president, your job is primarily to look after him and I'm supporting that. If you are a married woman, your basic responsibility is to take care of the man and the home.
Did you just wake up  to form a political party?
I didn't just wake up. All along, I'd seen the yearnings of the people who wanted good leadership. Today, as it is, hardship and suffering are too much in the land. I'm not a voice for anybody.
I'm only a voice for good. If you ask me, Muhammadu Buhari is a man I have utmost respect and affection for. He is unique, absolutely honest and plain. He's disciplined and organized. If he's there, he is. If he is not there, he's not.
For a man like that, people may not appreciate him. I have realised the politics that God gave this man. Buhari is not really the problem of Nigeria. He is not the reason Nigerians are suffering. The problem of Nigeria is the party, All Progressives Congress, APC. God only used APC to bring him up as president.
JOIN OUR PULSE COMMUNITY!
Recommended articles
Tinubu says Nigeria open to doing business with any country
Wike can be expelled if due process is followed - Court tells PDP
NSCDC arrests 3 petrol 'black marketers', impounds 4 vehicles in Niger
Insecurity, unemployment responsible for japa syndrome — Dabiri-Erewa
Uzodinma succeeds El-Rufai as chairman of APC governors forum
North East coalition endorses APC's choice Abbas for NASS speakership
Court remands 2 construction workers for allegedly breaking govt seal
Fire at Lagos hospital, firefighters respond promptly
EFCC testifies against ex-PDP National Chairman's son in fuel subsidy scam trial