15 election terms you should be familiar with
It is election season and there are dozens of terms flying around about the process Nigerians will use to elect a new set of leaders.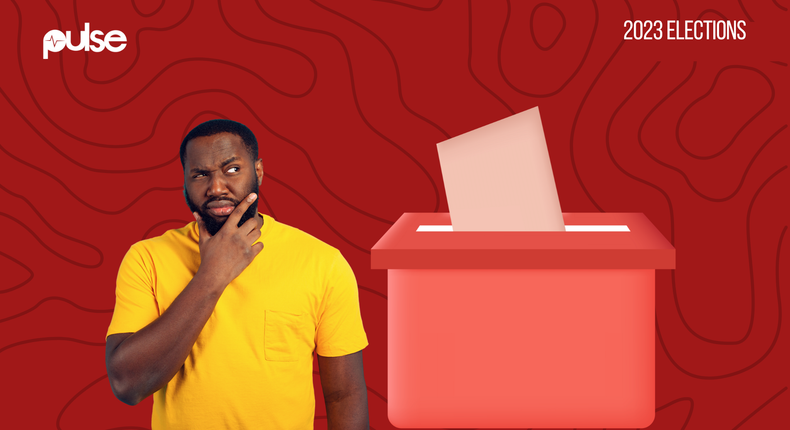 In preparation for the highly-anticipated 2023 general elections, we've put together a list of terms you should be familiar with.
Accreditation: Accreditation is the process by which qualified voters are identified on election day.
Ballot Papers: Ballot papers list all of the parties of the candidates contesting the election and voters can thumbprint on their preferred parties.
Ballot Box: After voting, voters drop their ballot papers in ballot boxes for collation by electoral officials.
BVAS: The Bimodal Voter Accreditation System (BVAS) is an electronic device that reads and authenticates voters' Permanent Voter Cards (PVCs).
Election monitors: Election monitors are independent parties who observe the electoral process for fairness and transparency.
IReV: This is the INEC Result Viewing Portal (IReV) where Nigerian and international media can track election results online.
Re-run election: A re-run or supplementary election is held after the first one was inconclusive, rigged, or violated the rules.
Run-off election: This is an election held if the first round of voting fails to produce a clear winner. This could come into play if the presidential candidate with the most votes does not receive the required percentage of votes in all 36 states. A run-off election only involves the top two candidates from the first round of voting.
Inconclusive election: An election is inconclusive when the total number of registered voters in polling units where results are cancelled can affect the final margin of victory. A re-run or supplementary election is held in the units where the votes are cancelled to produce a clear winner.
PVC: A Permanent Voters Card (PVC) contains the details of a valid voter and is the most important item for a voter on election day that confirms a voter's eligibility to vote. No one can vote in Nigeria without a PVC.
Polling unit: The polling unit is the public location where voting takes place.
Rejected or voided vote: This is an incorrect ballot. It's the ballot where the voter's choice is unclear on the ballot paper. This can happen when a voter doesn't thumbprint at all, thumbprints more than one party, or thumbprints outside the boundaries provided on the ballot paper.
Returning officer: This is the INEC official who announces the election results.
Voter register: This is a register of the total number of people eligible to vote in an election.
Voter turnout: This refers to the number of voters who cast ballots on election day.
JOIN OUR PULSE COMMUNITY!
Recommended articles
APC's Uba Sani wins Kaduna governorship election
BREAKING: INEC declares Adamawa governorship election inconclusive
Gov Zulum of Borno conveniently secures second term
APC's Reverend Father Alia declared winner of Benue governorship election
Ayade delivers as APC's Otu wins Cross River governorship election
INEC to conduct suspended State Assembly election in Benue March 21
PDP calls for removal of Ogun Returning Officer
LP governorship candidate congratulates Plateau governor-elect
INEC declares APC's Umar Bago as winner of Niger governorship election
Saudi GP: Max Verstappen unhappy after finishing second to teammate Sergio Perez for the first time in 7 years
Super Eagles News: NFF denies sacking coaches, explains Finidi, Shorunmu absence
Lazio legend compares Osimhen to ex-Real Madrid star Ronaldo
Revealed: Who are the Top 10 most followed players on TikTok
Premier League: Tottenham quote £100 million fee for Harry Kane
AFCON 2023 Qualifiers: Wilfred Ndidi, Francis Uzoho arrive as 10 players storm Super Eagles camp ahead of Nigeria vs Guinea-Bissau