Telling Africa's story: The future is podcasts
Adelle Onyango was feeling fearful. It was March 2019 and she had just quit a high-profile radio presenting job to launch her own podcast. She reached out to a friend, in tears.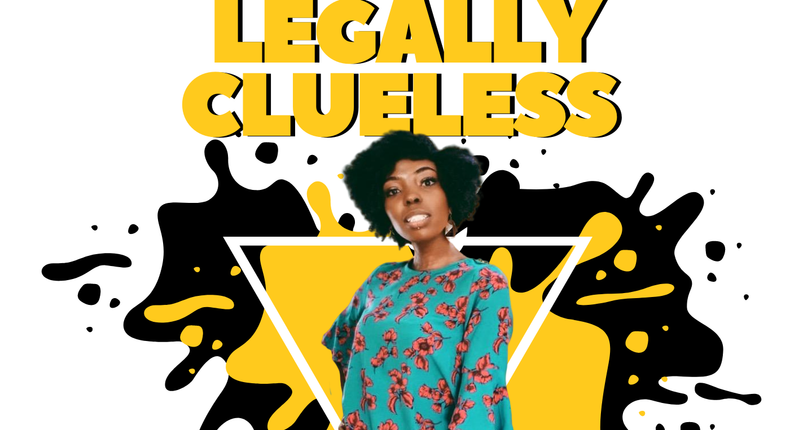 "I felt really clueless at that time. I didn't have anybody in the industry to ask for advice," she says. "I couldn't see anybody who was taking that same risk and jumping into podcasting and so I was like 'am I crazy?'".
After listening to her talk, the friend advised her to "record everything you've told me, the way you told it to me". She did. That honesty and raw emotion became an integral part of Adelle's podcast, Legally Clueless (the name is a nod to how she was feeling at the time). The podcast allowed Adelle the freedom to focus on stories and topics that "she couldn't even spell on traditional radio. You can talk about what you truly want to talk about," she explains.
As part of a feature called 100 African stories, listeners call Adelle's hotline to share tales about their everyday experiences. In one episode a listener spoke about the difficulty of telling her parents, who were pastors, that she was pregnant, and how she eventually embraced single motherhood. Almost a year after Adelle started, Trace FM, a Kenyan radio station, approached her to become a syndicate partner – taking her podcast and broadcasting it on the radio, a first in Kenya that was widely covered in the media.
The question of what makes a podcast successful in Africa is one I have been thinking about recently. For the past few months, I have been working on a new weekly podcast from the BBC called The Comb. Each episode we unpick a single story close to the lives of our African listeners. Making the transition from avid podcast listener to podcast maker has highlighted to me some of the complexities and opportunities within the African podcast market.
Across the continent people have been making and listening to podcasts for the best part of a decade – and there are some excellent podcasts out there. South Africa has one of the most developed podcast communities, generating some stellar podcasts in recent years. These include
the award-winning true crime podcast, Alibi; African Tech Round Up, which provides a window into the digital world through the energy and charisma of presenter Andile Masuku; and Sound Africa who continue to make beautifully crafted documentaries that seek to 'upend the weary old clichés' of Africa. In Nigeria, another vibrant podcast community, the podcast charts are often topped by talk shows featuring friends discussing politics and pop culture, and podcasts by big name pastors.
But for the most part it seems that the podcast bug has not yet bitten Africa. Especially compared with the volume of podcasts coming out of Europe and the United States, where it seems that everyone and their cousin has a podcast or is thinking of starting one. What you see when you survey the African podcast landscape are active pockets of makers and users in places like Kenya, South Africa and Nigeria. Paula Rogo is the co-founder of Kali Media and of the Africa Podfest and she is bullish about the podcast market: "podcasting is the next big medium especially given how big the youth demographic is in Africa," she says. Podcasts would seem a natural fit for millennial listeners who are used to consuming very individualised content, whenever it suits them.
Pulse Nigeria
But there are a number of obstacles that account for the slow uptake. The first and most obvious hurdle is awareness. 'Right now people still don't know what a podcast is and where to find it', says Rogo. This was confirmed by some of the research we did at the BBC, surveying students at a university in Northern Nigeria. The results revealed that people were still unclear as to what exactly a podcast is and how it's different from a radio broadcast. The short answer: it's an audio programme you can listen to at a time and place of your choosing. There are podcasts on every topic under the sun. A podcast can cover a broad topic like religion or politics, or it can be very niche (I've even come across a podcast about stationery). It's an intimate and personal listening experience compared to radio.
The other big issue – as Rogo pointed out – is discovery. On an Apple phone the podcast app comes built in. Africa is Android country and that means you need to take an additional step to find them. The lack of a single podcast gatekeeper on Android phones means that discovery is often fractured with people finding and listening to podcasts on different platforms including SoundCloud and Stitcher.
Another pressing issue is that of data, which is costly and precious. But this can be overcome by downloading podcasts at places with free Wi-Fi for later listening.
Adelle says she realised that Legally Clueless was resonating when she set up a WhatsApp hotline number and strangers would call to share their stories. She recalls an episode she did about body image and a man who struggled with acne called in: "I thought, oh wow, I guess maybe we have created a space where even a man can feel okay being vulnerable", she says.
That for me has always been the strength of podcasts, their ability to create communities of listeners and to serve people outside the mainstream; just look at the popularity of podcasts like Afroqueer, about 'queer Africans living, loving, surviving and thriving on the African continent and in the diaspora', and The Spread which talks about sex and relationships in a candid way.
Pulse Nigeria
In March this year, Paula Rogo and Melissa Mbugua were preparing to host Africa Podfest in Kenya, the first conference on podcasting in the region. More than 250 people were signed up to attend before the coronavirus pandemic led to the event being postponed. But the pandemic has in some ways been a boon for podcast creators and listeners. As countries have experienced lockdown more people have been turning to podcasts, some curious for more information about the world around them or as a form of pure escape while doing household chores or exercising, others as a platform for their ideas.
More and more radio stations are also discovering that podcasts, originally intended as on-demand, intimate listening, as Legally Clueless was, can also work as broadcasts.
Pulse Nigeria
In a continent like Africa, with a rich tradition of oral story-telling, a multitude of gifted orators, and an infinite number of stories to tell, the potential for podcasts is enormous.
Kim Chakanetsa is the presenter of The Comb on BBC World Service.
JOIN OUR PULSE COMMUNITY!
Recommended articles
NAPTIP promises justice for victims of illegal human organ harvesting in Jos
Court dismisses APC aspirant's suit seeking Sylva's disqualification
Gov. Sule approves renovation of NUJ Press Centre
Court restrains Ondo assembly from impeaching Aiyedatiwa
Tinubu begs US court not to release privileged documents to Atiku
Mutfwang urges RMAFC to resolve contentious issues on stamp duties
FCCPC summons Erisco Foods over alleged consumer arrest for negative review
Abia govt adopts strategic approach to tackle security challenges
PDP's Jandor rejects tribunal ruling, party re-examining verdict
Mikel Obi: Super Eagles legend branded 'fine boy no pimple' in Dubai
Give us Mourinho! Chelsea fans beg for 'Special One' after latest defeat
Check out Cristiano Ronaldo's amazing car collection reportedly worth over a staggering N20 BILLION
Anthony Joshua and Burna Boy: Nigerian-born boxer and African giant team up for Boss at Milan Fashion Week
How Nigerians can vote for Osimhen to win FIFA Best Player Award ahead of Messi
I want to 'teach' after football - Lionel Messi opens up on retirement plan