8 Things you need for your new job
If you ever dreamt of a career change, becoming a chartered whistle-blower isn't such a bad idea after all.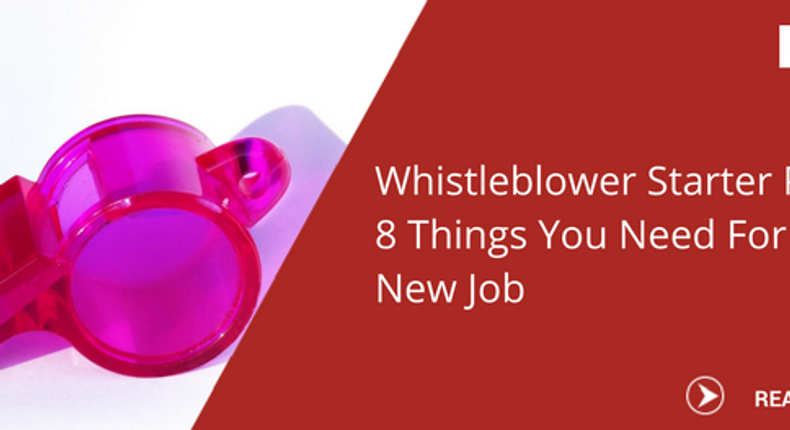 If youve been around since December last year, youll agree that youve been in the wrong job.
You do need a career change, like seriously.
There's something called whistleblowing in Nigeria at the moment and if you get the fundamentals right, you can make enough money to last you a lifetime.
Just from two or three whisleblowing gigs.
Here's the thing--we don't subscribe to get-rich-quick schemes, but a big pay day is a f***ing big pay day.
The whistleblower policy of the federal government of Nigeria now guarantees you between 2.5 to 5 percent of recovered loot.
So, here's how it works: If you blow the whistle on any politician, former government official or big man who has stashed looted funds somewhere; and if your whistleblowing leads to the recovery of the loot, you get a decent percentage.
Imagine 5 percent of $50M or 5 percent of $9.8M?
We certainly don't know of any job that guarantees that kind of decent return.
See why we said you're in the wrong job?
In recent times, whistleblowers have contributed to recovery of millions of dollars hidden in bunkers and apartments all across Nigeria.
And since politicians can't stop stealing, you'd have essentially nailed yourself a career as a whistleblower if you can just listen to us this very moment.
Here's all you need to become a successful whistleblower:
1. Know someone in the EFCC
The Economic and Financial Crimes Commission (EFCC) has offices and personnel in most States across Nigeria.
Take a trip to one of those offices near where you live and get an EFCC contact person.
Once you cross that off your checklist, congratulations, you are on your way to becoming a successful whistleblower.
2. Monitor your local politician closely
Keep your ears on the ground.
Know where your councillor stops to have beer, where your Senator or House of Reps member eats Nkwobi with Ugba, where your Governor clubs and all that shit.
Chances are that, your favourite politician has been saying a lot in some of these places.
Meet the people who run these places and make friends with them.
Some day, you'll get lucky with some information and once you do, blow the darn whistle.
Because this is the only way you'll know whether the sums announced in the annual budget are commensurate with the level of development in your community.
And if things aren't adding up, be snooping around until you are ready to blow the whistle.
A little Gbeborun never killed nobody.
Start conversations with random people in a bus or in the market.
You'll be shocked what that Amala seller knows that you don't.
5. Be friends with politicians
We don't need to tell you how valuable this is.
Politicians look after themselves and can also bring themselves down.
Opposition politicians who covert the position of the incumbent, know all the dirty secrets the incumbent has been concealing.
Politicians love to snitch on themselves through third parties.
Make friends with former government officials and opposition politicians.
Because they've been there and done that; and because they want to bring the next guy down to make space for themselves, they are likely to tell you where politician A or B has been hiding his money.
And that place isn't a bank, you can be sure.
6. Get yourself a bulletproof
Like, after making all the money from whistleblowing, don't shoot yourself in the foot by making noise about it or buying luxury cars and living in posh apartments just because you can.
We know you're now a big boy, but calm down.
Remain the Johnny who lives in Ojuelegba and eats Amala at Shitta in Surulere.
The type that when you blow, America will know.
Not the referee-type whistle. That one is too shrill to be effective.
Because we care, we'll say throw in a trumpet, a sax and mouth organ into the mix.
You are now a whistleblower.
Remember to always carry your whistle along, everywhere you go.
Don't say we never did anything for you.
JOIN OUR PULSE COMMUNITY!
Recommended articles
NAPTIP promises justice for victims of illegal human organ harvesting in Jos
Court dismisses APC aspirant's suit seeking Sylva's disqualification
Gov. Sule approves renovation of NUJ Press Centre
Court restrains Ondo assembly from impeaching Aiyedatiwa
Tinubu begs US court not to release privileged documents to Atiku
Mutfwang urges RMAFC to resolve contentious issues on stamp duties
FCCPC summons Erisco Foods over alleged consumer arrest for negative review
Abia govt adopts strategic approach to tackle security challenges
PDP's Jandor rejects tribunal ruling, party re-examining verdict
Mikel Obi: Super Eagles legend branded 'fine boy no pimple' in Dubai
Give us Mourinho! Chelsea fans beg for 'Special One' after latest defeat
Check out Cristiano Ronaldo's amazing car collection reportedly worth over a staggering N20 BILLION
Anthony Joshua and Burna Boy: Nigerian-born boxer and African giant team up for Boss at Milan Fashion Week
How Nigerians can vote for Osimhen to win FIFA Best Player Award ahead of Messi
I want to 'teach' after football - Lionel Messi opens up on retirement plan