US museum returns stolen Benin, Ife artifacts to Nigeria
The New York-based museum announced its intention to return the artifacts in June.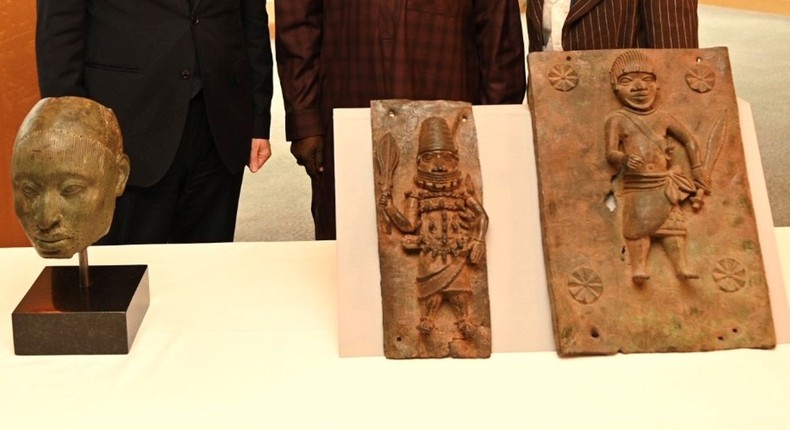 The Metropolitan Museum of Art in the United States has completed the return of three artifacts to Nigeria.
Two 16th-century brass plaques looted in Benin over a century ago, and a 14th century Ife brass head were handed over to the Nigerian National Commission for Museums and Monuments (NCMM) at a ceremony on Monday, November 22, 2021.
The Benin artifacts were obtained by the museum from a New York collector in 1991, and the Ife head was retrieved from a private seller who reached an agreement with authorities to return it after he first tried to sell to the museum without obtaining legal title.
"The Met is pleased to have initiated the return of these works and is committed to transparency and the responsible collecting of cultural property," Met director, Max Hollein, said.
NCMM director-general, Prof. Abba Isa Tijani, praised the museum for its commitment to ensuring that the artifacts return to their origins.
The Met also signed a memorandum of understanding with NCMM to formalise a shared commitment to 'future exchanges of expertise and art'.
"The NCMM understands that there are great opportunities for collaborations of all sorts, including traveling exhibitions with many of these exquisite objects. The NCMM shall jointly with as many willing partners as possible pursue this under prospective agreements," Tijani said.
Artifacts stolen from Benin City during a British expedition in 1897 have been scattered all over the world, displayed in museums and other institutions in the United States and Europe.
Numerous institutions in the United Kingdom, United States, and Germany have recently announced plans to return the artifacts.
The University of Aberdeen also returned a bronze head to Nigeria.
JOIN OUR PULSE COMMUNITY!
Recommended articles
2023: Nigeria's next president must pay attention to restructuring - Tambuwal
Delta approves construction of International Conference Centre
2023: I'm more experienced than Osinbajo, Tinubu, others - Amaechi
Explosion: Police seize vehicle loaded with bomb-making materials in Kano
2023: I will replicate Lagos development in Nigeria, says Tinubu
Okada ban: Lagos police vows to arrest, prosecute passengers
Army, DSS destroy IPOB training camp, kill 2 wanted members in Imo
Catholic Church suspends Priest for joining governorship race in Benue
Rampaging youths burn houses, injure pastor over 'blasphemy' in Bauchi