'My victory at CCT means the common man can get justice in Nigeria'
Describing his trial as 'tortuous', Saraki said he habours no grudge against his prosecutors.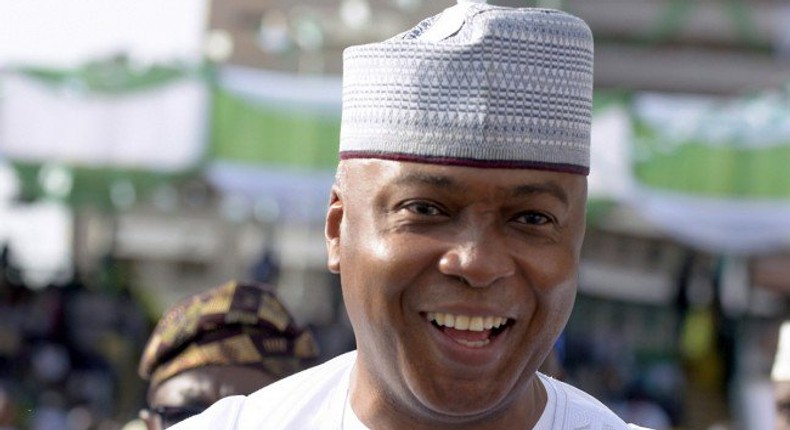 Senate President Bukola Saraki has expressed confidence in Nigeria's justice system.
Speaking after his victory at the Code of Conduct Tribunal (CCT) on Wednesday, June 14, 2017, Saraki said he has been vindicated.
Describing his trial as 'tortuous', Saraki maintained that he habours no grudge against his prosecutors.
"On a personal note, I harbour no grudge against anyone, regardless of the role they might have played in the persecution that I had endured in the last two years," Saraki said.
"I believe that if my trial had in anyway given hope to the common man that no matter the forces arraigned against him, he can still get justice in our courts, then my tribulation had not been in vain.
"It is my belief however that if there should be any celebration at all, it should be a celebration of the hopes that this judgment gives us as citizens that despite all the challenges that we face as a country, we are well on our way to building a country where the innocent needs not be afraid," he added.
Saraki expressed optimism that the 8th Senate would achieve more in the next two years.
"Now that this distraction is over, we can even achieve so much more. We must now proceed from here with greater vigour to deliver on the expectations of Nigerians and show that this 8 Senate can indeed play a central role in improving the quality of lives of our people."
The Senate President called on his supporters to reflect on the significance of his victory while urging them to refrain from any 'unbridled triumphalism'.
JOIN OUR PULSE COMMUNITY!
Recommended articles
APC Governorship aspirant in Plateau dumps party
Thugs disrupt factional SDP meeting in Kwara
Appeal Court president inaugurates electoral judicial manual committee
2023: Adopt Jonathan as APC consensus candidate – Group tells APC
Buhari to decide fate of Ngige, Sylva, others who shelved political ambition
FG suspends Accountant-General, Idris over alleged N80bn fraud
Ganduje refuses to endorse Amaechi's presidential bid, says Kano is a swing state
Gov. Matawalle recommits to end banditry in Zamfara
NPC launches 2023 Census Situation Room