'Melaye threatened to rape me,' Senator petitions Senate, APC
She said despite the fact that she did not make a public comment on the issue, Melaye "paraded his misconduct in public as if to threaten a female Senator is a badge of pride".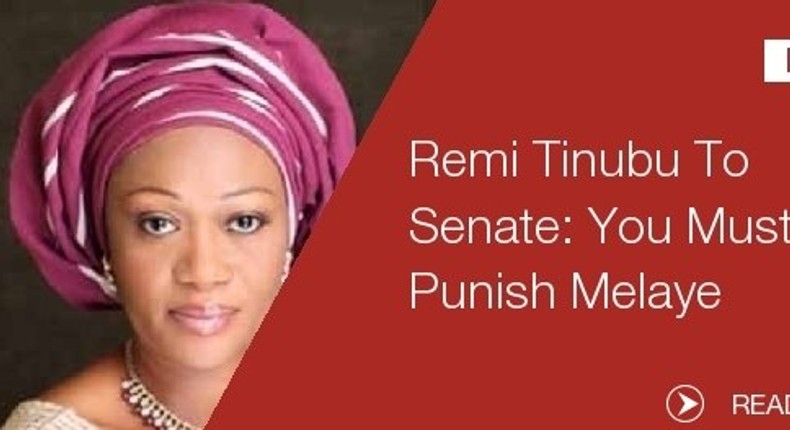 In separate petitions on Tuesday, July 19, to Bukola Saraki, the Senate President, and John Oyegun, the All Progressives Congress (APC) National Chairman, Tinubu said Melaye bragged that he would "face no consequence even if he fulfilled these criminal threats".
She warned that Melaye remains a threat to her and the Senate.
"The totality of that misconduct amounted to an assault against my person, as a Senator, as a female and a law-abiding citizen of Nigeria," she said.
"I take the cautionary step of submitting this letter in order to seek proper recourse that will protect me against criminal assault on the floor of the Senate (or elsewhere), that I and other lawmakers may exercise our rights as Senators to represent our constituencies in the manner and with the decorum befitting this hallowed chamber.
"I write that such misconduct as that exhibited by Senator Melaye shall never be repeated against me or any other Senator and so that reputation and the vital functions of the Senate as a respectful deliberative body shall not be undermined."
Tinubu expressed concern that the it has been one week since the incident and the Senate leadership remains silent on the matter, adding that, "so that this serious transgression is not allowed to pass, I formally submit for the record that I object to the reckless misconduct of Senator Melaye.
"What he did was completely unjustifiable and contrary to the established customs and norms that govern the behaviour of members of this body."
"For merely voicing my opinion on the floor of the Senate, which is the fundamental right and duty of every lawmaker, I was verbally abused and threatened by Senator Dino Melaye."
She said Melaye "used blatantly sexist and misogynistic language offensive to every woman in Nigeria and offensive to every person who truly believes that gender discrimination has no place in the Nigeria we are trying to build for ourselves and all future generations."
Insisting on a disciplinary action against the Kogi senator, Tinubu said: "Unless Sen. Melaye is appropriately disciplined, he remains a danger to me and to the Senate at large. He has promised twice within one week to attack me."
She urged the Senate leadership to "recognise the gravity of the situation and take appropriate action".
In the letter to Oyegun, Senator Tinubu said "'What took place at that session was nothing short of a threat of physical assault and abuse against me by Senator Melaye.
"I would like to place on record for the party this formal complaint in the hope that the party will act to appropriately sanction Senator Melaye for his malign behaviour.
"In this way, the party will affirm its policy of zero tolerance for gender discrimination and restore its reputation as a vehicle for positive change and not an arm of regression and intolerance towards women."
Narrating how the incident happened, Tinubu said: "I was duly recognised by the Senate President after Senator Melaye had spoken and berated some Senate colleagues over their perceived roles in the judicial case involving the Senate leadership.
"Although I remained silent and attempted no interjection during his statement, Senator Melaye tried to abridge my rights as a Senator by hectoring at me and interrupting my contribution."
She said had, at a point, cautioned Melaye that other Senators there had the same right as he and represented their constituents.
Continuing, she said: "In a burst of apparent rage, Senator Melaye charged at me in what can only be seen as an effort to physically attack me. The attack was only prevented by some respectful Senators who moved to impede his path or otherwise block him from approaching closer to me. I thank those Senators for their personal courage and sense of decorum.
"Senator Melaye hurled foul and vulgar language at me. What he said should never be heard in any public institution let alone the floor of the Senate. Denigrating me as a woman, Senator Melaye threatened to beat me on the floor of the Senate simply because I dared to express an opinion different from his."
She added: "I am both a ranking Senator and a woman. But Senator Melaye took neither into consideration as he issued threats of rape and assault, while boasting that he would face no consequence even if he fulfilled these criminal threats.
"Compounding the damage inflicted by Sen. Melaye is the fact that we are both of the APC. Thus, I am compelled to report this incident. It also gives me great concern that the Senate leadership has heretofore been silent on this matter as if condoning the errant behaviour of the Senator.
She urged the party to "investigate this matter in order to restore the public image and moral standing of the party and of APC members in the Senate.
"In this manner, we show that we reject the misconduct that has wronged our nation and people for so long. Only if we act against such excesses will the people truly believe we are committed to the reforms we have promised them. We must start by ensuring that our own members know how to behave, according to the decorum befitting their elect."
However, Melaye has insisted he will not apologiseto Senator Tinubu, saying he has moved on.
JOIN OUR PULSE COMMUNITY!
Recommended articles
Subsidy: Tinubu to get one refinery working before December - Kyari
Gov Mbah cancels sit-at-home in Enugu, begs Tinubu to release Nnamdi Kanu
US assures NDLEA of more support, collaboration in drug trafficking fight
Fuel subsidy not budgeted for in 2023 budget – NNPC boss claims
No plan to embark on strike over fuel subsidy removal – NLC tells Nigerians
Tinubu meets Lawan, Gbajabiamila, insists on right choice for NASS leadership
I was forced to sign election result sheets, Atiku's witness tells tribunal
That's bad - Trump reacts as Joe Biden tumbles on Air Force stage
Declare state of emergency on drug abuse, Reps tell Tinubu