President Buhari has played the Niger Delta militants
President Buhari might have changed his mind about the dialogue with militants in the troubled oil rich region.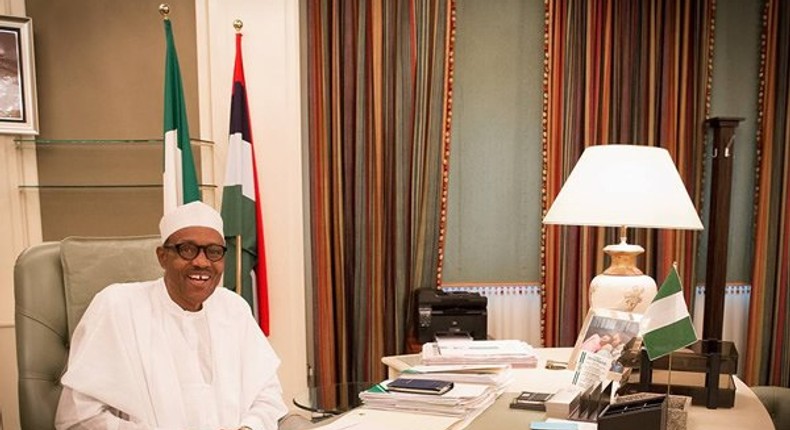 The proposed dialogue between the Federal Government and militants in the Niger Delta might not hold after all.
Reports say President Buhari might have changed his mind about the dialogue with militants in the troubled oil rich region.
According to observers, the Niger Delta Avengers' bombing of five offshore facilities was a sign that they had become weary of waiting to be called to the table.
The sacking of the Group Managing Director (GMD) of the Nigerian National Petroleum Corporation (NNPC), Ibe Kachikwu, who made moves of initiating talks with militants, also dampened hopes.
You will recall that Kachikwu visited Gbaramatu village to hold talks with the militants, reportedly on the instance of Mr. President.
Most Nigerians alleged that the former NNPC GMD's sin might have been his over-zealousness in ensuring that the Niger Delta 'trouble makers', as they are seen in some quarters, have a juicy slice of the well buttered Nigerian cake.
Is Kachikwu paying for the sin of publicly challenging the Federal Government's ministerial Agbero - synonym (Tout,Thug)? In the voice of African China, If I say O- You say P - Another man say C, Na you sabi.
There are unconfirmed reports that the Federal Government in its wisdom, has hired some Saudi mercenaries to flush out the Niger Delta Avengers. These mercenaries were allegedly paid over $200m to come to Nigeria and chase the creek crawlers out of their domain.
How funny! Na visitor go come show me road to my kitchen when NEPA abi na PHCN take light?
Vanguard reported that Buhari's new song differs from the sweet tune of plea he sang, when he called on the Niger Delta Avengers to please stop bombing pipelines.
His new release goes thus: "We have to concentrate on the militants to try to know how many of them, in terms of groupings, try to get in touch with their leadership to try to persuade them to please give Nigeria a chance. "I assure them that when were very junior officers, we were told by the Head of State, who was General Gowon, that to keep Nigeria one is a task that must be done, we never thought of oil.
"What we were after is one Nigeria. Please, pass the message to the militants that one Nigeria is not negotiable. And I pray they better accept it. The constitution is very clear as to what they should get and I assure them that there would be justice."
Well, the Movement for the Emancipation of the Niger Delta (MEND) seems to be true faith filled militants as they have gone ahead to release a undefinedto dialogue with the Federal Government. From biblical story, Aaron was just following the main man-Moses about, doing all he was asked to do.
Why did they even name them the Aaron team? Is it because the name starts with A, as in first letter of the English alphabet? Wish Frank Donga or Lagos Class Captain was here to pose the question.
Pray Buhari has their time and stretches his rod of favour to them, since MEND says it
Will the NSA even have their time, this one that he is fighting for turf in Aso Rock with the DSS boss? People have been asking why President Buhari has not settled the issue all this while. Okay! Is it not when they speak loud that BABA will hear what is happening. These guys have been whispering around the Villa.
Advice to those who will be negotiating for MEND "PLEASE SPEAK UP" when you meet with BABA, because he is very impatient with people expect him to strain his newly repaired, or is it replaced pair of glass ears. Talk about buy Nigeria and grow the economy.
That's true, how come MEND did not call the so called Twitter lion, Ben Murray Bruce?
Abeg! It is good sef. As his family member, though my GSM was busy when AMCON visited, I will advise him to "REMEMBER WHOSE SON HE IS".
PROTECT YOUR GALLERY(IA) broda Bruce!
They say Warri no dey carry last! From the look of things, be like na Warri dey chop dust ni.
JOIN OUR PULSE COMMUNITY!
Recommended articles
Zamfara airlifts 2,500 pilgrims to Saudi
Gov. Yusuf announces 6 appointments for agencies of Kano Govt
Women are architects of their own political woes, says Anambra lawmaker
Tinubu, APC, INEC oppose admission of Atiku's documents in evidence
Ex- Imo Chief of Staff lauds Tinubu on fuel subsidy
Subsidy removal is in the interest of Nigerians, says ex minister Adegoroye
Tobacco kills 8m people globally every year , says WHO
Gender advocate urges parents to educate girls about menstrual circle
Bauchi gets new NSCDC commandant