Court convicts 4 companies accused of laundering ex-first lady's $15m
The four companies had pleaded guilty to the money laundering charges against them, but Jonathan's aide pleaded not guilty.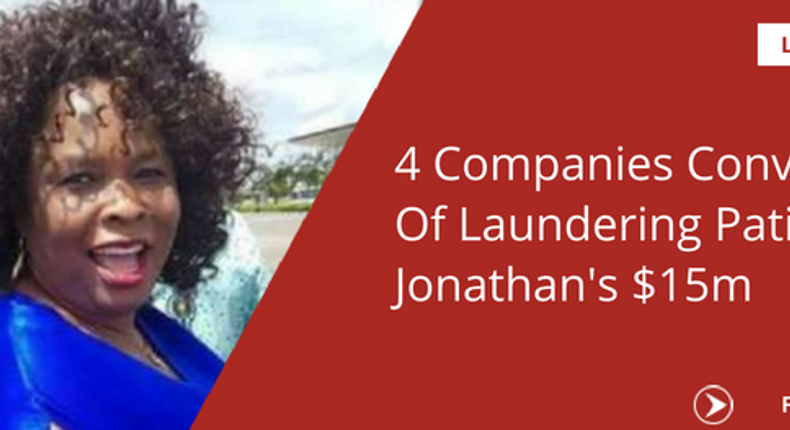 Four companies have been convicted of laundering $15.5 million belonging to the immediate past first lady,
A Federal High Court in Lagos found the companies, which were linked to ex-President Goodluck Jonathan's former Special Adviser on Domestic Affairs, Waripamo-Owei Dudafa, guilty of money laundering.
The Economic and Financial Crimes Commission had frozen the accounts of the four companies and seized the $15 million while probing Dudafa for money laundering.
Following the temporary seizure, Mrs Jonathan sued the EFCC and Skye Bank, claiming ownership of the money.
Justice Babs Kuewumi on Wednesday convicted the four companies of laundering the money.
The EFCC had arraigned the companies on September 15, 2016,  along with Dudafa, a lawyer, Amajuoyi Briggs; and a banker, Adedamola Bolodeoku.
The companies pleaded guilty to money laundering but Dudafa, Briggs and Bolodeoku pleaded not guilty.
According to the EFCC prosecutor, Mr Rotimi Oyedepo, the money was stolen from the State House, Abuja.
He said: "The EFCC received an intelligence report showing vividly that the fourth to seventh defendants retained proceeds of crime.
"Our investigations showed that Fetus Iyoha admitted receiving the fund from the first defendant (Dudafa). Iyoha is a domestic staff at the State House.
"He admitted that funds credited into the accounts were given to him from the State House."
Oyedepo said Iyoha paid $3,096,377.38 into Pluto's account; $3,410,534.71 into Seagate's account; $3,765,711.87 into Trans Oceans' account; and $250,000 into Avalon Global's account - all the accounts were domiciled in Skye Bank.
In his verdict, Justice Kuewumi said the EFCC has proven its case beyond reasonable doubt.
"I am satisfied that the prosecution has proved its case. I'll exercise my discretion to suspend sentence until conclusion of trial," the judge held.
Oyedepo urged the court to order the forfeiture of the money to the Federal Government but the judge said the ownership issue is still pending.
He, therefore, adjourned till December 14 for the trial of Dudafa, Briggs and Bolodeoku.
JOIN OUR PULSE COMMUNITY!
Recommended articles
Pastor Enenche warns witches, wizards coming for Tinubu's inauguration
Senate passes Bill to take CBN Ways and Means advances to FG 15%
Buhari preaches unity, inclusion as Kenyatta delivers inauguration lecture
Buhari to make farewell broadcast to Nigerians on Sunday
Elections are over, it's time to unite Nigerians - Kenyatta tells Tinubu
Our government has no Islamisation agenda - Shettima assures Nigerians
Governor-elect, Alia vows to prioritise Benue children's welfare
Buhari could have achieved more by monitoring appointees – IPAC
My staff worked under intense pressure — Aisha Buhari