Fuel: Enugu residents threaten to burn down filling stations over hoarding
Residents of Nsukka town and environs, on Friday carried out a peaceful protest over the shut down of filling stations by their owners.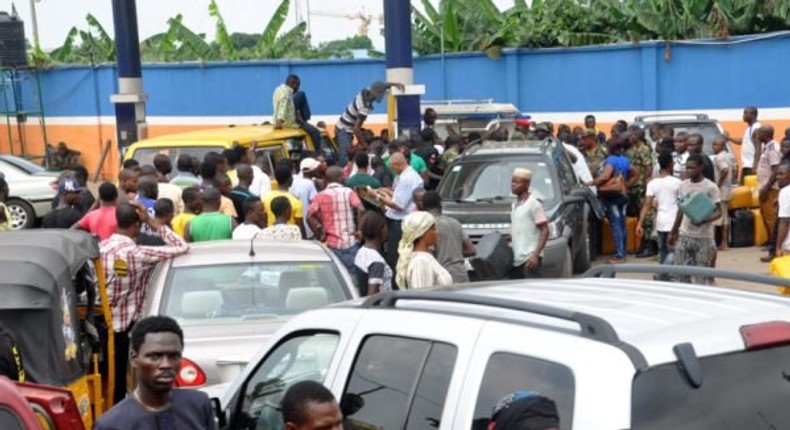 Protesters said that the owners shut down their stations without giving any reasons or explanations to the public.
The more than 2000 protesters, were mainly motorcyclists, tricycle operators and other concerned residents, who blocked the busy Nsukka Total Roundabout, resulting in traffic gridlock.
The News Agency of Nigeria (NAN), reports that roads affected by the blockade included University, Odenigbo and Enugu roads.
The protesters threatened the filling station owners to open their stations and start dispensing petrol to the public or risk their stations being set ablaze.
A protester who identified himself as Mr Mike Ume, said as a result of shut down of the filling stations, fuel was now being sold in the black market at the rate of N1,000 per litre.
"I joined this protest because I believe all of us are suffering the same thing, and the owners did not give any reasons for the closure.
"People are sleeping in banks to get redesigned Naira notes that is scarce, and now petroleum marketers want to close their stations to add to our suffering?
"What it means is, they want residents and their families to die of hunger," Ume said.
Another protester, Mr Samuel Ezema, said the protest was not planned, explaining that few of them, tricycle operators, who could not see anywhere to buy petrol started protesting before other residents started joining in.
"We have no leader in this protest because it is not a planned protest.
"This protest is to reject the selling of a litre of petrol by black marketers at N1,000 because marketers closed their filling stations.
"Those in authority should remember the poor people in this country who are suffering on a daily basis," Ezema said.
Mrs Felicia Ugwuoke, a passenger in one of the vehicles stranded because of the protest, begged the protesters to open the roads and allow motorists to pass.
"I know what they are protesting is for everybody's interest but they should not block roads," Ugwuoke said.
NAN reports that the timely intervention of policemen from Nsukka Divisional Police Station, helped to prevent the situation from going out of hand.
As at the time of filing this report, a team of policemen were still patrolling the area.
A manager in one of the filling stations in Nsukka town, who pleaded anonymity, however, said the owner of the filling station instructed them not to open the station today because marketers in the area would be holding their meeting.
JOIN OUR PULSE COMMUNITY!
Recommended articles
Amaewhule emerges as Speaker of Rivers 10th Assembly
Suspected political thugs assault PDP chieftain as tribunal sits in Ogun
Yahaya Bello dissolves 7th Kogi Assembly
Tinubu begs striking health workers to return to work
PDP witness tells tribunal he signed Nasarawa result sheet under duress
Kogi traditional rulers condemn attack on Governor Bello
Remi Tinubu takes up first official engagement as Nigeria's new first lady
Fire causes ₦‎40 million damage to Ebonyi court, exhibits lost
Secondary school in Bauchi with 350 students has only 3 teachers