Petroleum corpration pays N69bn to Federation Account
It added that NNPC also recorded N107.826 billion revenue in the month of March against N104.804 in February.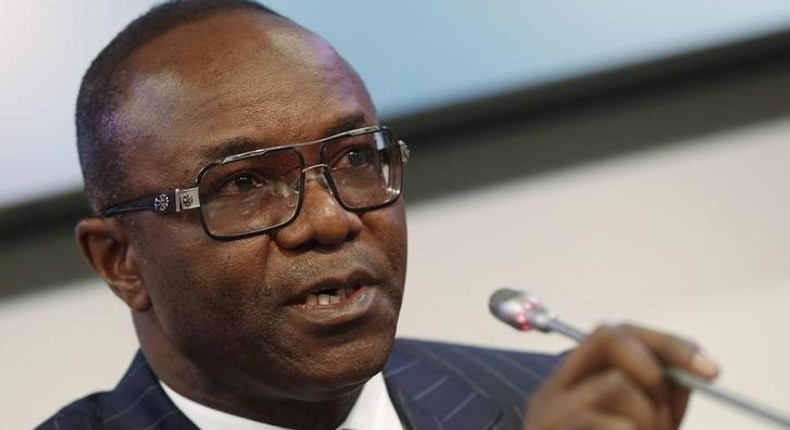 This is contained in the corporation's monthly financial report for March released in Abuja.
It said that amount had brought the total amount paid to the Federation Account for Domestic Crude Oil and Gas and other receipts from April 2015 to March 2016 to N1.118 trillion.
It said that the revenue rose marginally by 2.88 per cent, adding that the expenses of the corporation dipped by 12.92 per cent to N112.368 billion from N129, 034 billion recorded in previous month.
According to the report, the corporation also made a loss of N18.89 billion in the month under review.
It said the loss was an improvement from a deficit of N24.23 billion recorded in February.
A breakdown of the financial performance of its subsidiaries showed that the Nigerian Petroleum Development Company (NPDC), Integrated Data Services Limited (IDSL) and National Engineering and Technical Company Limited posted losses of N9.874 billion, N469 million and N69 million, respectively.
It reported that the Nigerian Gas Company recorded a profit of N5.155 billion.
``Kaduna, Port Harcourt and Warri refining companies recorded losses of N1.824 billion, N1.971 billion and N845 million, respectively, while the PPMC recorded a deficit of N923 million,'' it added.
The report said that the deficit recorded by NPDC in February and March 2016 were due to production shut–in occasioned by vandalism of Forcados Export Line.
This, it said resulted to the loss of its entire revenue from crude oil sales of about ₦20 billion.
The report also put the combined value of output by the three refineries at import parity price in March 2016 at N22.93 billion, while the associated Crude plus freight cost was N20.02 billion.
It said that this gave negative margin of N3.95 billion after considering overhead of N6.87 billion.
The report also said that a total of N85.66 billion was collected as sales revenue from white products sold by PPMC in the month of March 2016 compared with N85.23 billion collected in the previous month.
"Total revenues generated from the sales of white products for the period April 2015 to March 2016 stands at N775.90 billion where PMS contributed about 88.85 per cent of the revenues collected with a value of N689.41 billion".
The NNPC recorded total export proceeds of 170.12 million dollars in the month under review with crude oil export accounting for 98.31 million dollars, while gas export accounted for 71.81 million dollars.
On dollar payments to Joint Venture Cash Call, it said total export proceeds of 141.87 million dollars were recorded in March, 2016 consisting of crude oil receipt of 88.36 million dollars.
It added that Liquefied Petroleum Gas (LPG) and Escravos Gas to Liquid (EGTL) recorded proceed of 1.52 million dollars and Miscellaneous receipts amounting to 51.99 million dollars.
"The drastic slump in total export receipt is largely due to shut in of about 300,000 barrel of oil per day (bopd) at Forcados Terminal following the force majeure declared by Shell Petroleum Development Company (SPDC) on 15th February, 2016.
``Hence, all un-lifted February and March cargoes were deferred until the repair is completed."
JOIN OUR PULSE COMMUNITY!
Recommended articles
EFCC grills former minister Tallen over alleged ₦‎2bn fraud
UN chief appoints Adesina, others to spearhead fight against malnutrition
Sanwo-Olu vows to give Lagos biggest children hospital in Africa
Kano Govt sets up mobile courts to tackle phone snatching
Withdraw petition against Tinubu and stop messing up - LP faction tells Obi
Tinubu commissions NASS Central Mosque, urges Muslims on humility
Anambra govt launches e-identification cards for civil, public servants
Tearful Ondo Speaker dissolves state assembly
Hajj: NAHCON reads riot act to caterers in Madina, disqualifies defaulter