Again, militants blow up oil pipeline
The oil installation destroyed was a section of the Escravos gas trunkline.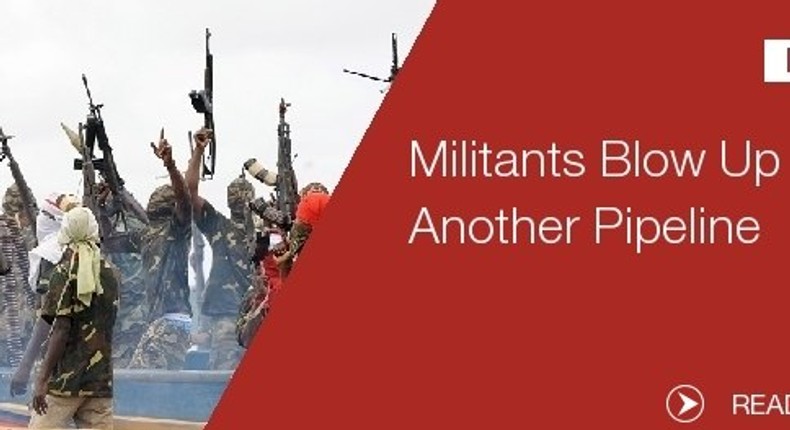 Niger Delta militants have blown up another oil facility in Delta State,
Details are still sketchy, but report says the incident occurred in the early hours of Friday, May 20, around Salvation city, Ogbe-Ijoh in Warri South West local government area of the state.
It is believed that the newly formed group, Niger Delta Avengers (NDA) is behind the attack as it had claimed responsibility for on oil facilities in the region.
The militants, who are demanding a greater share of oil profits among others, have vowed to wreck more havoc on all installations in the region.
According to the Minister of State for Petroleum, Dr. Ibe Kachikwu, Nigeria's oil production has fallen by almost 40 percent due to militant attacks on facilities in the Niger Delta.
JOIN OUR PULSE COMMUNITY!
Recommended articles
Anambra community leader wants NLC to dialogue with FG, instead of strike
Call Yahaya Bello to order, Kogi SDP candidate urges President Tinubu
Give Tinubu benefit of doubt, for underrated President may perform better – Okechukwu
UK firm celebrates Ibrahim as Tinubu's deputy Chief of Staff
Tinubu administration signals improved executive-legislature relations – Buni
Marketers hail FG over approval to import fuel, says price will crash soon
Residents, animals fight for dirty water in ponds in this Plateau community
Lawmaker-elect subsidises fertiliser for Zamfara farmers by ₦8,000 per bag
Police deploy massive joint security patrols to end sit-at-home order in Enugu