Gov says critics unfair to Buhari on economic programmes
Gov El Rufai said it was unfair that the critics were not referring to the causes of the present predicaments.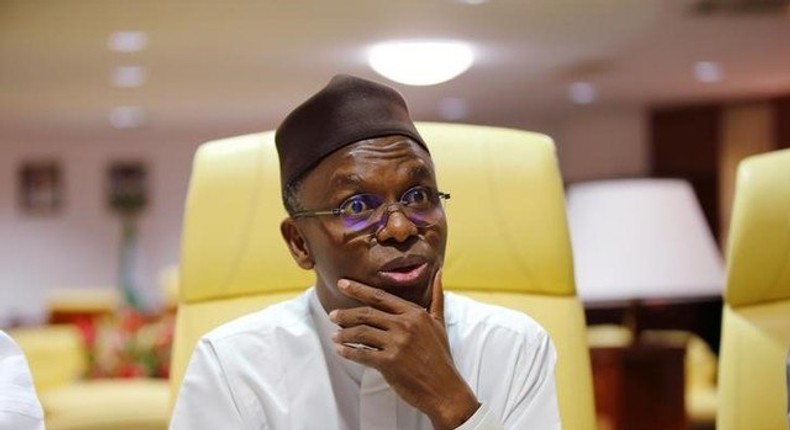 The governor said this at the end of the National Economic Council (NEC) meeting in Abuja presided over by Vice President Yemi Osinbajo.
"When people say that this administration has impoverished them; I think they are not being charitable.
"Because I have said that we inherited a governmental structure at state and federal levels built around the assumption that price of oil will remain at $100 per barrel.
"By the time we took over, prices dipped to as low as $26 per barrel.
"Now when 80 per cent of government revenues depend on the price of oil and the quantity of oil you sell (reduces) you must expect a cut in your consumption if the price collapses.
"If in your own household your salary is slashed by 80 per cent, what do you do? There is painful adjustment in the funding.
"You have to seek your family and explain to them that this is what is happening, your salary has been slashed by 80 per cent so rice is off the table and it is now `garri'  and so on.
"This is what Nigeria is going through. Essentially, our revenues have collapsed by about 40 per cent to 60 per cent if you compare it with , say, 2014.
"This collapse happened because the price of oil has moved from a high of $140 a barrel around 2013 to a low of $26 per barrel in February 2016.
"Secondly, we were producing over two million barrels of oil per day because of vandalism in the Delta, production went to as low as 1.1 million barrels per day.''
The governor noted that the production was back a bit to 1.8 million barrels per day but noted that when the production was little very little money was coming in to the government.
He said it was inevitable that there would be cuts and pain adding that to blame the government for the economic problem was unfair.
The governor said that when he left office as FCT minister, in 2007, the administration of Olusegun  Obasanjo handed over $40 billion in reserve and  $27 billion in Excess Crude Account.
"That is what we handed over to Yar'adua (late Umaru).
"Coming back as Gov. of Kaduna there is only $2.1 bn in excess crude account and when we left office the price of oil was $75 per barrel.''
The governor said that those who came into office blew the savings, earned $300 billion and spent it, borrowed over $60 billion in the period and spent all.
"It is up to President Buhari to clear that mess,'' he added.
He said it was unfair that the critics were not referring to the causes of the present predicaments and urged informed people to continue to address the question.
He said the country was paying the price of mismanagement of the past, adding that without diversification the problem would be more.
The governor also defended the government's economic team adding that the economic team of the administration was well constituted.
According to him the economic team has both policy level meeting and a technical level teams.
He said that the difference between Obasanjo's economic team and Buhari's team was that the former was headed by the president while the latter was headed by the Vice President.
"What you need at the policy level is basic understanding, management skills and leadership.
"The VP is exposed, educated and enlightened enough to say yes or no if given many policy options.
"The technical people are there to give you the technical input and the VP was the one selected and he has to make that policy decision.
"You cannot have an unelected economist deciding policy for the country because there has to be accountability.
"But there is nowhere in the world where heading the economic team is economist because the technical people are there to give you the technical input,'' he added.
The Minister of National Planning, Udoma Udo Udoma, also explained that the economic team consisted of persons with political responsibility for the ultimate policy decisions, adding that the technical work was done by other people in various organs of government.
According to Udoma, the administration has consulted with economists from Nigeria while the political decision is taken by the elected officials who are politically accountable.
On the poor economy, he said the administration was not to blame.
"We are not responsible for the economic situation; we are a rescue team, and under President Buhari we are determined to take Nigeria out of the situation,'' he added.
JOIN OUR PULSE COMMUNITY!
Recommended articles
FG sets ₦75bn intervention fund to support MSMEs
BREAKING: Tribunal sacks Uba Sani, declares Kaduna governorship election inconclusive
Military neutralises 191 terrorists, apprehends 184 in 2 weeks - DHQ
Tribunal upholds Umo Eno's victory in Akwa Ibom
FG declares Monday public holiday to mark 63rd Independence anniversary
EFCC sensitises gold merchants in Zamfara against money laundering
Workers protest as Minister Umahi locks them out of office
NLC dismisses government's claim of strike suspension agreement
INEC seeks media support for credible guber election in Bayelsa
I still love guys - Super Falcons' Michelle Alozie reacts to lesbian rumour
Heartbreak for Nigeria as AFCON 2027 bid slips away to East African rivals
Victor Boniface or Harry Kane: Who has had the better Bundesliga start?
Steph Curry: NBA star lists Nigeria's Burna Boy and WizKid among favorite music artists
Controversy as Super Falcons' Michelle Alozie unveils her 'female lover'
AFCON 2027: Algeria hands Nigeria a major boost