"We'll blow up more pipelines," militants threaten Buhari
The group took responsibility for February's attack on an underwater pipeline that forced Shell to shut down its export terminal for weeks.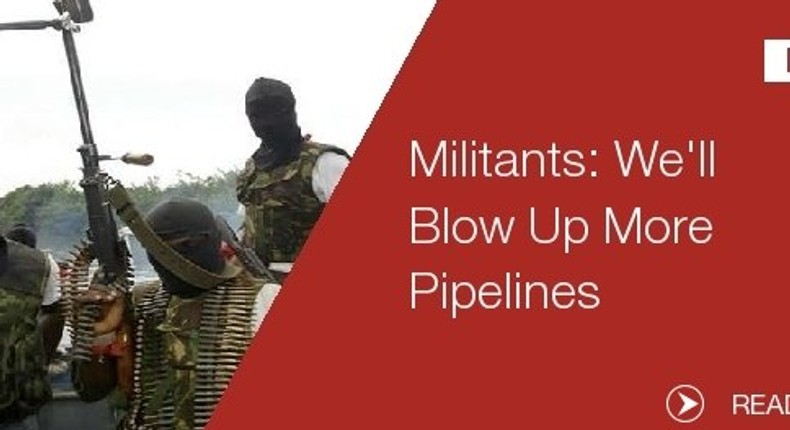 The group said in a statement on Monday, April 18, that President Muhammadu Buhari's administration places more importance on the oil resources of the region than human lives..
While speaking in China last week, the President had said the government would treat oil vandals like Boko Haramterrorists.
"The presidency can go ahead and set up a permanent security force, as stated by the vice president when he visited the SPDC (Shell Petroleum Development Company) Forcados Terminal," the militant group said in a statement.
"We are not deterred by such threats as we are highly spirited and shall continue blowing up pipelines until the Niger Delta people are no longer marginalized by the Nigerian actors."
The group also called warned the international community, especially China, from where Buhari has just returned, not loan Nigeria any money as "there will be no liters of crude oil to service the loan deal".
Oil pipeline vandalism seemed to have stepped up in the country since ex-militant leader, Tompolo, was declared wanted in January by the Economic Financial Crimes Commission (EFCC) over corruption charges.
JOIN OUR PULSE COMMUNITY!
Recommended articles
Fuel prices will go down after removal of subsidy, says NNPC CEO Kyari
Niger governor sacks political appointees
5 Buhari appointees President Tinubu should retain
New Commander 12 Brigade seeks inter-agency collaboration to enhance security in Kogi
Enugu residents lament increase in transportation fares amidst fuel scarcity
MSport Football Challenge: Road to final 2023
BREAKING: We have not devalued naira to 680/USD - CBN denies report
Zamfara airlifts 2,500 pilgrims to Saudi
Gov. Yusuf announces 6 appointments for agencies of Kano Govt