20 soldiers face Court Martial over alleged sabotage, conspiracy
Ezugwu explained that the aim of the GCM is to ensure accelerated dispensation of justice to the accused.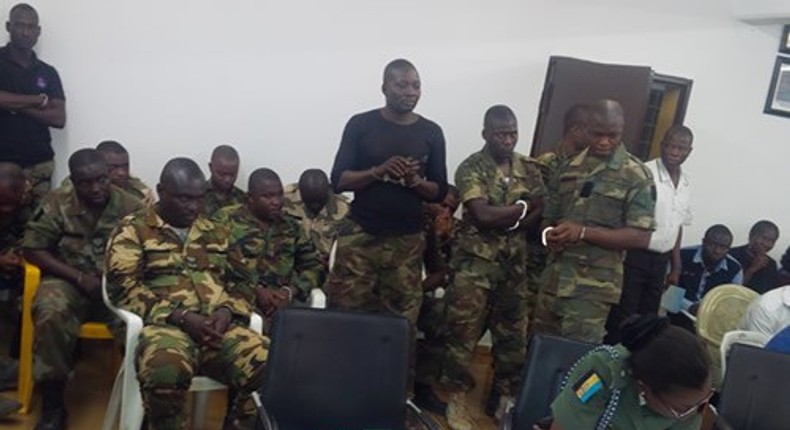 General Officer Commanding (GOC), Victor Ezugwu, 7 division of the Nigerian army inaugurated the GCM on Wednesday, August 10, at a ceremony in Maiduguri, Borno State.
Ezugwu said the order for the GCM came from the  army headquarters in Abuja.
He said: "Following the directives from army headquarters that a standing GCM be set up for the Operation Lafiya Dole to try offence committed by personnel within the theater of operation.
"I issued a convening order for the GCM on August 5, and members were directed to assemble today for formal inauguration.
"As you are aware, discipline is the bedrock of the military profession and to have a disciplined body of officers and men there must be justice, because it is when there is justice that discipline can be achieved.
"Justice implies that infractions of the law must be promptly reported, investigated and the accused persons prosecuted within a reasonable time through the laid down rules regulations and procedures," he said.
"The GCM is therefore, convened to try a total of 4 officers and 16 other ranks of the Nigerian Army who have committed various offences within the Theater."
He added: "It must be stated at this juncture that one of the aims of a court martial is to achieve timely and quick dispensation of justice within the framework provided in relation to statue books.
"Therefore, it is important that both the prosecutors and the accused persons or their counsels are mindful of this fact and strive to shun all forms of antics such as request for frivolous adjournments which could lead to unnecessary delays in the trials processes.
"It is often said in the legal parlance that justice delayed is justice denied.
"For the president and members of the GCM, I enjoin you all to dispense this all important assignment in accordance with the appropriate extant laws.
"And ensure that your opinions and decisions on all the cases brought before you is not in any way beclouded with bias, external pressure by extraneous factors.
"The outcome of the GCM must, therefore, be based on careful appreciation of the whole facts of each and evidence placed before you in the course of trial of these accused persons."
The accused were charged with sabotage and conspiracy against Nigeria.
JOIN OUR PULSE COMMUNITY!
Recommended articles
Accept whatever court decides - Buhari tells opposition parties
Assets Declaration: I'm 10% poorer in last 4 years, says Makinde
Read full text of Buhari's farewell broadcast to Nigerians
Buhari apologises for inflicting pain, suffering on Nigerians
A tragic 3-second moment is how I'll remember Buhari's 8 years as president
Pastor Enenche warns witches, wizards coming for Tinubu's inauguration
Senate passes Bill to take CBN Ways and Means advances to FG 15%
Buhari preaches unity, inclusion as Kenyatta delivers inauguration lecture
Buhari to make farewell broadcast to Nigerians on Sunday