Dasuki's lawyer says ex-President ready to appear in court
Sambo Dasuki's lawyer has said ex-President Jonathan will appear in court to testify for his ex-NSA over the alleged $2billion arms fraud.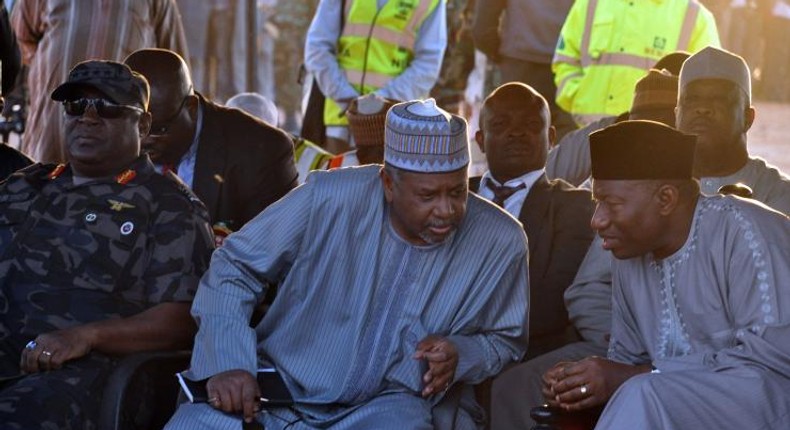 According to a recent report in Vanguard, Raji made this known on Tuesday, November 1, 2016.
Raji reportedly said all is set for Jonathan, to appear in the ongoing trial of Dasuki and testify in favour of the former NSA.
Raji said: "Dr. Goodluck Jonathan will testify in court. He is one of those who will testify and that the statement he made in London appears to be the first phase of the war chest of the ex-NSA."
Continuing, Raji said: "You know the ex-NSA said he acted on Jonathan's instructions in disbursing some of the cash, and from the look of things, the ex-President is now ready to accept responsibility for whatever Dasuki did. So far, we have secured the consent of Jonathan to appear in court for Dasuki. This will make the trial worth it."
"Dasuki has a list of highly-placed beneficiaries from the arms cash. A particular traditional ruler got about N500million as a gift from the government through the Office of NSA. There are many hidden beneficiaries whom Nigerians must know. Nigerians will be shocked by some revelations. Nothing short of open trial will let Nigerians know the truth. We are ready for this," he hinted.
Before now, Jonathan had faulted the charges against Dasuki saying the ex-NSA could not have stolen $2.2billion as claimed.
The ex-President reportedly warships, aircraft and lots of weapons were bought for the army under his tenure, hence it's impossible for Dasuki to steal $2.1 billion.
JOIN OUR PULSE COMMUNITY!
Recommended articles
Tinubu promises minimum wage review as subsidy dispute rumbles on
Revert to status quo on subsidy, let's continue discussion - TUC tells FG
Nigerian women can now pass permanent residency to foreign husbands but not citizenship
Group hails Tinubu on Akume's appointment as SGF
Kano Gov orders land developers at Hajj Camp to stop immediately
Ondo CP presents ₦13.3m cheques to 27 late police officers' families
Italy committed to working with Nigeria's new leadership — Envoy
Ilorin Emirate frowns at provocative beer advert
Immediate past Ondo Speaker receives rousing welcome at country home