FG, NLC reach agreement
The government also set up a 16 man committee to look into the issue of fuel price hike, minimum wage and the palliative measures that government has put in place.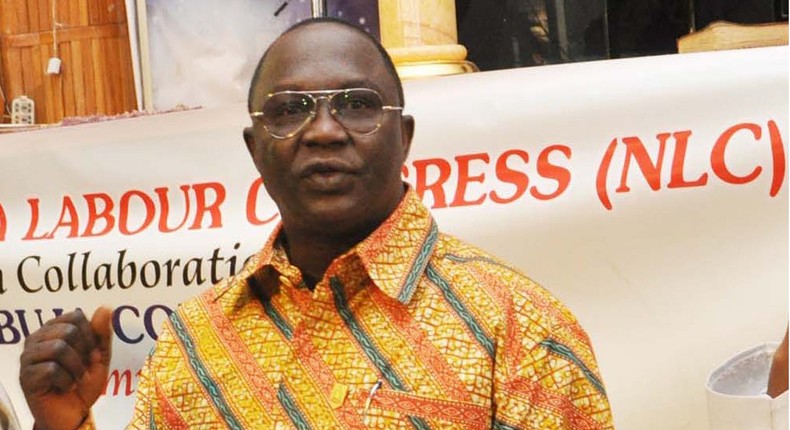 The Secretary to the Government of the Federation (SGF), Engineer Lawal David Babachir, also announced that President Buhari has appointed Alhaji Mohammed Buba as the new  chairman of Petroleum Products Pricing Regulatory Agency (PPPRA).
The re-constitution of the PPPRA was also part of the agreement reached by both parties during negotiations earlier.
Babachir, said "We just finished our meeting with the Nigerian Labour Congress (NLC) and I'm happy to announce we had a very successful meeting with an outcome that will make every Nigerian happy.
"First of all, on the side of the government, we want to thank the Nigerian Labour Congress for their magnanimity in calling off the strike, and we thank Nigerians for being patient while the strike lasted."
"In this meeting, we have arrived at some major decisions. First of all, you would recall that before we adjourned the last meeting, we had basically decided to discuss three major issues. One was the issue of the minimum wage for workers, both in government and in the private. And also Labour had raised the issue of requirement to be involved in the implementation of the half a trillion naira in the budget meant for palliatives for Nigerians that are on the fringes of society economically.
"Then, Labour had requested that the government reconstitute the Board of PPPRA which, they said that, had it been in place, the issue of the misunderstanding in the price regulation would not have arisen. This evening, I'm proud to announce that, first of all, a 16-man committee has been set up as a technical committee – half from the labour side and half from the government side – to discuss issues concerning the minimum wage, to advise on the setting up and possible modalities of working out the committee to discuss minimum wage issue," the SGF added.
The NLC President, Ayuba Wabba, on his part, said the meeting was successful, adding that labour will present 8 members who will sit on the PPPRA board.
Wabba also said "As you are aware, we resumed the meeting today and I can tell you the meeting was very successful. We have agreed to have the technical committee to look at the details, including the fact that the pricing issue and template would have to be considered by an appropriate body which, by law, is allowed to do that – which is PPPRA. Part of the issue is also to get the Board (of PPPRA) in place."
undefinedafter meeting with the national leader of the All Progressives Congress (APC), Bola Ahmed Tinubu.
See Pulse Photo-News gallery below.
JOIN OUR PULSE COMMUNITY!
Recommended articles
Tribunal criticises Labour Party, Obi, for lack of preparedness
Tinubu holds first meeting with National Assembly leaders
Nigeria's tax-to-GDP ratio surges to 10.86%
Tinubu holds first security meeting with Service Chiefs
FG approves billion-dollar expansion for Snake Island Port
Group urges Tinubu to prioritise care for senior citizens
My people want a Christian to emerge as Senate President  —  Gbenga Daniel
6 positive news stories from Nigeria in May 2023
Fuel prices will go down after removal of subsidy, says NNPC CEO Kyari