'Don't lament about removal of subsidy,' Tinubu tells Nigerians
Tinubu argued that the former system in the down-stream sector of Nigeria's oil industry, only benefited the rich.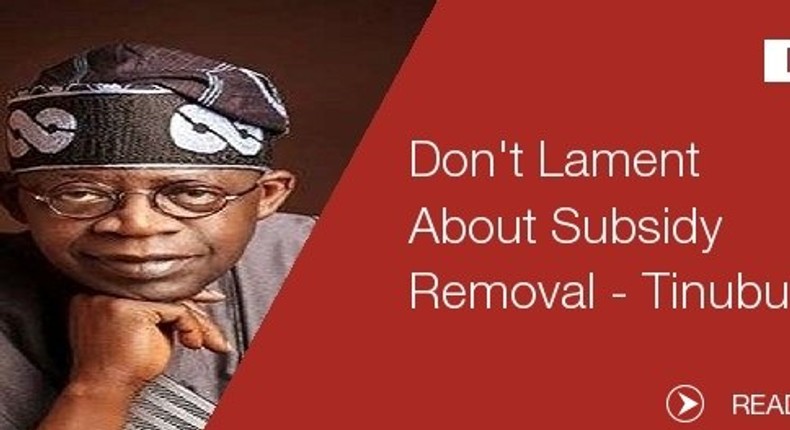 Tinubu said he is aware of the mixed feelings the decision of the government is causing, adding that  "However, we should not lament the departure of something just because of its longevity, particularly, when that very policy had ceased to serve us long ago."
Punch reports that Tinubu argued that the former system in the down-stream sector of Nigeria's oil industry, only benefited the rich.
The APC leader also said "The bogus supplier was paid for supplying nothing, while you sweated in long queues for fuel that was never there. The smuggler secreted fuel across the border, while our economy crossed the border into fuel scarcity.
"While the price of fuel was cheap on paper, these were the hidden costs that made the subsidy regime an expensive and heavy yoke that the nation could not continue. With dwindling revenue from oil due to the slump in global oil prices and a dwindling forex reserve, the country could no longer live in denial."
Tinubu also said investment in the oil and gas sector was low, because investors were skeptical about the possibilities of doing business under a fixed fuel pricing regime.
The APC leader said "President (Muhammadu) Buhari, after carefully weighing the options, decided to do what is right. In an act of courage, he removed the oil subsidy, thereby freeing the downstream component of this strategic sector of the economy from the distortions of price fixing.
"They offered no programmes of valid compensation to the people. Instead, they instigated a policy of monumental fraud known as SURE-P. However, the only thing sure about it was that its architects would siphon the public's funds to fatten their own wallets. They wanted to save money (for themselves) yet exploited the people for no good reason at all."
He also said "What the President did is about the future of our country and that of the next generation. This government is transferring the funds to better spend them and better save the people.
"Nothing in this world is perfect but this decision is a just and correct one aimed at bolstering the economy, while caring better for those the system has unfairly treated."
See Pulse Photo-News gallery below.
JOIN OUR PULSE COMMUNITY!
Recommended articles
Online publishers forum sets agenda for Tinubu administration
Subsidy Removal: Kano gov begs petrol marketers to revert to old price
Ohanaeze Ndigbo vows to rebuild, transform Igboland
Subsidy: Tinubu to get one refinery working before December - Kyari
Gov Mbah cancels sit-at-home in Enugu, begs Tinubu to release Nnamdi Kanu
US assures NDLEA of more support, collaboration in drug trafficking fight
Fuel subsidy not budgeted for in 2023 budget – NNPC boss claims
No plan to embark on strike over fuel subsidy removal – NLC tells Nigerians
Tinubu meets Lawan, Gbajabiamila, insists on right choice for NASS leadership