Nigerian lives don't matter
The average Nigerian life means nothing to the government, and events of the last few days have only served to buttress this point.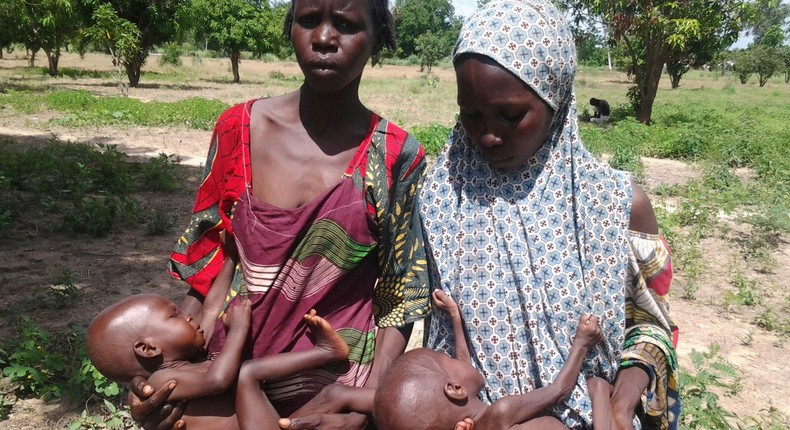 This silence is made worse by the fact that hundreds of Nigerians were murdered in the same state and by the same herdsmen in February.
"I have worked in many, many places -- Central African Republic, Darfur, South Sudan -- and the condition of people in very rural parts of Borno state is as bad as I have ever seen. It is an acute emergency," UN regional humanitarian coordinator, Toby Lanzer told AFP.
"The condition of people is awful. There are dozens of people dying daily of malnutrition... Our assessment is there are 15,000 people and five of them are dying daily as we speak," he added.
The food crisis in Borno has drawn the world's attention, but the Nigerian government is blissfully unaware of the impending disaster within its shores.
"What is happening in South Sudan is extremely disturbing and it is a very dicey situation," Buhari said, on Monday, July 11, while receiving the African Unity (AU) envoy on the Peace Fund, Dr Donald Kaberuka in Abuja.
It's extremely disheartening that President Buhari cannot spare a care for his people, but always seems eager to lend his voice to happenings abroad.
One would think that the idea of children starving to death in a wealthy country like Nigeria would break the hearts of its leaders, but it appears that one is expecting too much.
For isn't it in this same country that people are killed by police officers over meagre sums of money? Is it not in this same country that a public official spent £600,000 on a wristwatch while thousands were being slaughtered by terrorists?
The soul of Nigeria is dissipating slowly, there's no conscience left, no compassion, no milk of human kindness. It's now merely us vs. them, the rich vs. the poor, the politicians vs. the electorate.
Buhari and the All Progressives Congress (APC) promised change, but it is now clear that there's no such change to be expected. All we have is a black-hearted political class, and we've simply exchanged one pack of wolves for another.
May God have mercy on our souls.
JOIN OUR PULSE COMMUNITY!
Recommended articles
UK, US, others pledge support for President Tinubu
Tinubu condoles with AIT, family over Dokpesi's death
Queues return to filling stations in Ilorin amidst fuel subsidy removal
Gov. Mbah appoints Prof. Chidiebere Onyia as new SSG
Otti to recruit 5,000 teachers in Abia
Ebonyi governor freezes all government bank accounts
We'll ensure smooth removal of subsidy to avoid supply disruptions – NMDPRA
Forum urges Tinubu to create ministry for Diaspora, migration engagements
NNPC supports subsidy removal, assures Nigerians of sufficient petrol supply