'Increase in fuel price is illegal, insensitive' - Lawyer says
Falana said the Buhari administration acted against its promises not to remove subsidy in order to inflict undue pains on Nigerians.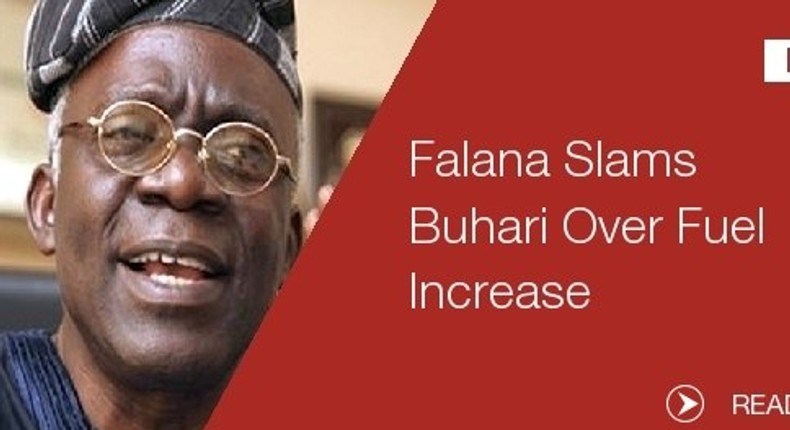 Human rights lawyer and activist,
He said the government lacks statutory power to increase fuel pump price as the body empowered to take such decision is yet to be constituted.
Falana, who stated this in a statement issued in Lagos on Thursday, May 12, asked the government to revert to the old pump price.
He said the Muhammadu Buhari administration acted against its promises not to remove subsidy in order to inflict undue pains on Nigerians.
The lawyer stressed that since the Petroleum Products Pricing Regulatory Agency (PPPRA) empowered to recommend the price of petroleum products has not been reconstituted, such decision was wrong.
"In view of the illegality, insensitivity and immorality of the price increase the Federal Government should cancel it, revert to the status quo and consult widely with all relevant stakeholders in the society," Falana said.
He also faulted the move based on the recent invitation of fresh bids for the setting up of modular refineries by the Directorate of Petroleum Resources (DPR), which resulted to licensing of 22 modular refineries "with combined capacities to refine 1.429 million barrels of crude oil per day. If the policy is genuinely pursued the construction of the refineries ought to be completed within the 9-12 months.
"If such refineries are established in the country the importation of fuel and the fraud associated with it will stop.
"In the interim, instead of importing oil from Europe and the United States the NNPC should refine crude oil for domestic consumption in neighbouring countries which have functional refineries.
"After all, Nigeria refines 60,000 barrels of crude oil per day in Cote d'ivoire which is not an oil producing nation." He said.
He further stated that "If subsidy had been removed over a month ago and the country has been saving $2 billion (from fuel importation and subsidy removal) while the refineries are now working at full capacity Dr. Kachukwu should tell Nigerians the justification for the new removal of fuel subsidy announced by him yesterday.
"The cost elements that make up the N145 are provocative. If the total landing cost of a litre and other charges are fixed at N138 what is the basis of fixing the price at N145? For goodness sake, why should motorists be made to pay NPA/NIMASA charges, within and without storage/ bridging charges etc?"
Falana also said that the decision will have virile effect on the people and the economy, adding that the government took Nigerians by surprise with the drastic decision, without any public debate or consultation with relevant stakeholders whatsoever.
JOIN OUR PULSE COMMUNITY!
Recommended articles
Ibadan philanthropist donates 2 transformers to support Makinde's govt
Deputy Senate President: What Barau Jibrin will bring to the 10th Assembly
Akeredolu immortalises victims of Owo Church attack with memorial park
BREAKING: Court restrains NLC, TUC from going on strike
Judge frowns on invasion of his privacy over Stella Oduah's ₦‎5bn fraud case
Governor Mbah begs Enugu residents to fight IPOB's sit-at-home intimidation
Amaewhule emerges as Speaker of Rivers 10th Assembly
Suspected political thugs assault PDP chieftain as tribunal sits in Ogun
Yahaya Bello dissolves 7th Kogi Assembly