Lere Olayinka slams ex-commissioner who criticised Governor
Kolawole had earlier said Fayose lacked the intellectual capacity to run the state.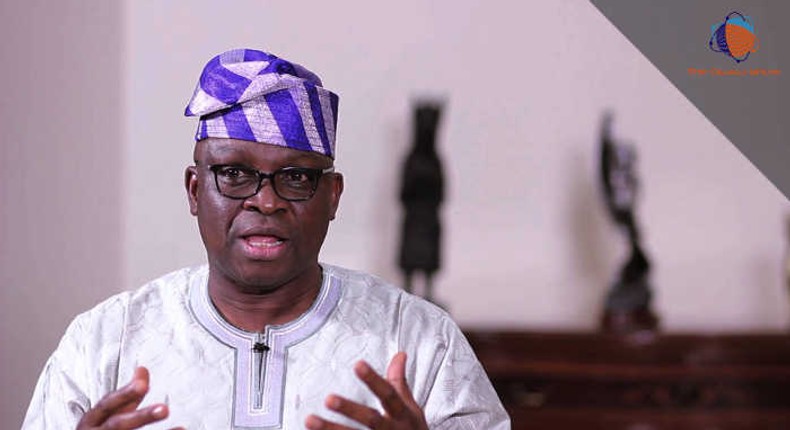 He also claimed that Ekiti state has enough money to pay civil servants for three months.
Olayinka, in a statement obtained from Premium Times, said "It is only in the world of miracle that a State that was plunged into debt and is losing over N1 billion to loan deductions monthly can sustain regular payment of salaries.
"In saner climes, the likes of Dapo Kolawole will be covering their faces in shame, having presided over the unprecedented looting of Ekiti State treasury and plunging of the State into unwarranted debt.
"The reality is if Ekiti was not plunged into debt by the Fayemi's government, the State would have received N1, 920,027,383.96 for the month of April, 2016; N1, 860,919,359.32 in May, 2016; N2, 151,966,892.79 in March, 2016; N2, 324,677,903.78 in February, 2016; N2, 546,181,882.96 in January, 2016 and N2, 258,837,558.38 in December, 2015!
"Therefore, a man like Dapo Kolawole, who as Finance Commissioner ran the State economy aground should just cover his face in shame instead of running from one media house to another to justify the use of borrowed funds to plant flowers, construct uncompleted State Pavilion, Civic Centre, Governor's Lodge among other irrelevant projects.
"Above are just two aspects of the financial mismanagement superintended over by Dapo Kolawole and common sense demands that characters like him should just keep mum while the Government of Ayodele Fayose goes about finding solutions to the financial crises caused by the frivolous loans obtained by the Fayemi-led APC government."
A lawyer, undefinedat the Federal High Court in Lagos state, for joining the ongoing workers' strike in the state.
JOIN OUR PULSE COMMUNITY!
Recommended articles
House of Reps commences debate on Tinubu's ₦27.5 billion 2024 budget
Father of late Dowen College student still seeking justice 2 years after
Abia ranks highest on GBV rating among 5 South-Eastern states - NHRC
IFAD, others partner to scale-up digital solutions for farmers
Tinubu meets King Charles III at COP28
EFCC withdraws charge against ex-Lagos AG, Shasore following Fagbemi's directive
Ondo Government pays ₦1bn gratuity arrears to local government retirees
'No room for internal sabotage in NDLEA' - Marwa warns new cadets
Appeal Court dismisses impeachment suit against Ondo Deputy Governor
Shelly-Ann Fraser-Pryce: Track legend signs mouthwatering deal with luxurious wristwatch brand
Sha'Carri Richardson: World's fastest woman reportedly bags $20,000,000 endorsement deal
She needs a break - Super Falcons coach explains Ashleigh Plumptre's absence from team
Sergio Ramos makes Champions League history 31 years after Daniel Amokachi
Thiago Silva recalls TB fright ahead of Chelsea debut