Who landed the deadliest punch?
Fashola and lawmakers have been engaged in a war of words. Who threw the better punches?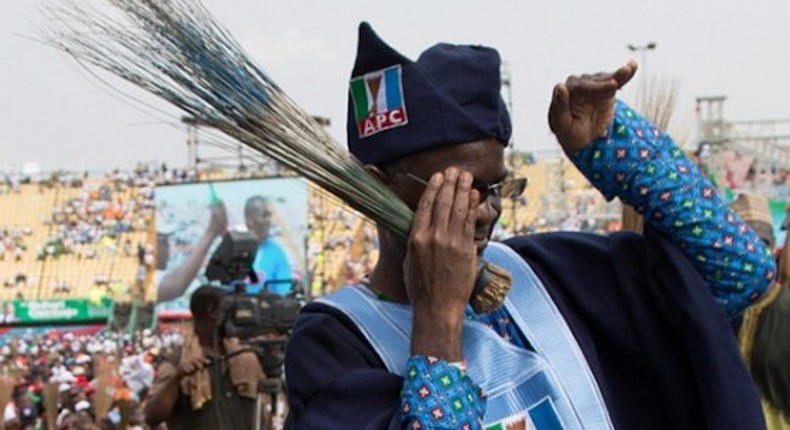 We always knew that minister for power, works and housing, Babatunde Raji Fashola, is capable of swinging 'em punches.
But boy, who knew that the former Governor of Lagos can take on a national assembly packed full with 469 fire-belching Nigerians?
It all began after the executive retrieved the 2017 budget from the legislature.
To Fashola's dismay, the budget for his ministry had been slashed by lawmakers.
So, we grabbed us a bag full of popcorns like you did and took a seat ringside; as Fashola and the national assembly took turns to throw and duck punches.
We love us a good ol' duel on rainy days--mud and all.
We'll let you be the umpire and decide who threw a better punch after each round.
You are at perfect liberty to score either fighter on a scale of 1-10 in each round.
Fashola:"Everybody is complaining about power supply but they (national assembly) also cut the budget for Mambila power project and the Bodo Bridge that connects the Nigeria Liquefied Natural Gas Station.
"If after we have defended the budget and we have gone and the legislature unilaterally changed the budget, what is the purpose of deliberation?'
"What I have in my budget now is primary health care centres, boreholes.
"We were asked to complete those abandoned projects; the budget of was reduced by the National Assembly from N31bn to N10bn.
"We owe the contractors about N15bn and they have written to us that they are going to shut down.
"Also, the budget of the was reduced from N15bn to N10bn  and about N3bn or so was removed from the Okene-Lokoja-Abuja road budget.
"I am not saying that the legislature cannot contribute to the budget, but I hold the view that it cannot increase the budget because they do not collect the revenue with which to run or implement the budget."
National Assembly through House of Reps spokesperson, Abdulrazak Namdas: "We could not watch the country's patrimony being unfairly skewed to one region or a few regions to the detriment of other States and geo-political zones.
"We need to remind Mr. Fashola that the national assembly is a national institution made up of members from all geo-political zones, they represent all tendencies, interests and ethnic nationalities.
"It has a responsibility also to ensure balance in the distribution of road projects and other developmental facilities.
"The proposal from Mr. President on the 2017 budget of the ministry of works, power and housing did not pass this test! This partly informed the intervention of National Assembly so that every region can be carried along in project allocation".
National Assembly through senator Danjuma Goje:"Fashola should know that he is dealing with the national assembly of Nigeria and not Lagos State House of Assembly.
"This assembly is composed of very patriotic and experienced Nigerians. Many have done this job before him. Many were Governors before him. The ministry is too big; the ministry comprises works, housing and power.
"If the job is too much for him, if he cannot adjust, then he should do the honourable and needful thing. No amount of blackmail or propaganda by him will stop this national assembly from doing its duties in accordance with the provision of the constitution of the federal republic of Nigeria".
Fashola:"I think, first, that Goje's language is unparliamentary and therefore not deserving of a reply.
"I need a better budget as a tool to do my work and that is why l am speaking out.
"In this context, it is left for Nigerians to then decide whether budgeting for constituency roads is more patriotic than budgeting to complete the Road that connects five states, the Lagos-Ibadan Road that connects three states and helps to move food, imported goods and fuel across the country; or the second Niger Bridge that connects the South-East and the South-West geopolitical zones of at least 11 states together.
"I will also leave Nigerians to judge whether it is more patriotic to budget for the Mambilla Power Project that will contribute to more power supply across Nigeria or reduce the budget to build street lights in legislative constituencies.
"It seems that it is Goje who needs a behavioural prescription about legislative function.
"Let me reiterate that I see parliament as a house where very vigorous debates about development should take place and it is important for Goje to acquire the temperament of debate and disagreement".
In your estimation, who won round two?
Ok, let's cut to the chase: who won both rounds overall?
JOIN OUR PULSE COMMUNITY!
Recommended articles
Uba Sani holds media responsible for confusion about Kaduna tribunal ruling
BREAKING: Sam Larry in police custody over Mohbad's death probe
Music industry promotes substance abuse by glamorising drugs - Police
PDP is out to win Kogi governorship election – Melaye
IG orders thorough investigation into attack on police officer in Abuja
All hands must be on deck to save Nigeria from collapse - Umahi
EFCC arraigns oil firm CEO for allegedly defrauding Access Bank ₦4.4bn
Customs exceeds monthly revenue target, generates ₦343bn in August
Police rescue 6 kidnap victims, arrest 4 in Benue
I still love guys - Super Falcons' Michelle Alozie reacts to lesbian rumour
Heartbreak for Nigeria as AFCON 2027 bid slips away to East African rivals
Victor Boniface or Harry Kane: Who has had the better Bundesliga start?
Steph Curry: NBA star lists Nigeria's Burna Boy and WizKid among favorite music artists
Controversy as Super Falcons' Michelle Alozie unveils her 'female lover'
AFCON 2027: Algeria hands Nigeria a major boost