Minister orders removal of trucks from highways
The minister said that his ministry will soon recover its Right of Way (ROW) illegally occupied by such articulated vehicles.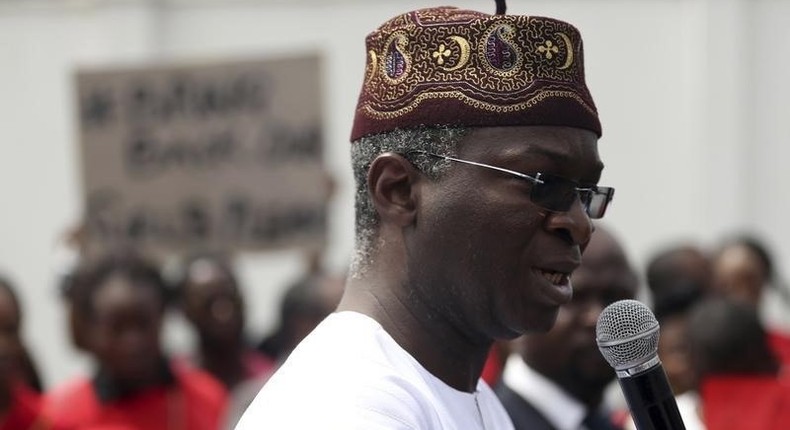 The Minister of Power, Works and Housing,
Fashola gave the directive during an inspection tour of the Lagos-Ibadan Expressway on Friday, August 26.
He said: "Highways are also not places to park articulated vehicles and trucks.
"So, I am using this opportunity to appeal to Road Transport Employers Association of Nigeria (RTEAN) and National Union of Road Transport Workers (NURTW), in their own best interest, to leave our highways.
"The Right of Way (ROW) on the federal highway is 45 metres from the centre line; that is, from the middle, 45 metres on both sides.
"That is the ROW conferred by law and we would take that right back for the benefit of all commuters on our highways."
Fashola said that articulated vehicles parking on the road constitute static load that could cause both road degeneration and accidents.
Fashola, who was travelling from Ilorin to Lagos, had earlier inspected the Oyo-Ogbomosho Expressway.
He said that the Ilorin-Jebba Road had been repaired, but articulated vehicles are now parking on the good portion of the road.
Fashola also complained over the recklessness of drivers on the highway which has been causing road accidents.
He said that he saw several accidents on the good portions of the highway caused by recklessness and negligence.
The minister said that the Federal Road Safety Corps (FRSC) would soon begin a clampdown on drivers that are not qualified to drive on the roads.
JOIN OUR PULSE COMMUNITY!
Recommended articles
2023 election: Tallen withdraws from Plateau South senatorial race
2023: Atiku reveals his 5-point agenda in Abia
Blasphemy: Tambuwal relaxes curfew in Sokoto after violent protests
I've read Qur'an, it does not justify killings- Tunde Bakare
FUTA students barricade Akure-Ilesa Highway over lingering ASUU Strike
Police confirm burning of LGA secretariat in Anambra
Beginners guide for Crypto day trading
Stablecoins and Altcoins are different
5 terms you should know before you invest in Cryptocurrencies