4 Ways Minister floored Nigerian Engineers
Fashola had only terrible things to say about the Nigerian Engineer, but was silent on ways to make them better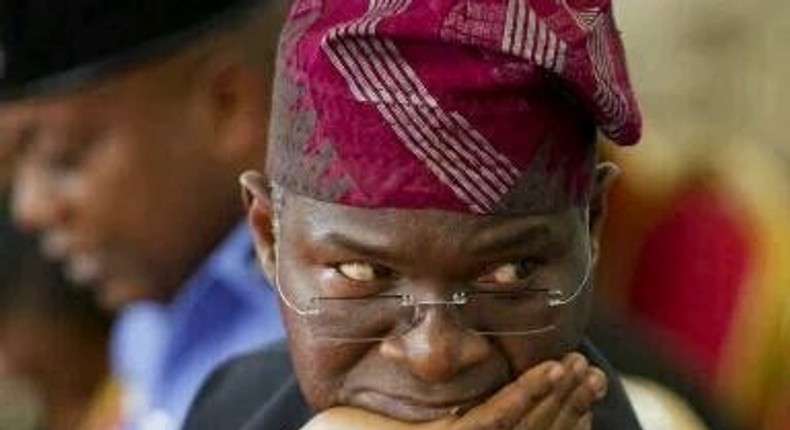 If you are a Nigerian Engineer, Babatunde Fashola who is the Minister of Power, Works and Housing, doesn't rate you.
It's okay, we've got broad enough shoulders for you to cry on.
Worse, if you are studying for an Engineering degree in a Nigerian University, you may want to consider a change of course while it is still day.
Sorry, we didn't make the rules, Fashola did.
A delegation of the Nigerian Society of Engineers (NSE) led by its President, Otis Anyaeji, paid the former Lagos State Governor a courtesy visit in his office this week.
It was all Fashola needed to unload on Nigerian Engineers.
And boy, did he come down hard!
1. The only reason why Government awards contracts to foreign investors is because Nigerian Engineers are a load of crap.
Hey! Not our words, Fashola's.
If homegrown Engineers were any good, the Federal Government won't be running after their foreign peers, says Fashola.
"If there was no vacuum, there would not be foreign engineering consultants and contractors in Nigeria.
"Unless we honestly stand up and accept that there is a vacuum, we look in the mirror and tell ourselves that we honestly do not like what we see, it will not change", said Fashola.
2. Local  Engineering firms can't even put a bid together.
"I can tell you from experience that when I was a State Governor, when I advertised for rail project, no Nigerian firm bidded for it," Fashola revealed.
3. Nigerian Engineers can't stop our shine
"Government will not stop the development of the country, if local Engineers are not ready," Fashola said.
So, now that Fashola wants to transform our roads into the Autobahn, our power sector into an uninterrupted array of blinding lights and our housing sector into paradise on earth, he's got no patience for the Nigerian Engineer.
We are in tears right now.
4. Accept your deficiencies, guys.
Fashola also said Nigerian Engineers need to take a long, hard look at themselves in the mirror, accept that they are crap and then improve.
"Nigerian Engineers should accept their deficiencies", Fashola pronounced.
Postscript: So we are just here wondering, if our Universities and Polytechnics were any good; if government was up to its responsibilities in the education sector, would our Engineers be spoken of in this manner?
As Lagos Governor, did Fashola spare a thought for the Engineering Departments at the University of Lagos, Lagos State University and Yaba College of Technology?
Was there a deliberate policy in place by the former number one citizen of Lagos, to make Engineering undergraduates in his jurisdiction employable?
And does the "Buy Nigeria to grow the Naira" campaign adopted and pushed in our faces by the Buhari administration, not apply to homegrown Engineers?
Whatever happened to local content as a government policy?
If this government wants to create jobs locally like it trumpets it wants to do, should it overlook our homegrown Engineers?
Is there a policy by the Buhari administration to make our Engineering undergraduates worth their calling, a few years from now?
This is all like the typical Nigerian leader and politician--sermonising about a problem but not lifting a finger in solution.
But hey, we are not even here!
JOIN OUR PULSE COMMUNITY!
Recommended articles
5 Buhari appointees President Tinubu should retain
New Commander 12 Brigade seeks inter-agency collaboration to enhance security in Kogi
Enugu residents lament increase in transportation fares amidst fuel scarcity
MSport Football Challenge: Road to final 2023
BREAKING: We have not devalued naira to 680/USD - CBN denies report
Zamfara airlifts 2,500 pilgrims to Saudi
Gov. Yusuf announces 6 appointments for agencies of Kano Govt
Women are architects of their own political woes, says Anambra lawmaker
Tinubu, APC, INEC oppose admission of Atiku's documents in evidence