I'm not going back home - 'kidnapped' teenager insists
Ese says she does not want to be reunited with her family.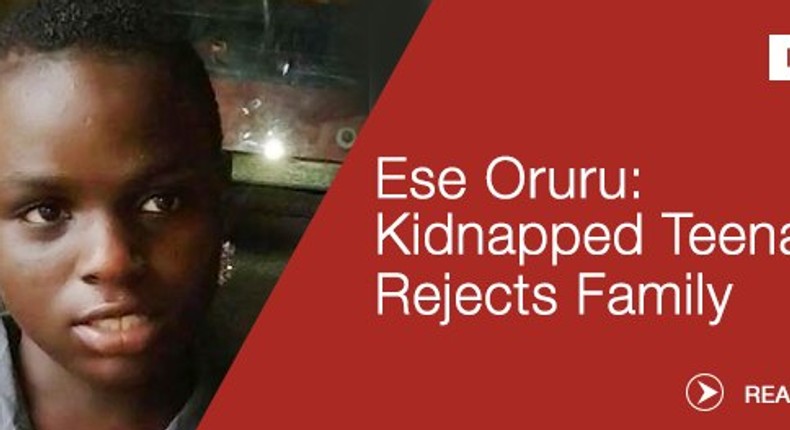 It has emerged that the 14-year-old girl,
Ese's abduction saga had sparked outrage among Nigerians since the story was reported by Punch newspaper yesterday, February 28.
It was reported that the girl was kidnapped by Yinusa 'Yellow', a long time customer who patronised the victims mother, a food vendor in Yenagoa, Bayels capital. He had taken Ese to Kano state, where he converted her to Islam and forcefully married her.
But contrary to the report, an audio recording obtained by Premium Times, revealed that Ese willing eloped to Kano with Yinusa who is her lover.
"My name is Aisha Chuwas. I am 17-year-old. I came here to be a Muslim and I will stay here," she said in the audio while being interrogated by a police officer in Kano.
Also speaking to a human rights lawyer, Huwaila Mohammed, at the Zonal Police Headquarters in Kano, Ese she will ever return to Bayelsa.
"I was there to protect her rights. When I approached her initially, she refused to talk to me. Later she opened up to me," Ms. Mohammed said.
"She is very defiant. She told me she was born in February 1999. I personally wanted her to reunite with her family, but surprisingly she asked me to tell her mother that she will never return to Bayelsa.
"The police should ensure that she is protected and returned to her family. She is still not matured enough to take such a weighty decision without parental consent."
The lawyer said she also found that Ese's so called lover is equally a young boy.
"I was surprised when I saw a very small boy. He is just 18-year old. I was enraged thinking that it was an old man involved in the saga. From the way I see it, they eloped not because of religion but love," she said.
Reacting to the saga, the Emir of Kano, Lamido Sanusi dismissed reports that Ese was being held captive in his palace.
The emir said since September 2015, Miss Oruru had been handed over to the police AIG Zone 1, Tambari Yabo, the emirate council, asking him to her back to her family in Bayelsa.
He said the district head of Kura brought the case to the palace when Yunusa presented Ese to the district office, seeking approval to marry her.
"The emir attached the girl with the palace emissary, Jakadan Mallam, and one of her relatives to go to the police headquarters," the emir's Chief of Staff, Munir Sanusi explained. "Since she alleged threats from members of his family, we involved the police to provide security."
It was gathered that Yunusa has been arrested and detained at the Zone 1 Police Headquarters, Kano.
JOIN OUR PULSE COMMUNITY!
Recommended articles
New Ebonyi deputy governor Obila not interested in listening to gossip
New Benue Governor lays foundation for 100 housing units
New Abia governor Alex Otti freezes state's bank accounts
Kyari tells Tinubu fuel queues will soon vanish after subsidy removal chaos
FG owes NNPC ₦2.8 trillion fuel subsidy payment deficit
Ganduje denies seeking appointment from Tinubu
Lawmakers tell citizens to pray for successful fuel subsidy removal
Tribunal admits US court judgment ordering Tinubu's forfeiture of $460,000
Tinubu appoints presidential photographers as he resumes office