Lecturer says governor must answer to the people
In an open letter addressed to the governor, Dr. John Danfulani has said that Elrufai must provide answers to certain questions the people are asking.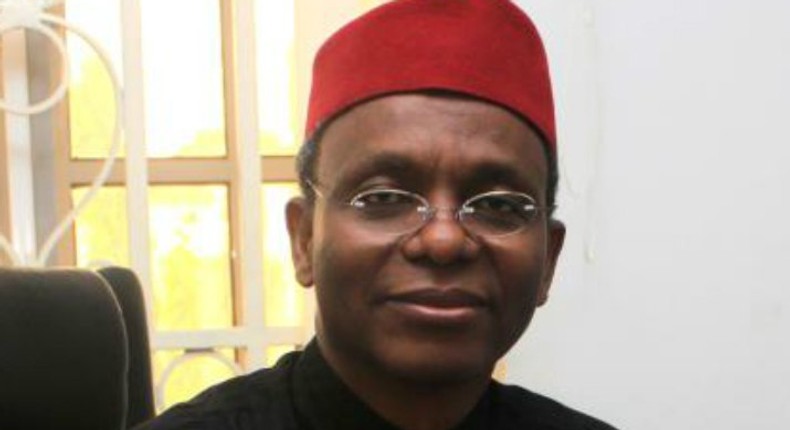 Danfulani, a lecturer in the department of Political Science, Kaduna State University (KASU), reacting to comments made by Elrufai at the Khituk Gwong  held at Fadan Kaduna, headquarters of Gwong Chiefdom in Jema'a Local Government Area of Kaduna State at the weekend that people will hear from the law not him, said the governor owe the people of the state a duty and not always the law.
In an open letter addressed to the governor and a copy obtained by Pulse, Danfulani said Elrufai's past activities as an opposition sharpshooter has denied him moral strength to make such a resolve.
"When you re-tweeted on Jesus and Mary Magdalene, and tweeted that any person- military or not that kills a Fulani man took a repayable loan; are those social media updates not divisive and loaded with potentials of creating ethno-religious skirmishes in Nigeria? Was Nigeria a lawless Hobbsian State of Nature when you freely expressed yourself through those tweets?  Or you think those leaders don't know awesome executive powers bestowed on them?  Again, or you think you were too big for the arm of the law then to close-on you?''  Danfulani asked.
The lecturer said people of Southern Kaduna expected to hear his defense on why APC government at the federal level refused to respect a long standing tradition of sharing political offices in the state.
"People cleaned their ear drums to hear a justification to why the minister representing Kaduna State is a daughter of the foster father of Governor El-Rufa'i. People were all ears to know why protests against the nominee of Niger State who was changed because he came from the same senatorial zone with Niger State Governor was accepted and that of Kaduna State which has a closer tie with Governor El-Rufa'i rejected. Better still, they expected you to justify why the goose and the gander shouldn't share the same pot of sauce."
"You know or chose not to know that people wanted to know why you sponsored an executive bill to Kaduna State House of Assembly aimed at censoring religious preaching and activities in the State. Their hopes were dashed when they couldn't hear you justify why they shouldn't obey words in the bible that said they should pray without ceasing."
"The people of Southern Kaduna expected to hear logic and syllogism of how everlasting accreditation made by Jesus Christ over two thousand years ago can't stand in Kaduna State. Southern Kaduna people were ready to hear why they must pray at prayer times, a law that directly challenged a major order that they should pray without ceasing. They are predominantly Evangelical Christians whose believe in prayers and evangelism is strong like the rock of Gibraltar. You know this but deliberately or otherwise failed to clear these grey areas" the letter reads.
"Southern Kaduna people hoped to hear lectures on features of a hate speech. And who is responsible for defining what a hate speech is in Kaduna State. They also thought they will hear your repentance on previous hate speeches you made while in opposition. They had much interest in knowing how that resolution and determination to fight millers of hate speech wouldn't affect freedom of speech and other liberties guaranteed by our 1999 constitution and other global, regional and subregional protocols on people's rights. Mr. Governor must know that nobody will ever be intimidated by any statement he made and action he promised to take in Khituk Gwong or in other occasions" the letter added.
JOIN OUR PULSE COMMUNITY!
Recommended articles
Nigerian Army General bags Guinea-Bissau National Award
UNICAL VC receives investigative panel report on suspended Dean
Tribunal dismisses PDP's petition against Sokoto Gov Aliyu
Police rescue 8 kidnapped Christian worshippers in Ondo
Erisco Foods owner insists powerful syndicate behind tomato paste review
Allocation of bed spaces to students yet to begin - UNILAG
Tribunal affirms Kefas as Taraba governor, throws out NNPP petition
Tinubu's renewed hope agenda marks new beginning for Nigeria – Wike
Southeast leaders, governors, reiterate call for Nnamdi Kanu's release
I still love guys - Super Falcons' Michelle Alozie reacts to lesbian rumour
Heartbreak for Nigeria as AFCON 2027 bid slips away to East African rivals
Victor Boniface or Harry Kane: Who has had the better Bundesliga start?
Steph Curry: NBA star lists Nigeria's Burna Boy and WizKid among favorite music artists
Controversy as Super Falcons' Michelle Alozie unveils her 'female lover'
AFCON 2027: Algeria hands Nigeria a major boost