Sekibo blows whistle at N'Assembly, says money belongs to Rivers State
Senator Sekibo came to the floor of the Senate today blowing the whistle severally.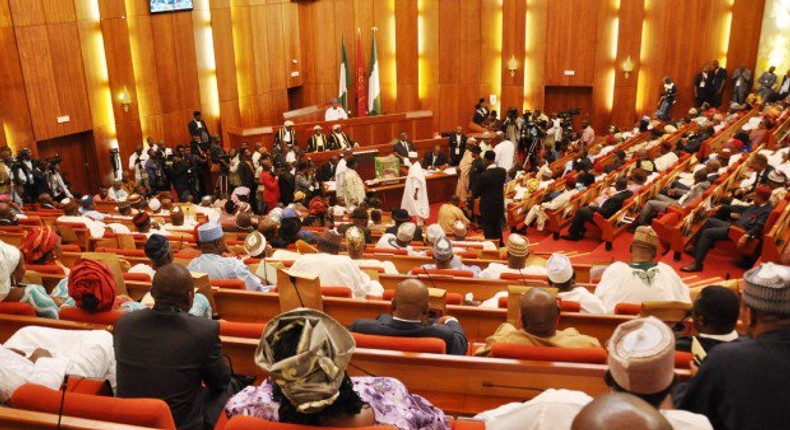 Senator George Thompson Sekibo, the lawmaker representing Rivers East senatorial district appeared at plenary with a whistle.
Sekibo came to the floor of the Senate on Thursday, April 27, 2017, blowing the whistle severally.
Raising a point of order, Sekibo said the $50 million recovered from a private apartment at Osborne Estate, Ikoyi belonged to the Rivers state government.
The lawmaker asked that the money should be returned to the Rivers state government.
"We appreciate the effort of the president for setting up a committee to look into it," Sekibo said.
"Also appreciate the fact that Nigerians are worried that the money that does not belong to anybody was lodged in a private apartment.
"Mr. President we are worried of the claims of the DG NIA and the attorney-general of federation that the money belongs to NIA and it was approved for covert operations.
"We are worried because at the end of every budget year, every such funds not used by agencies are usually returned to the coffers of the federation, which is central bank.
"We have a suspicion and our suspicion is coming through this direction - the Rivers government had forwarded a petition claiming the loss of over $700 million allegedly taken by the former governor of the state and we pray the senate to do something about it at the time but it became too political.
"That was a whistle that the Rivers government blew at the time. We are coming back to say that money found in 7b - we have done our interim investigation by the Rivers state government and we are blowing the whistle the second time.
"We trust the capacity of the vice-president as the chairman of the investigative team. And on behalf of my constituents I am blowing the whistle the third time.
After speaking, Sekibo blew the whistle again, the third time.
Deputy Senate President, Ike Ekweremadu who presided over plenary noted that the House of Representatives had already set up a panel on matter as well as the executive panel led by Vice President, Yemi Osinbajo.
JOIN OUR PULSE COMMUNITY!
Recommended articles
I will never call Tinubu my President - Tunde Bakare spits
Top problems Tinubu will inherit from Buhari when he becomes president
These 254 words in 1999 Constitution will make Tinubu president tomorrow
Police arrest 5 Yoruba Nation agitators for hijacking radio station in Ibadan
Group enlists K1 to thrill Wike, El-Rufai, others at Tinubu's victory dinner
Board names CBT Centres for 2023 screening test into Model Colleges
Buhari came, saw, conquered - MURIC
Kano govt declares phone snatching as act of robbery
Defence Minister leads Indian delegation to Tinubu's inauguration