Reps Speaker says Buhari needs stronger team for economy
Speaker of the House of Reps, Yakubu Dogara has stressed the need for a very strong team to manage the current economic situation in Nigeria.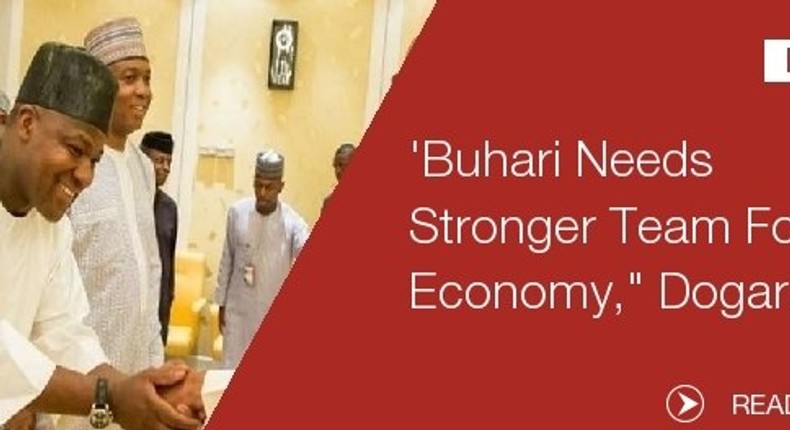 The Speaker of the House of Representatives,
According to a report by The Nation, the speaker, who spoke on the state of Nigeria's economy said he strongly believes the economy can be revived if the right people are employed to take reins of the economy.
"I sincerely believe that in Nigeria as well, we are rich in diverse ways. If we can put together a solid team to manage this economy, it doesn't matter, I don't think under Obasanjo we had the oil boom, we were earning far less than what we did subsequently, but we were able to manage the meagre resources we had," he said.
Continuing, he said, "So, I sincerely believe it is just a matter of management and if we are able to get the right people in place, we will be able to swim through these dangerous waters. But as it, as they say, we are in the waters, and everything seems to be heading south. Things seem to be defying the traditional way of resolving these kinds of problems.
"So, we need new methods. We need a strong team to really be in charge of the economy. We need a strong team to be in charge of the economy," Dogara stressed.
The speaker also noted that though there was no oil boom under former President Olusegun Obasanjo, the ex-President was able to use the resources at its disposal to tackle challenges.
Watch a video of the speaker here >>>
JOIN OUR PULSE COMMUNITY!
Recommended articles
Beware of ATM swap fraudsters - EFCC alerts Nigerians
Keyamo directs NSIB to release investigative report on Flight NUA0504 in 10 days
Construction of Nigeria-Morocco gas project begins in 2024 - Minister Ekpo
Leave Wike out of crisis in Edo PDP - Onaiwu urges party faithful
Reps threaten to hand over NCAA management to EFCC over missing ₦43bn revenue
Aiyedatiwa may be declared acting governor today as Akeredolu recuperates in Ibadan
FG to procure customised screening machines for 5 airports
Tinubu retains Kyari as NNPC GCEO, appoints new board and management team
Again, gunmen kill 2 police officers in Imo
Thiago Silva recalls TB fright ahead of Chelsea debut
Brazil vs Argentina: Bloody scenes at the Maracana as Brazilian police and Argentine fans clash
Arda Turan: Ex-Atletico star in hot tears after losing $13 million to 'yahoo yahoo'
Global Soccer Award: Osimhen to battle Messi and Ronaldo
Lionel Messi and Scaloni's Argentina relationship set to end