Reps propose 20-year jail term for financial crimes
The lawmakers believe that the current penalty for economic and financial crimes, which is two years imprisonment, is too "lenient."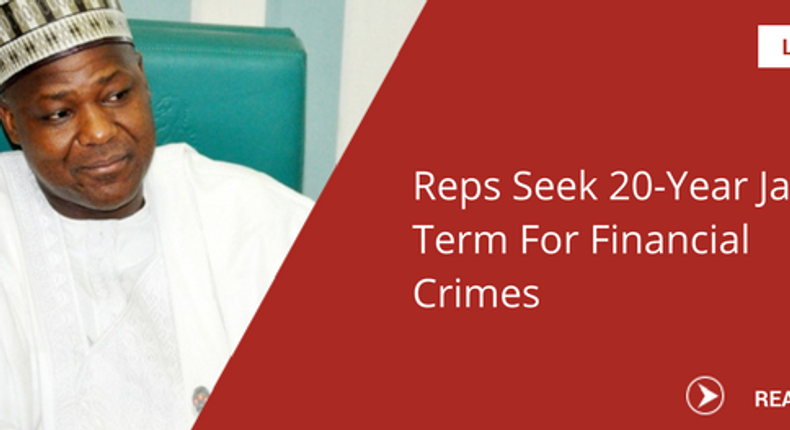 As part of the new amendments to the Economic and Financial Crimes Commission Act, 2004, the
According to Punch, which obtained the details of the new amendments, four consolidated bills before the House are seeking to further empower the EFCC to fight crime, insulate the anti-graft agency from interference by the Presidency and enhance its financial autonomy.
One of the bills, sponsored by a member from Cross River State, Mr. Bassey Ewa, proposes to raise the two-year term for economic and financial crimes offenders to 20 years.
In the new bill, Section 18 of the Principal Act is amended to prescribe tougher punishments for economic and financial crimes.
"All convicted persons shall serve an imprisonment of a term not less than 20 years and have their ill-gotten property, accounts or investment confiscated by the government," the new subsection (C) reads.
The proposal also states that the option of plea bargaining or returning the full amount stolen would not exclude the convict from penalty.
Subsection (d) says: "Where the accused person, upon investigation, accepts to refund the total amount standing in his/her name and willing to plea bargain, he or she shall be convicted for not less than two years."
It also states that a company found guilty of economic or financial crimes, will be barred from doing business in Nigeria for 50 years.
"Any company found guilty of offences under this Act, both its assets and finances shall be frozen and the company blacklisted from doing business in Nigeria for 50 years,"  the subsection (e) adds.
Another amendment proposes to remove the power of appointing the Chairman of the EFCC from the President and to be vested directly in the hands of Nigerians.
It said members of the public, through a petition to the National Assembly, would be empowered to make the appointments.
JOIN OUR PULSE COMMUNITY!
Recommended articles
EFCC grills former minister Tallen over alleged ₦‎2bn fraud
UN chief appoints Adesina, others to spearhead fight against malnutrition
Sanwo-Olu vows to give Lagos biggest children hospital in Africa
Kano Govt sets up mobile courts to tackle phone snatching
Withdraw petition against Tinubu and stop messing up - LP faction tells Obi
Tinubu commissions NASS Central Mosque, urges Muslims on humility
Anambra govt launches e-identification cards for civil, public servants
Tearful Ondo Speaker dissolves state assembly
Hajj: NAHCON reads riot act to caterers in Madina, disqualifies defaulter