'Stop saying rubbish about us,' Niger Delta Avengers tell President
The group also said that Buhari's hands are soiled with the blood of Ogoni activist, Ken Saro-Wiwa.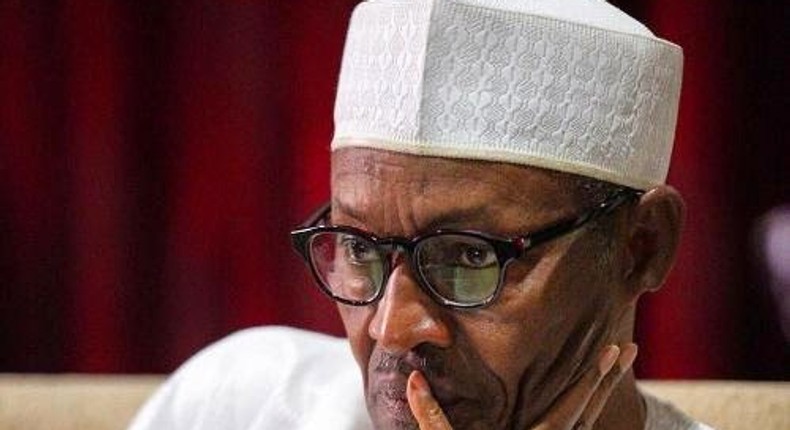 The group also said that Buhari's hands are soiled with the blood of Ogoni activist, Ken Saro-Wiwa.
NDA made the comments via a letter written to Buhari on Thursday, October 20. Read the full letter below:
The High Command of the Niger Delta Avengers (NDA) is constrained to write you Mr. President, General Muhammadu Buhari on your continuous disparaging remarks; since the cessation and suspension of hostilities by our fighters for liberation of the Niger Delta from economic colonialism of Nigeria.
We are curious of comments like " Niger Delta militants objective is to colonize Nigeria economically "… "Niger Delta militants are sponsored by economic looters"… During the Passing Out Parade (POP) of the Nigerian Defence Academy (NDA) 63rd Regular Course; where you personally issued misleading statements and threats of decisive military action- if necessary to deal with Niger Delta agitation because you have purportedly opened up channels of talks through security agencies/agents and the Multinational Corporations.
Mr. President do democratically elected governments open channels for talks in situations like we have in the Niger Delta through security agencies/agents or you are assuming the Niger Delta as a conquered colony in your 1984 Era?
Mr President, you continue to emphasize on the charade you called " the flagged off process to the cleanup of Ogoni land" as part of your government's program to salvage the ravaged environment. We are disturbed with the type of rhetoric and politics you are degenerating your age and authority as president of federal republic of Nigeria on issues concerning Niger Delta since you came into office.
You continue to live in pretence and blind to the history of the Niger Delta agitation because of some psychopaths around and advising you… as far as you are concerned, You are as white as the snow!
But do I recall that you were once a military governor, a minister of petroleum, military head of state and chairman Petroleum Trust Fund and general Sani Abacha's henchman (the most corrupt dictator in the history of Africa) .
To say the least, your hands are soiled deep in the blood of Kenule Saro Wiwa (the Ogoni nines), events leading up to the pollution of Ogoni land that you are politicizing the cleanup process. Wait a moment, how come your government is glorifying a charade called Ogoni cleanup while you were a major player in that crime!
How can you justify Ogoni clean up at the same time constitute a Task Force Called "Operations Delta Safe" that is embarking on environmental pollution with the burning and bombing of petroleum products in the guise of fighting oil theft?
Does that amount to lack of genuine ideas or sincerity? OR at least, is there no relationship between environmental pollution and the ongoing indiscriminate burning and bombing of petroleum products by operatives of the so-called " Operations Delta Safe?
Mr. President basically, some other factors fueling the Niger Delta conflict are corruption engendered by successive government that you served since oil becomes the commonwealth of the nation Nigeria. What is wrong in president simply producing a copy of secondary school leaving certificate instead hiring 13 Senior Advocates of Nigeria to suppress the judiciary?
Whilst you start the Ogoni clean up process; what is wrong in reviewing the Sir Henry Willinks Commission Report 1958? The Ogoni Bill of Rights, The Kaiama Declaration document of the Ijaw Youths Council, The General Alexander Ogomudia Committee Report, and The Leedum Mitee led Niger Delta Technical Committee Report?
Conclusively, we are not in the trenches for the shake of arm struggle, the people of Niger Delta; our forefathers have always resisted the colonization and exploitation of the land… Since antiquity even without weapons against all form of occupation army, as such we wonder how your desire for decisive military action is going to win this war in your four years term to end our legitimate objective of controlling our resources for posterity.
JOIN OUR PULSE COMMUNITY!
Recommended articles
FG disappointed by slow progress on Port Harcourt-Maiduguri rail project
Enugu govt announces ₦26b investment in transport sector
Tinubu determined to turn Nigeria's demographic bulge into dividends – Shettima
My heart bleeds for killings in South-East - Ohanaeze PG
Nobody should be afraid of probe, Umahi tells road contractors
Zamfara Gov calls emergency security meeting over varsity students' abduction
Tinubu not 1st African leader to ring NASDAQ bell - Presidency owns up to error
Growing threat of cyber ​​attacks on crypto
NSCDC impounds 292 bags of smuggled rice
Super Falcons' Michelle Alozie drops football hot take
Kane defends Harry 'One of the best defenders in history' Maguire, calls for end to scapegoating
Provedel: 4 goalkeepers who have scored in the Champions League including Vincent Enyeama
Andre Onana: Critics of the Manchester United goalkeeper are missing the bigger picture
100 not out: Lewandowski moves closer to Messi and Ronaldo with century of European goals
Is Victor Osimhen in for a troubled season under Rudi Garcia?