President registers Nigeria in Islamic coalition against terrorism
President Muhammadu Buhari made the disclosure during a recent interview with Al Jazeera in Qatar.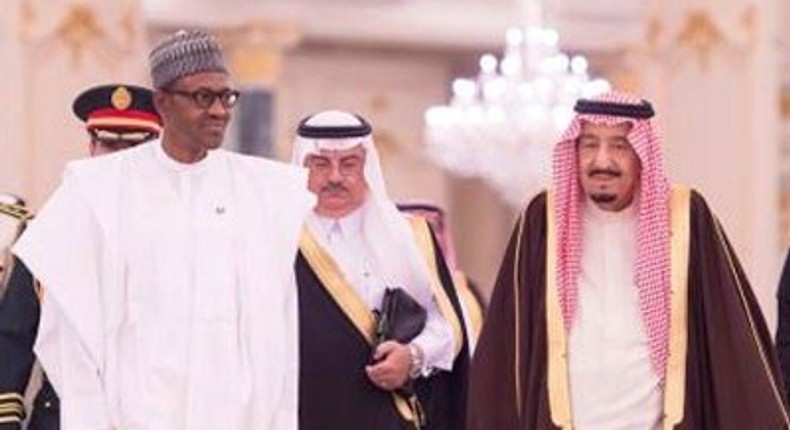 Buhari made the disclosure during a recent interview with Al Jazeera in Qatar.
"We are part of it because we've got terrorists in Nigeria that everybody knows which claim that they are Islamic. So, if there's an Islamic coalition to fight terrorism, Nigeria will be part of it because we are casualties of Islamic terrorism," the president said.
Buhari also spoke on the opposition against Nigeria's involvement in the group.
"Why can't those Christians that complained go and fight terrorism in Nigeria or fight the militancy in the South. It's Nigeria that matters, not the opinion of some religious bigots," he said
"How can I change the religious identity of Nigeria? No religion advocates hurting the innocent and just because the Muslims are the ones that claim to be Boko Haram and they are killing innocent people whether in the church, in the bus or in the market place, then I will just sit and look at them because I too am a Muslim? Islam is against injustice in any form," he added.
"Even if we are not a part of it, we support you," the president was quoted as saying.
"I must thank the Kingdom of Saudi Arabia for the recent creation of a coalition to address the menace of international terrorism. Nigeria will support your efforts in keeping peace and stopping the spread of terror in your region," he supposedly added.
The invitation had attracted controversy due to Nigeria's secular status as against the Islamic nations which are expected to join the group.
-------------------------------------------------------
See Pulse Photo-News gallery below:
JOIN OUR PULSE COMMUNITY!
Recommended articles
Air travelers urge Tinubu to transform aviation industry
NIS will focus more on passport insurance, staff welfare – new CG
Adeyanju urges Tinubu to appoint young Nigerians as Ministers
Risk management in indices trading: Tips and tools for managing your exposure
Tunubu lauds people of Zamfara for ensuring his biggest win
You're now a blogger —  Shehu Sani mocks 'retired governor' El-Rufai
Gov. Eno appoints SSG, CPS
Gov. Sani retains El-Rufai's appointees as top government officials
Gov. Diri warns fuel marketers against hoarding, profiteering as price hits ₦‎600