President shows how sectional he is
Buhari can shoot a video for Bauchi but can't do so for Enugu or Rivers? There's the picture of an ethnic champion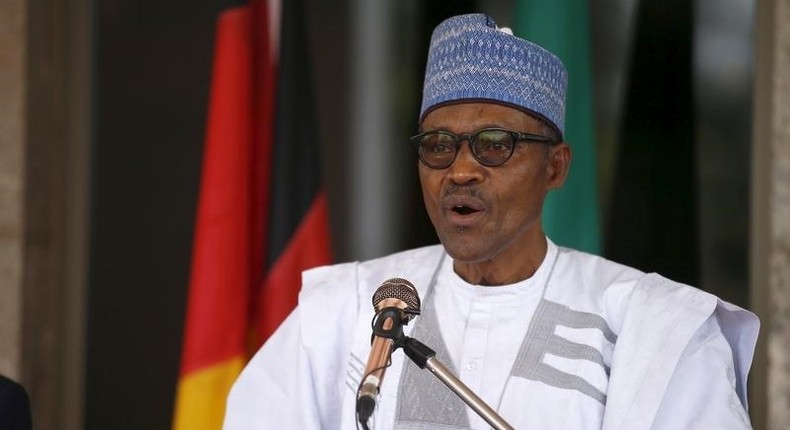 President Muhammadu Buhari has just cancelled a scheduled visit to Bauchi due to bad weather.
In a statement, the President's spokesperson, Garba Shehu, said the itinerary of his principal in Bauchi would have included "commissioning an Air Force medical facility and a number of other projects by the state government".
The President would also have used the Bauchi visit "to thank the people for their relentless support in all his political undertakings".Parts of Shehu's statement reads further: "Uncooperative weather which has been the bane of air travel in the current harmattan season, leading to the delay and cancellation of flights, reared its head in Airport this morning, preventing the take-off of the President's plane for the trip to Bauchi.
"The commander of the Presidential Air Fleet, said that the Presidential Aircraft was in perfect condition, the weather in Bauchi was alright, but that the problem was in Abuja.
"We make our plans, God makes His own plans," said the President.
The statement added that: "President Buhari thanked the Government and people of Bauchi State and the Nigerian Air Force for the studious and elaborate preparations made to receive him, and assured that he is going to visit the state at a more auspicious time".
To express how very sorry he is for not making the trip to Bauchi, Buhari sat before a camera and recorded this video in Hausa:
It was a genuine act of contrition from the nation's number one citizen for cancelling an important visit to one of the federating units, through no fault of his.
So, we can chip in our rounds of applause, right?
When on June 2, 2016, a certain President Muhammadu Buhari cancelled a much publicized trip to Ogoni in Rivers State and sent his Vice President to represent him instead, there were no apologies or remorse via video or press statements.
Six days ago, Buhari refused to show up at a security summit in Enugu. The organisers were stunned that a President who parrots security as one of his goals, wouldn't show up at a talk-shop where security sat atop the agenda.
The organisers were left wondering why Buhari wouldn't show up in Enugu--one of the States where Fulani herdsmen had wrought destruction on farmlands, killing indigent farmers as they grazed along, all the time armed with guns.
The Presidency only explained why Buhari didn't visit Enugu after the media had launched withering attacks on Aso Villa for the Enugu no-show.
I still feel that way. That piece now looks like a vindication in light of latest events.
At the time of writing, President Buhari hasn't sent out a video message in anger to condemn the killings in Southern Kaduna.
A President who wants to unite a country this fractured will treat the 97 percent who voted for him exactly the same way he'll treat the 5 percent who didn't vote for him.
A President who wants to unite a polarised country will shoot videos to explain why he didn't show up in any part of the country--if shooting videos has become his new means of communication.
You don't shoot videos for Bauchi and suddenly become camera shy before the people of Rivers State.
This President just can't conceal how very sectional, divisive and clannish he is. And those are very worrying traits for a leader to possess.
The President has to realise that the vibes he gives off to all parts of the country; especially those who genuinely feel marginalised, are just as important as what he says or doesn't say.
Body language still counts for something in leadership. Just when we thought Buhari was the body language merchant.
This President still doesn't get it.
And that's a rather very unfortunate conclusion to reach.
JOIN OUR PULSE COMMUNITY!
Recommended articles
NLC dismisses government's claim of strike suspension agreement
INEC seeks media support for credible guber election in Bayelsa
Yobe Govt directs Information Officers (IOs) in the State to join NIPR
EFCC raises alarm over surge in fake dollars, cybercrimes in Benue
NESG targets reducing brain drain, unemployment to revamp nation's economy
FG declares Oct 2, public holiday to commemorate Nigeria's 63 independence
Supreme Court sets October 3 for judgment in Kogi APC primaries dispute
UNICEF collaborates with NOA on child protection in Ebonyi
We're addressing plight of lecturers on foreign scholarships - TETfund
I still love guys - Super Falcons' Michelle Alozie reacts to lesbian rumour
Heartbreak for Nigeria as AFCON 2027 bid slips away to East African rivals
Victor Boniface or Harry Kane: Who has had the better Bundesliga start?
Steph Curry: NBA star lists Nigeria's Burna Boy and WizKid among favorite music artists
Controversy as Super Falcons' Michelle Alozie unveils her 'female lover'
AFCON 2027: Algeria hands Nigeria a major boost