'Shameless Dogara misleading Nigerians,' Jibrin says
Jibrin also described Dogara and other lawmakers named in the scandal as corrupt, shameless and fraudulent.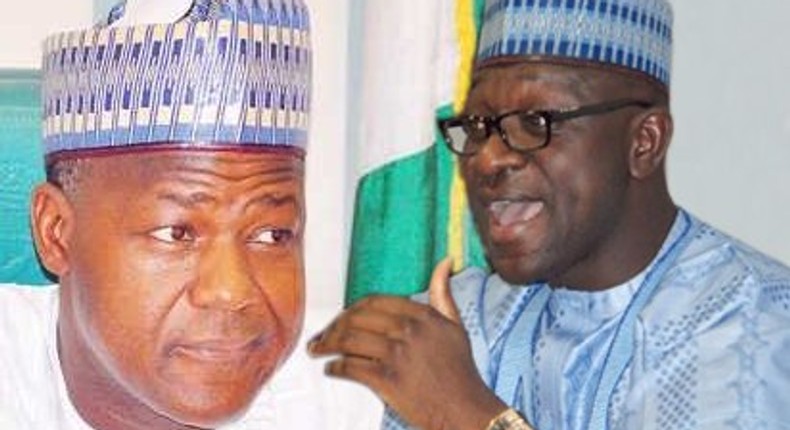 Former Chairman of the House of Representatives Appropriation Committee,
He made the comments via statement posted on his Facebook page on Thursday, August 11, 2016.
"Before the corrupt, shameless and fraudulent QUARTET of Speaker Dogara, Lasun, Doguwa and Ogor mislead the Nigerian public again, let me avail you some facts.
"Now that I have raised allegations backed with documents to show that the QUARTET and their gang of few other corrupt committee Chairmen are responsible for the fraudulent insertions also known as padding in various versions of the 2016 budget and NOT ME as they claim, corrupt Speaker Dogara shamelessly made a U-turn on a National TV and declared that such insertions do not constitute an offense.
"For Dogara and his cohorts, Padding is an offense only if Hon Abdulmumin Jibrin is the accused. Today, they went a disgraceful step further to threaten that the budget is already a law and therefore no offense can be committed in that regard. This is clearly a diversionary plan to mislead the public, avoid the anti-corruption agencies and buy time to cover up their dirty mess.
"For instance let's say an item in a budget proposed by the executive under Power for the purchase of a transformer cost N2million and same amount was budgeted. If the Chairman House Committee on power because he has the "powers" to appropriate decides to add N3million naira to jack up the allocation to 5million naira when it is a public knowledge that the transformer cannot cost more than 2million naira, what do you call that?
"That essentially means APPROPRIATION FRAUD! And such chairman is a FRAUDSTER, a common criminal. On the other hand, let's say he decides to irrationally reduce the amount to 500,000 thousand naira knowing fully well that, the said amount cannot buy the transformer, what do you call that? APPROPRIATION SABOTAGE and such a chairman is a SABOTEUR. I have no apology for saying this! Little by little, I will be providing more in-depth details.
"I challenge Speaker Dogara and his corrupt cabal to a public debate on their claim that the fraudulent insertions they made in the budget is not an offense that can be prosecuted under the laws of Nigeria.
"Rather than continue their futile effort to blackmail the entire country or continue their begging mission to the Party, Transparency and Integrity Group, Speaker Dogara and his gang of thieves should submit themselves to the anti-corruption agencies and answer thousands of questions waiting for them.
"Speaker Dogara, Lasun and Doguwa are already a baggage that the APC should off load! Same for Minority leader, Leo Ogar to the PDP! Just to bring you up to date, I have forwarded to the anti-corruption agencies documents showing how Speaker Dogara and the 3 others allocated the 40billion naira they stole from 100billion for constituency project, how they inserted about 20billion naira of wasteful projects.
"How they cornered the entire 20% of inputs reserved for the house after the harmonization exercise, attempts to force in about 30billion naira of wasteful projects into the budget, attempt to force me to introduce a strange line item and insert about 20billion naira in the service wide vote using the name of nass, evidence showing that indeed about 10 standing committees of the house made about 2000 insertions in budget worth about 284billion naira and indeed reports of 6 standing committees showing massive movement of money with clear intent to commit fraud.
"I have also commenced providing the anti-corruption agencies clue on how investigative hearings in the house under Speaker Dogara are used as conduit pipes to carry out massive corruption and how the house services committee chairman and the Speaker runs and spend money meant for the House in absolute secrecy.
"I will continue to cooperate with the anti-corruption agencies and guide them on how to crack the code of corruption that has assumed a monumental proportion under the very corrupt Speaker Dogara. It is sad that some civil society are now providing platforms for the disgraced Speaker and his group of corrupt 12 to embark on an expensive image laundry where millions of stolen money will be invested.
"It is however not surprising why some people call Nigeria a banana republic otherwise how can you explain the temerity of Speaker Dogara who has maintained silence in the face of such criminal allegations against him, yet has the courage, driving around in siren blaring convoy, step up on podiums, addressed as Speaker and talk, even talk about budget, budget!!!
"I cry for Nigeria...so long as we continue to respect corrupt people so shall our country continue to relapse."
Jibrin earlier said that Dogara and other principal officers of the House had smuggled N284 billion into the 2016 budget.
The Speaker has however said that he won't resign from office because budget padding is not an offence.
JOIN OUR PULSE COMMUNITY!
Recommended articles
Atiku attends inauguration as Fintiri starts 2nd term as Adamawa governor
Abba Yusuf takes over from Ganduje as new Kano governor
CAN congratulates Tinubu, asks him to find lasting solutions Nigeria's problems
Ahmed Aliyu sworn in as new Sokoto State governor
Governor Abiodun releases 49 prisoners to celebrate 2nd term in office
New Rivers governor Fubara vows to continue in Wike's direction
New Cross River governor needs urgent ₦‎54b to settle promotion arrears
Caleb Muftwang becomes Plateau's 6th governor
Biden vows to work with Tinubu to strengthen US ties with Nigeria