'How N284bn was smuggled into budget,' Sacked lawmaker, Jibrin, reveals
He alleged that 10 standing committees inserted the projects into the budget without the knowledge of their members.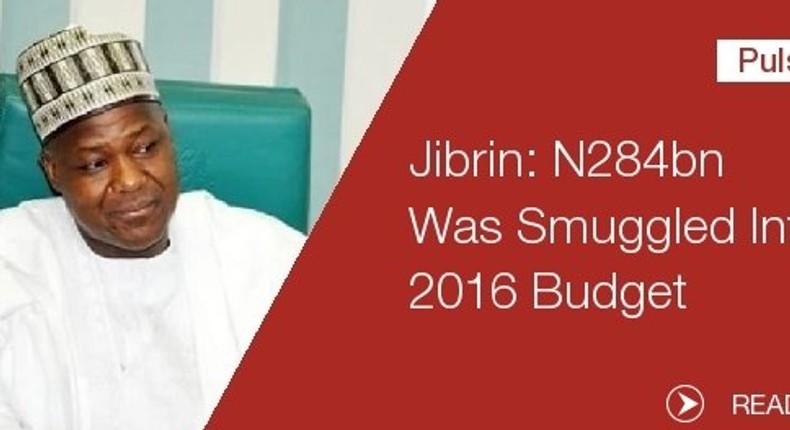 Jibrin, who had claimed that he was removed from his position because he blocked some shady moves of some lawmakers, regarding the budget.
He accused the Speaker, Yakubu Dogara, of secretly persuading him to insert N20 billion into the budget through Service Wide Vote.
In a statement issued in Abuja on Sunday, July 24, Jibrin alleged that the Speaker has been hijack by some cabals.
"I am compelled again for the purpose of emphasis to state categorically that my allegations are against the quartet of speaker, Yakubu Dogara; deputy speaker, Yusuf Lasun; House Whip, Alhassan Doguwa, and Minority Leader, Leo Ogor, not the Honourable House as an institution nor other members of the body of principal officers," he said.
"I have to state this very clearly because this quartet has resorted to desperate moves to drag the entire House of Representatives into the case of gross abuse of office I have leveled against them as individual presiding and principal officers of the House. This is a mischievous move to set me on collision with the entire house.
"They have also recruited four from the very few members of their cabal to use some elements of the Nigeria police to kidnap, harass, blackmail and intimidate me into silence. Until yesterday, the police were laying siege to my house, blocking the entrance and exit, shouting that they wanted budget documents.
"When ever I am released, an irreparable damage would have been done to my person that will stick for life.
"As God Almighty will have it, I had traveled out of town before they could execute their evil plan. God is always with the innocent. The members in the tick of this plot are Jagaba Adams, Jika both chairmen interior and police affairs respectively, Muhammed Bago, Muhammed Zakari and the last one I need not introduce him to Nigerians.
"During the budget period, when they discovered that I was not the kind of person they could use to perpetrate their illegality, Mr Speaker and the three other principal officers took away the entire Appropriation Committee secretariat to a secret location where all sort of insertions were made into the budget."
He continued: "The blackmail has always been, Abdul people will laugh at you if anything goes wrong between you and Dogara because of the lead role you played and the many toes you stepped on to get him elected. It's been a painful experience.
"Again the secretariat was taken away from me on Speaker Dogara's instruction for the second time to a location I didn't know and all sort of insertions into the budget were made and returned to me for signature.
"I said over my dead body! It was a massive crisis behind the scene until the early morning of the Friday  that Mr President assented the budget. It was Sen Danjuma Goje that brokered a compromise that since the deputy speaker led the harmonization committee, he should also sign such that the harmonization committee will share responsibility with us.
"Senator Goje pleaded with me so hard all night and later shouted heavily at me reminding me that he was not talking to me as a senator but as a father. I cried heavily all night.
"When the budget harmonization committee, headed by Deputy Speaker Yusuf Lasun, gave out 80% concession across board to the executive demands during the harmonization negotiation, it was agreed that the remaining 20% should go to the entire NASS. The deputy speaker excused himself that he wanted to go and consult with Mr speaker.
"He came back after  few hours and in an unprecedented display of greed, presented to me a hand written note distributing the remaining 20% to only principal officers. 70% of the 20% was reserved for Mr Speaker and himself, while the remaining 30% of the 20% went to other principal officers. I am sure he will recognize the hand writing when he sees it."
Jubrin said further said: "My colleagues didn't know all of these.
"Mr Speaker also directed me to create what I advised him will be a controversial line item under service wide vote to introduce about N20 billion projects using the name of NASS. He directed me to see a highly placed PDP politician which I did and collected the documents. I advised him repeatedly against it but he kept pressuring me until I bluntly told him I will not!
"When the Appropriation committee received all the budget reports from standing committees, an analysis was conducted. We discovered that about 10 of the 96 standing committees of the House introduced about 2,000 (two thousand) projects without the knowledge of their committee members, amounting to about  N284 billion.'
"I was alarmed. But I was cautious because at our pre budget meeting with the committee chairmen, I was clearly warned not to touch their budgets. I reported the matter to the speaker. He did nothing about it obviously because he was working behind the scene with the committee chairmen. That was the beginning of the whole budget problem from the side of House and the whole exercise had to go through several versions before it was passed.
"So, is it Abdul that introduced 2000 projects into budget worth 284 billion? But I quietly bore the pain and abuses from all over the country and continue to defend the committee inputs as a show of loyalty to the institution I represent which I so much love and still have many great minds in there. Apart from Chairman Agriculture Hon Mongunu who owned up and explained his inputs at the only executive session I was allowed to attend, the other few chairmen who loaded the budget kept quiet and watched me bashed from every angle by angry Nigerians.
"Speaker Dogara has completely derailed, remains clueless, keeps on with an unmatched ego and surely leading the House to the biggest scandal it may ever experience.
"He has failed to live above the fog in public duty and private thinking, a direct opposite of what my favorite American Poet, Josiah Gilbet Holland, prayed Lord to grant us leaders.
"All I am asking for is my right to be heard by my colleagues which they denied me. I am calling on my colleagues to plead with Speaker Yakubu Dogara, Deputy Lasun, Whip Doguwa and Minority leader Ogor to stop obstructing justice and allow me my right to be heard by the House.
''It is the House that will institute a special investigation on this matter to allow me testify and provide evidence before any other external action," Jibrin said in the statement.
Jibrin, however, cleared the Majority Leader, Femi Gbajabiamila, and three other principal officers from the alleged scandal.
------------------------------------------------
See Pulse PHOTO-NEWS gallery below:
JOIN OUR PULSE COMMUNITY!
Recommended articles
FG declares September 27 a public holiday for Eid-el-Maulud
PDP calls for full investigation of Supreme Court fire
Saudi Arabia to conduct free surgeries for indigent Nigerians
Information Minister cautions Zamfara Govt against politicising insecurity
He didn't deserve to be murdered  —  Fani-Kayode reacts to Bakare's criticism of Mohbad
FCT residents caution against lynching suspected 'manhood thieves'
Ondo Assembly serves Deputy Gov Aiyedatiwa letter of allegation
11 banks generate ₦72 billion from account maintenance charges in H1, 2023
Emefiele continues to identify as CBN Governor on X even after resignation
Mikel Obi: Super Eagles legend branded 'fine boy no pimple' in Dubai
Give us Mourinho! Chelsea fans beg for 'Special One' after latest defeat
Check out Cristiano Ronaldo's amazing car collection reportedly worth over a staggering N20 BILLION
Anthony Joshua and Burna Boy: Nigerian-born boxer and African giant team up for Boss at Milan Fashion Week
How Nigerians can vote for Osimhen to win FIFA Best Player Award ahead of Messi
I want to 'teach' after football - Lionel Messi opens up on retirement plan