Biafran leader calls Nnamdi Kanu a fraud and conman who is only looking for money
Ralph Uwazuruike, another pro-Biafra separatist, says Nnamdi Kanu is only using the struggle to obtain money from state governors and Igbo leaders.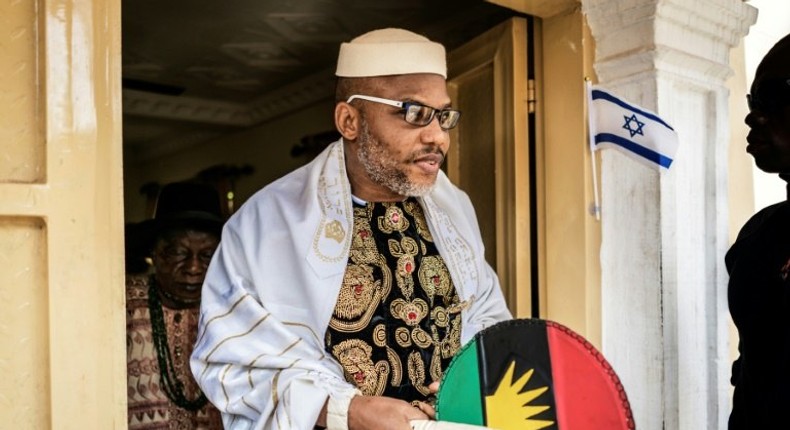 Founder and leader of the Movement for the Actualisation of the Sovereign State of Biafra (MASSOB),
During his broadcast from Israel on Sunday, October 21, Kanu declared that there will be no election in the Southeast in 2019. However, Uwazuruike says Kanu's proclamation is basically him playing an old, deceptive card.
"Last time, he carried a campaign that there wouldn't be election in Anambra State and what eventually happened in the end? Today, he has started again. He is back again after several months, because election is just by the corner, so as to deceive the people and mop up money for himself as the IPOB leader and in the name of fighting for the realisation of Biafra independence", Uwazuruike blasted.
Uwazuruike accuses Kanu of stealing his ideas
The MASSOB leader added that the election boycott stance of Kanu makes absolutely no sense and is naive from a political standpoint.
He also said Kanu has been shamelessly stealing his ideas.
"In 2004, we in MASSOB came up with dummy of no election, sit-at-home order, referendum and no census, which Kanu is selling today in the Southeast as strategies towards gaining Biafra independence.
"However, when I was later called by late and other higher authorities that the strategies would have adverse effect on Ndigbo, we decided to drop them.
"Today, Kanu is using the same dummy to cause confusion in the Biafran areas, not considering their adverse effects.
"For instance, the issue of no election is a constitutional matter. Kanu does not have the powers to say that election can never take place in the Southeast.
"The truth is that in the Southeast, we have only five states and what a presidential candidate, for example, only needs to win his or her election is two-thirds majority vote.
"If the five states out of the 36 states, including the FCT, do not vote and 31 states vote, two-thirds majority would still be gotten.
"The president then has the powers to appoint anybody to be in charge of the other five states who do not vote. This is therefore politically detrimental to Ndigbo,"he said.
Referendum not in the constitution
Uwazuruike noted that conducting a referendum for the actualisation of Biafra was not in the Nigerian constitution. He added that for it to be enshrined in the constitution, it must get the approval of the National Assembly and the Presidency.
"These are things some Igbo people do not know. Kanu has started his campaign to cause more confusion for our people, which I call campaign of calumny and deceit.
"The emergence of Kanu in 2009, 10 years after I had started the struggle, was stage-managed by the government to put confusion among the leaders and the people, strictly aimed at non-realisation of the republic.
"What Kanu suffered recently in the hands of soldiers is just one-twentieth of what I have suffered in the course of this struggle.
"A freedom fighter is always known for donating his life to the cause of the struggle. That he ran away after a while and reappeared during the electioneering period is deceitful.
"He is being used to destabilise Ndigbo towards gaining the independence of Biafra."
The self-styled separatist is facing trial in Nigeria for illegal possession of firearms, gun-running, treasonable felony and secession.
He was still on bail when he disappeared after soldiers allegedly stormed his home in Afaraukwu, Umuahia and tore the entire place down.
JOIN OUR PULSE COMMUNITY!
Recommended articles
BREAKING: Tinubu approves salary increase for Federal Tertiary Institutions
A new Nigeria is possible - Uzodimma
Nigeria is lucky to have First Lady at this crucial time - Omo-Agege
Corps member renovates classes, gives free uniforms to 300 students in Jigawa
Security presence intensifies in Jos as tribunal delivers judgment
CCD laments exclusion of PWDs in governmental appointments
FCT-MPWB advises intending pilgrims to deposit ₦4.5m
BREAKING: Police speaks on teargas incident during MohBad's candlelight procession
Adamawa Govt begins vaccination against cervical cancer on Sept.25
Super Falcons' Michelle Alozie drops football hot take
Kane defends Harry 'One of the best defenders in history' Maguire, calls for end to scapegoating
Provedel: 4 goalkeepers who have scored in the Champions League including Vincent Enyeama
Andre Onana: Critics of the Manchester United goalkeeper are missing the bigger picture
100 not out: Lewandowski moves closer to Messi and Ronaldo with century of European goals
Is Victor Osimhen in for a troubled season under Rudi Garcia?