Anti-Tinubu passenger's identity unveiled, lawyer says he's mentally ill
The troublesome passenger had caused a scene when he staged a lone protest aboard an Abuja to Lagos flight on Friday evening.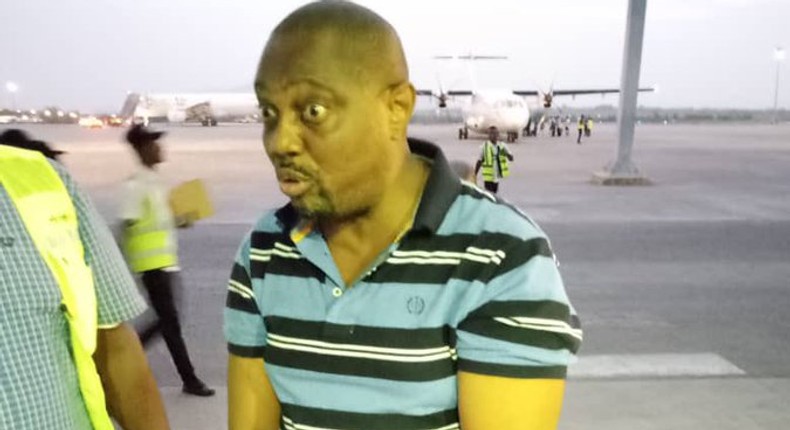 The passenger who was bundled out of a plane for creating disturbances has been identified as Obiajulu Uja.
The passenger's identity was unveiled by his lawyer, Barr. Ejike Ugwu, who also said that his client is not in the right state of mind.
The passenger was arrested by airport security officials on the night of Friday, March 31, 2023, after he was evacuated from a Lagos-bound Ibom Air flight for protesting against the inauguration of the President-elect, Asiwaju Bola Tinubu, on May 29, 2023.
Uja, a native of Oji-River Local Government Area of Enugu State, was captured in a viral video that made the rounds on Saturday, staging a lone protest that caused the flight scheduled to take off at 6 pm to be delayed for over an hour.
In an exclusive interview with Daily Post, Ugwu said he visited the Airport Police Division to see his client, but the police were yet to provide him (the suspect) with medical care despite his bad state.
Ugwu said: "Obiajulu is not in the right state of mind before he boarded the flight. He was chased away from a hotel in Abuja because of his mental state.
"He even booked three different flights for the Lagos trip. He booked Aero, Dana and Ibom Air. He had the three tickets for the same trip. So, there is no doubt that he is mentally challenged.
"As I speak to you, both the IPO handling the case and the DPO of the Police Division are nowhere to be found. And the suspect's legs are all swollen now because of the several beatings he received at the Airport. He is critically sick right now."
JOIN OUR PULSE COMMUNITY!
Recommended articles
Tinubu was destined to lead Nigeria, says Omo-Agege
FULL TEXT: Inaugural speech of President Bola Ahmed Tinubu
Sanwo-Olu of Lagos State sworn-in for a 2nd term of office
We will revisit naira redesign policy, says Tinubu
BREAKING: No more fuel subsidy - President Tinubu
Tinubu promises to make electricity affordable for Nigerians
5 problems Nigerians expect Tinubu to solve in the first 100 days
Why I conceded to Buhari - Jonathan
Badagry residents task Tinubu's administration on security, electricity