Federal government declares Amotekun illegal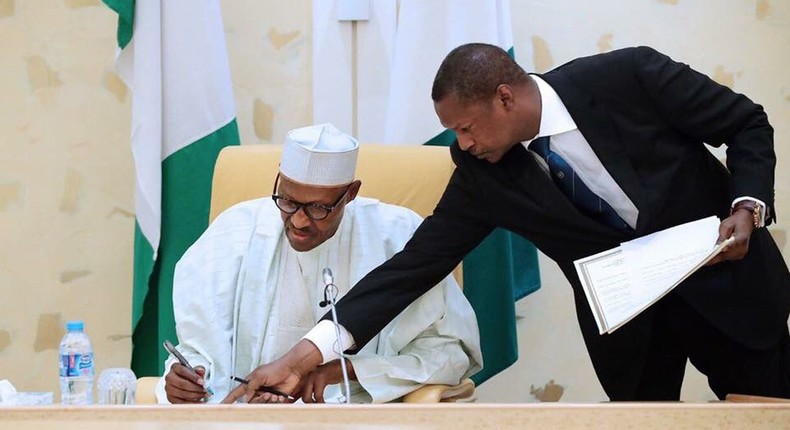 In declaring Amotekun illegal, the federal government says security is the exclusive preserve of the center.
The Federal Government of Nigeria has declared the south-west security outfit, "Amotekun", launched with fanfare last week, an illegality.
However, in a statement issued on Tuesday, January 14, 2020, Attorney General Abubakar Malami, said security remains the exclusive preserve of the federal government and that governors have no such right under the constitution.
"The setting up of the paramilitary organisation called Amotekun is illegal and runs contrary to the provisions of the Nigerian law," Malami said.
"The Constitution of the Federal Republic of Nigeria 1999 (as amended) has established the army, navy and air force, including the police and other numerous paramilitary organisations for the purpose of the defence of Nigeria.
Amotekun launches in Ibadan on Thursday, January 9, 2020 (Seyi Makinde)
"As a consequence of this, no state government, whether singly or in a group has the legal right and competence to establish any form of organisation or agency for the defence of Nigeria or any of its constituent parts.
"This is sanctioned by the provision of Item 45 of the Second Schedule of the Constitution of the Federal Republic of Nigeria (as amended) authorising the police and other federal government security services established by law to maintain law and order," the statement added.
'Operation Amotekun' has been met with mixed reactions from the public since its launch.
JOIN OUR PULSE COMMUNITY!
Recommended articles
UN chief congratulates Tinubu, seeks stronger ties with Nigeria
New Ebonyi deputy governor Obila not interested in listening to gossip
New Benue Governor lays foundation for 100 housing units
New Abia governor Alex Otti freezes state's bank accounts
Kyari tells Tinubu fuel queues will soon vanish after subsidy removal chaos
FG owes NNPC ₦2.8 trillion fuel subsidy payment deficit
Ganduje denies seeking appointment from Tinubu
Lawmakers tell citizens to pray for successful fuel subsidy removal
Tribunal admits US court judgment ordering Tinubu's forfeiture of $460,000