'Southerners should leave north in peace,' Northern groups insist
This is coming despite the widespread condemnation of the quit notice by northern Governors and many stakeholders.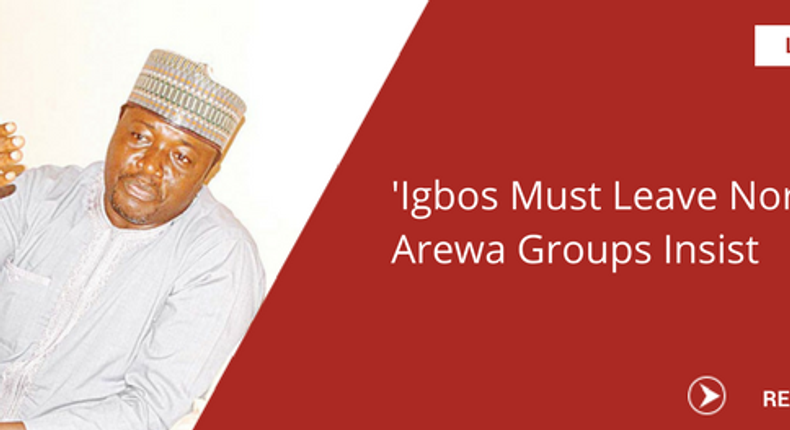 The northern youth groups which issued a quit notice to the
On Tuesday, June 6, a coalition of youth groups from the region had given the Igbo until October 1 to leave the north.
In a statement issued in Kaduna on Saturday, June 10, the coalition reaffirmed its declaration.
It said the Igbos "should be allowed to go" since they have already carved out a new country for themselves - in reference to 'Biafra'.
The spokesman for the coalition, Abdulhazeez Suleiman, said the notice was informed by the "desire to ensure peace in Nigeria by allowing them to go to their new country."
Suleiman also said that some persons are being sponsored to speak for the coalition in a bid to withdraw the declaration.
"Our coalition restates its commitment to lasting peace in our dear country, Nigeria which forms the basis for our decision to open the doors for the Biafrans who have already carved out a new country for themselves," the statement said.
"It has come to the notice of the coalition that some people have been sponsored and are holding press conferences around Kaduna in our name.
"Specifically, a certain group led by one Adamu Sambo and Auta was said to have told the media that they are part of our coalition and have withdrawn the Kaduna Declaration on our behalf.
"We state categorically that these people are never part of us and have not at any time been mandated to speak on our behalf.
"While we restate our commitment to the respect for Nigerian laws, we also reaffirm our stand by the Kaduna Declaration.
"The public should note that we are not out to extort money from individuals, groups or government agencies the way these people are doing in the name of negotiation.
"It is the enemies of the North and northerners that are sponsoring the spread of all sorts of lies through these greedy youth that impersonate us."
In reaction of the quit notice, the Indigenous People of Biafra (IPOB) led by Nnamdi Kanu had on Saturday expressed gratitude to the northern coalition for giving the Igbo an advanced warning.
The IPOB, however, urged the Arewa groups to give the southerners in the north time to leave the region.
JOIN OUR PULSE COMMUNITY!
Recommended articles
EFCC grills former minister Tallen over alleged ₦‎2bn fraud
UN chief appoints Adesina, others to spearhead fight against malnutrition
Sanwo-Olu vows to give Lagos biggest children hospital in Africa
Kano Govt sets up mobile courts to tackle phone snatching
Withdraw petition against Tinubu and stop messing up - LP faction tells Obi
Tinubu commissions NASS Central Mosque, urges Muslims on humility
Anambra govt launches e-identification cards for civil, public servants
Tearful Ondo Speaker dissolves state assembly
Hajj: NAHCON reads riot act to caterers in Madina, disqualifies defaulter