FRSC seizes 527 overloaded vehicles in 6 months
527 vehicles have been impounded for overloading within six months, by the Federal Road Safety Commission (FRSC).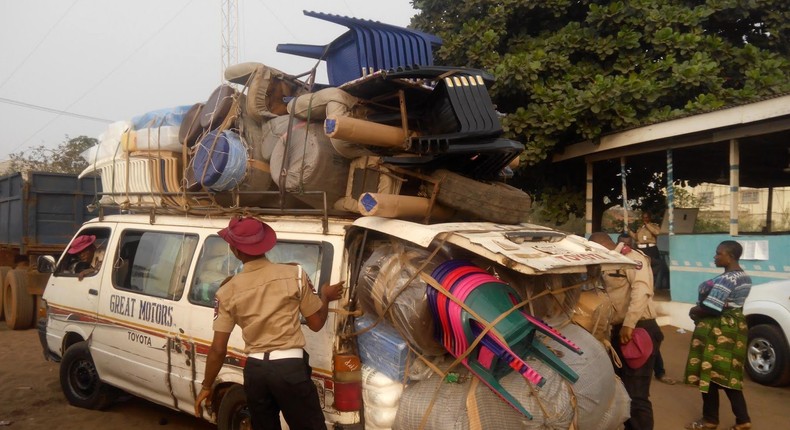 The Federal Road Safety Commission (FRSC) has seized 527 vehicles, within six months.
According to Mr Hyginus Omeje, FRSC Sector Commander, Lagos State Sector Command, these vehicles were impounded for one offence, violation.
Speaking with the News Agency of Nigeria (NAN), he gave details of the seize, while revealing the reason for the sudden interest in this offence.
"The command has begun a serious war against overloading. We have arrested 527 drivers for overloading in the first half of the year.
The issue of tyre blow out, speed, overloading and fake driver's licence threatens safety on our highways and most drivers do not care.
We cannot continue to lose Nigerians to road traffic crashes in this country.
Most commercial drivers overload their vehicles at the detriment of the safety of commuters.
This attitude has to change for the benefit of all,''Omeje added.
He called on Nigerian road users to stop risking their lives, and the lives of others with overloaded vehicles.
FRSC arrested 75 commercial bus operators for overloading in January, 71 in February, 73 in March, 92 in April, 77 in May, and 139 in June, 2016.
JOIN OUR PULSE COMMUNITY!
Recommended articles
Risk management in indices trading: Tips and tools for managing your exposure
Tunubu lauds people of Zamfara for ensuring his biggest win
You're now a blogger —  Shehu Sani mocks 'retired governor' El-Rufai
Gov. Eno appoints SSG, CPS
Gov. Sani retains El-Rufai's appointees as top government officials
Gov. Diri warns fuel marketers against hoarding, profiteering as price hits ₦‎600
Aliyu nullifies recent, traditional rulers' appointments by Tambuwal in Sokoto
Sanwo-Olu slams fuel marketers for unfairly hiking prices
FG changes date for national award